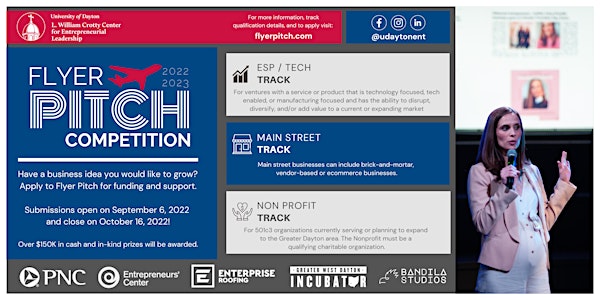 Location
31 S Main St
31 South Main Street
Dayton, OH 45402
2022-2023 Flyer Pitch Competition - Info Session
About this event
Come learn about UD's Flyer Pitch Competition! The annual competition is sponsored by the Crotty Center, PNC Bank, the Entrepreners' Center, GWDI, Enterprise Roofing, Bandila, and others. The competition awards over $150K in cash and in-kind prizes to help launch and grow startups. Participants will get the opportunity to build their business and themselves through various support, workshops, and mentorship. This a great opportunity to receive hands on support and possibly win a cash prize.
For those interested, the Crotty Center are hosting four hybrid info sessions. The info sessions will be in-person and we will have a zoom option and a link that will be sent for those who cannot attend in person.
Please check out our website for more details and information at www.flyerpitch.com.