Event Information
Location
James Martin Middle School
7800 IBM Drive
Charlotte, NC 28262
Description
Future GirlPreneur Summit
Fly Math Club will host Future GirlPreneur Summit where 6th, 7th and 8th-grade girls come together to collaborate as advocates using leadership, design thinking, and their STEM skills to explore entrepreneurship. Girls will learn how to use creative problem solving to brainstorm ways to make a positive impact by helping others. After the conference, girls will understand how they can use science, technology, engineering, or math skills to solve problems that impact their peers.


Who: 6th-8th-grade girls are eligible to attend the summit. Registration is open on a first-come, first serve basis until we reach capacity.


When: Saturday, October 19, 2019, from 10:00 a.m. to 3:00 p.m. Registration starts at 9:30 a.m. and the summit will begin promptly at 10:00 a.m.


Where: TBD-Please stay tuned for an update on the location.


Why: By attending the summer summit, each girl will have the opportunity to...
Learn how to use design thinking strategies to solve real-world problems

Explore how to use STEM skills beyond the classroom

Connect and collaborate as leaders and change-makers in their community and school

Expand her critical thinking and problem-solving skills

Boost her academic confidence by interacting with supportive peers

Discover how to activate her unique strengths to think outside the box
Check out the agenda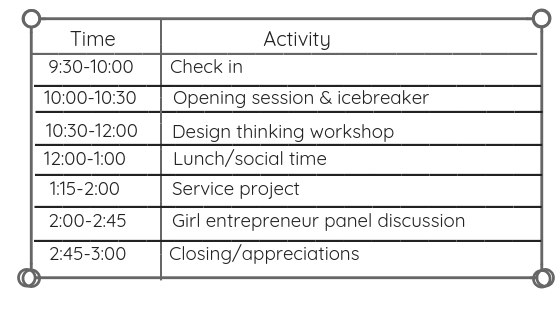 Frequently Asked Questions
+ Can I bring other children that are not 6th - 8th-grade girls?
Unfortunately, we are unable to accommodate additional children at the summit. Our space is limited to registered guests. Everyone entering the summit will need a ticket.
+ What is the attire?
We suggest girls wear casual, comfortable attire. Please dress appropriately based on the weather (ex: light jacket if necessary).
+ Will I receive a reminder about the summit?
Of course! Please provide your best contact information when you register. We will share the final event schedule, sessions, outcomes, and additional details about the event at least 48 hours in advance. For questions about your registration, visit www.flymathclub.com/contactus
+ Can parents attend the summit?
We are unable to provide space for parents to stay during the summit. However, parents may sit in the lobby area outside of the session room. Due to funding, we are unable to provide lunch for parents and unregistered participants.
+ What should each girl bring to the summit?
We will provide all of the supplies necessary to engage in the summit. If girls must bring a smart device or phone, we ask that all cell phones are turned off during the summit to minimize disruption. Fly Math Club is not responsible for the girl's personal belongings.
+ Can I register a group of girls to attend the summit?
When registering for the summit, please complete the friend request line on the form if the friend registered separately. If you would like to register a group of girls together, select an additional ticket for each girl in attendance.
+ Do you offer scholarships?
Fly Math Club's mission is to ensure every girl believes that she is able and capable of achieving success in math, regardless of whether or not her family can afford to pay the full registration fee. We have a limited number of scholarships available to supplement the cost of the conference. While we do our best to accept as many qualified girls as possible, the number of scholarships available is impacted by funding. Apply for a scholarship here.


Please note the following:
Permission and emergency medical attention
By registering, my student/child has permission to attend and participate in the Future GirlPreneur Summit on Saturday, October 19, 2019. I agree not to hold Fly Math Club staff or its volunteers liable for any illness, injury, or accident, which may occur during the conference. As a result of this, I authorize Fly Math Club staff/volunteers to obtain appropriate medical attention for the registered student or myself if I'm unavailable for contact via telephone number (s) listed. Furthermore, I permit myself, and the registered student/child to appear in video and photography from the Future GirlPreneur Summit for the website, print, or public-relations purposes.
Date and Time
Location
James Martin Middle School
7800 IBM Drive
Charlotte, NC 28262
Refund Policy