Description
FLY LOCAL: How a Community Campaign Can Drive Engagement
In the thick of the eat/shop/buy/stay local movements, the Dane County Regional Airport (DCRA) created the fun and timely FLY LOCAL! campaign to encourage travelers to fly out of Madison instead of other regional "big box" airports. Along with its creative agency, DCRA developed a theme, outdoor billboards, print ads, online ads, radio ads, and social media, as well as the creative campaign's "spokesperson" – a flying cow. However, DCRA brought the campaign to the Madison metro community itself, by attending more than 25 festivals and events from May to September. A FLY LOCAL booth was strategically placed to raise awareness and invite people to sign up to register to win $1000 in airline tickets through Delta. FLY LOCAL included a pledge page http://www.flylocalpledge.com/ where people were encouraged to pledge to fly local. Upon doing so, they were entered into a drawing for a gift card to Dane Buy Local, a coalition of local Madison-area independent businesses and organizations in and around Dane County. The campaign focused on all of the benefits and features of flying local, including the potential to save money on parking, gas, tolls, and traffic, the locally-sourced food vendors within the airport, and supporting the local economy.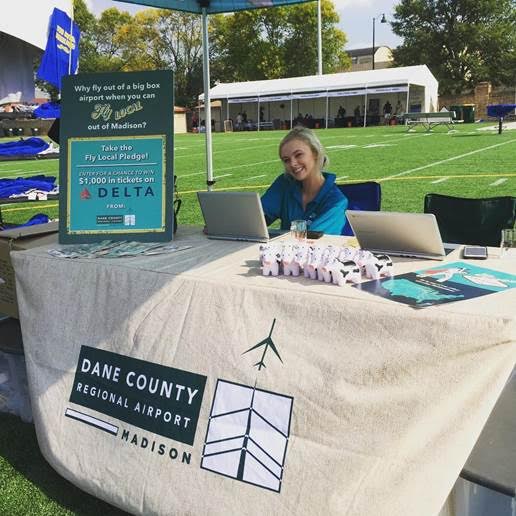 SPEAKER BIO
Brent S. Kyzer-McHenry is a senior level marketing communications professional whose innovative marketing and public relations programs have obtained over $100 million dollars in free media placement in print, television and movies including: Martha Stewart, Extreme Home Makeover, Little People Big World, The Today Show, Better Homes & Gardens, Popular Mechanics, Confessions of a Shopaholic, and more. During his tenure at the Dane County Regional Airport he has been directly responsible for the development and execution of a 3-year, $1 million-dollar re-branding and several national award-winning marketing communication programs to stimulate passenger and airline traffic.

Prior to joining the Dane County Regional Airport team, Mr. McHenry worked at Fiskars Brands, GE Medical, and The Walt Disney Company in marketing communication roles.
*NEW REMOTE ATTENDANCE OPTION*
If you select this option, event organizers will reach out to you with details approximately 24 hours prior to the event.