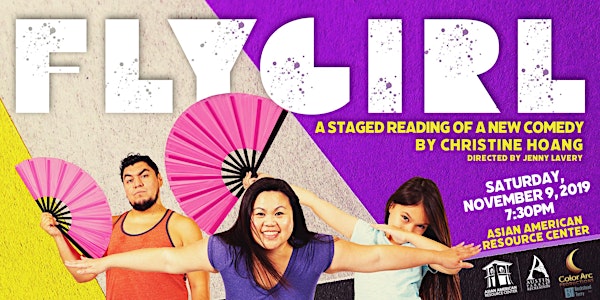 Fly Girl: A Staged Reading of a New Screenplay
Color Arc Productions and the AARC present a staged reading of Fly Girl, a story about a single mom who gets cast as a hip-hop dancer.
When and where
Location
Asian American Resource Center 8401 Cameron Road Austin, TX 78754
About this event
Although narratives centered on Asian American women are growing in mainstream prominence, Austin-based writer & performer Christine Hoang is working to expand the canon to include stories centered on Asians who are not glamorously young, gorgeous, rich, and thin. Hoang's new comedy Fly Girl spotlights the everyday woman who is a middle aged, middle class, "middle" looking, "Asian fat" (size 14), divorced, single parent.
When protagonist Linh Hoang Williams — a 42-year old, size 12 (or size 14 depending on that week's carb intake), Vietnamese American, recently-divorced, single mom — attends a Twerkshop (yes, a workshop for twerking), she impresses the dance instructor and gets cast as a hip-hop dancing Fly Girl. But when she discovers she's the chubbiest, oldest, and only Gen-Xer in a dance troupe of thin Millennials, Linh must overcome her inner demons to prove she belongs.
Hoang's Fly Girl advanced to the Sundance Institute's second round of the 2020 Development Track for fiction feature work-in-progress screenplays. Finalists will be announced in late December 2019.
Color Arc Productions, together with the City of Austin's Asian American Resource Center (AARC), will present a live stage reading of Fly Girl on November 9, 2019 at 7:30pm in the AARC ballroom. Admission is free with RSVP.
For more information, please follow and like @colorarcproductions on Instagram and Facebook.