About this Event
Interested in learning how you can bring esports to your organization?
Join us for a day of learning and networking about Esports in Education! Meet local companies and organizations that can help with esports as well as hear from a panel made up of educators and esports coaches.
Objectives of the Day:
Learn from educators/esports coaches in the area on establishing clubs/teams, where to start, past mistakes, and successes.
Hear about the opportunities/benefits that esports provides.
Connect with organizations and companies that can help bring esports to your school, community center, organization.
Network with other educators in the area that are looking for more teams to play, opportunities to compete.
Leave with connections, resources and a better understanding of esports in education!
Companies/Organizations Participating: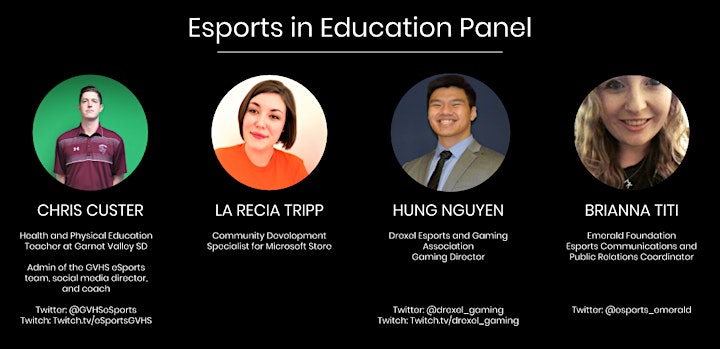 Schedule
9:00 am: Doors Open
9:00 am - 10:30 am: Vendor/Organization Fair
10:30 am - 12:00 pm: Esports in Education Panel
12:00 pm - 1:00 pm: Lunch (Provided by Corbett, Inc.)
12:00 pm - 2:30 pm: Vendor/Organization Fair
2:30 pm - 3:30 pm: Transition and Setup CCIU Rocket League Tournament
_______________________
3:00 pm - 8:00 pm: Rocket League Tournament - Organized by Chester County IU (Interested in registering for the tournament? More details and registration found here - www.cciu.org/esports)