About this Event
The professional journey is a microcosm of the broader human experience, which means that sometimes it feels like everything's clicking, and sometimes it doesn't.
Sometimes it just feels like we're stuck.
So, how do we pull our feet from the mud, break the stasis of "stuckness," and change forward?
Join us as we explore concepts of reinvention, renewal, and growth.
This event is for professionals of every level who want a psychological shot in the arm, an affirmation that growth always ebbs and flows, a reminder of the possibilities of their process, and more.
We'll join growth expert and coach Chris McAlister on a journey based around the concepts in his latest work, The Stuck Book. We'll hear from a panel of folks from around the region, build out our relational networks, and take home Chris' book and new strategies for becoming our best selves.
Attendees will receive of copy of Chris' book as a part of their registration fee, can pick it up at the event, and have it signed by Chris.
And, because this is an event about moving forward and embracing change, a portion of event proceeds will be donated to Gracehaven, an organization committed to restoring victims of sex trafficking.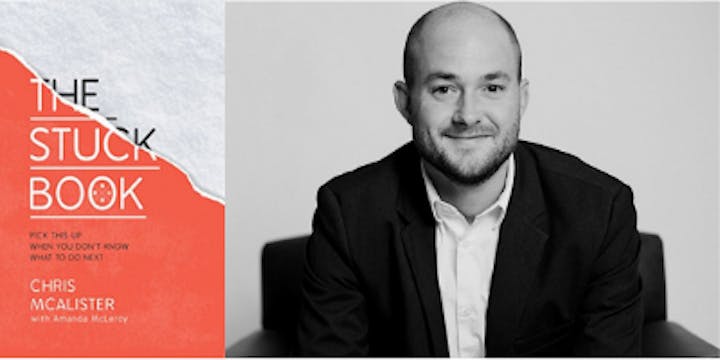 AGENDA
9:00 - 9:30: Registration & Coffee (provided)
9:30 - 9:40: Opening & Welcome
9:40 - 10:15: Keynote: Unfolding the Seasons of Growth
10:15 - 10:50: Session 1 - Fall: A season to let go of what we once wanted and accept the reality of what is.
10:50 - 11:25: Session 2 - Winter: A season to lean in, explore, and study the "what is" reality... and to dream of what could be.
11:25 - 12:15: Lunch (provided) & Open Networking
12:15 - 1:00: Session 3 - Spring: A season to move forward with new action from the new insights of our winter.
1:00 - 1:45: Session 4 - Summer: A time to rest and enjoy... vigilantly, as ideally we are strategically fueling up for our next fall.
1:45 - 2:00: Closing / Q&A
2:00: Book Signing & Open Networking