Description
Unwind from the holidays and create your own fluid art masterpiece with the assistance of artist Kay Brooks. The cost is $25, which covers all materials needed — and you will make your own beautiful 11 x 14 painted canvas! Paintings will need to dry overnight in place. We hold 15 students for this session. Stop by Steam Junction to see samples or get your ticket now to reserve your spot!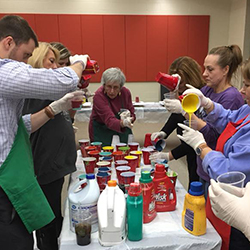 About Kay Brooks, Artist/Instructor

Born and raised in Gibsonville, the daughter of a local cabinet maker, Kay has been teaching a variety of community classes for over 20 years. Kay is newly retired and focused on helping people and spreading joy with projects like her colorful fluid art pieces. She recently offered a sold-out class on this technique through the Alamance Arts Council and is excited to bring her craft to downtown Burlington.