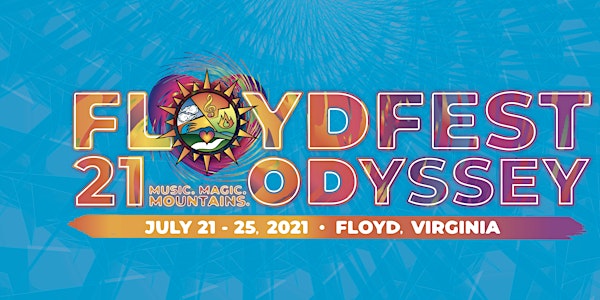 FloydFest 21~Odyssey
Welcome to FloydFest 21~Odyssey — five days of Music, Magic, and Mountains — July 21-25, 2021. FloydFest.com
When and where
Location
FloydFest 894 Rock Castle Gorge Road Floyd, VA 24091
Performers
The Avett Brothers
Old Crow Medicine Show
Brent Cobb
Whiskey Myers
The Band Of Heathens
Keller Williams
Goose
Nicole Atkins
Goodnight, Texas
Leftover Salmon
Pressing Strings
Keller & The Keels
Turkuaz
Adrian Belew
Andy Frasco & the U.N.
Billy Strings
The Ambassador
Consider the Source
Hogslop String Band
Melt
Unaka Prong
Bandits on the Run
Jerry Harrison
Devon Gilfillian
Molly Tuttle
Acoustic Syndicate
Dr. Bacon
The Broadcast
Nicholas Jamerson
Mike Mitchell
Chance McCoy
The Floorboards
My Radio
Christian Lopez
Rebekah Todd
49 Winchester
L Shape Lot
Grizzly Goat
Restless Leg String Band
Thunder and Rain
Dharma Bombs
L.A. Edwards
Travers Brothership
Big Daddy Love
Chupacabras
Stephen Lewis & The Big Band Of One
Empty Bottles
Big Atomic
Mike Mitchell Band
Katie Pruitt
About this event
Across-the-Way Productions, Inc. invites patrons to embark on an 'Odyssey' to celebrate FloydFest 21, the latest annual offering of the Southeast's premier summer outdoor music festival, taking place Wednesday to Sunday, July 21 to 25, 2021, in Floyd, Va.
Welcome to FloydFest 21~Odyssey — five days of Music, Magic, and Mountains, in our picturesque paradise at Milepost 170.5 on the Blue Ridge Parkway in Floyd, Va. — featuring vibrant and varied vendors, quality craft brews and chews, healing arts, workshops and whimsy, camping and children's activities, outdoor adventure, onsite art installations and a final lineup featuring 100 artists performing on nine stages over five days.
Website: FloydFest.com
Facebook: facebook.com/FloydFestVA
Twitter: twitter.com/floydfest
Instagram: instagram.com/floydfestva
Tickets for FloydFest 21~Odyssey are available by clicking to www.floydfest.com or https://floydfest2021.eventbrite.com. Ticket prices stay the same through Dec. 31, 2020, with the first price increase scheduled for Jan. 1, 2021. Subsequently, ticket prices increase again on April 1, 2021, again on July 1, 2021, and for the final time when gates open for the festival on July 21, 2021, if tickets remain.
Embark on an Odyssey with us …
• Choose your DAY — Your eXperience comes in many forms at FloydFest, with Single-, 3-, 4-, and 5-Day staycation options. Our mission is to be the best music festival experience of our time, and we can accomplish that mission, without a doubt, no matter how long you stay with us on the mountain. Learn, love, listen, dance, dine and decorate your life with any choice of our single- or multi-day tickets, and see why it's not just a festival … it's FloydFest.
• Choose your STAY — Camping is half the experience of a festival, and FloydFest doesn't disappoint, with myriad options for your stay. From General Admission Tent Tags to Premium Woodsy Tent Tags, from Onsite RV passes, X-Spot Park & Camps, to VIP backstage accommodations, to Delta Lot RVs and park & camps, we're letting you chart your own course to form your unique staycation.
• Choose your PLAY — Need a natural recharge before getting back to the music? FloydFest shines when it comes to outdoor adventure — one of the cornerstones of our brand. Explore ticketing options for mountain bike excursions, such as the heralded Belcher Mountain Beatdown; explore the Little River via our guided float trips; trace the mountain peaks and valleys via our one-of-a-kind 5K; toss 18 holes on our Innova Disc Golf course; and hike the awesome Appalachians on our wondrous trail systems. Make plans to get outside with us in 2021.
For more information, call (888) VA-FESTS or email info@floydfest.com. Stay informed via FloydFest's newsletter at http://floydfest.com/newsletter/, and find FloydFest on Twitter (twitter.com/floydfest), Instagram (instagram.com/floydfestva) and Facebook (facebook.com/FloydFestVa). Patrons can also opt-in for the FloydFest Text Club by texting "FloydFest" to 540-215-2002 on their mobile device. The Text Club sends lineup additions and other special announcements directly to patrons' smartphones, so they can be in the know on the go.