Celebrate spring and life this weekend at out vibrantly curated art show "Flower to the People" at City Point Mall.
About this event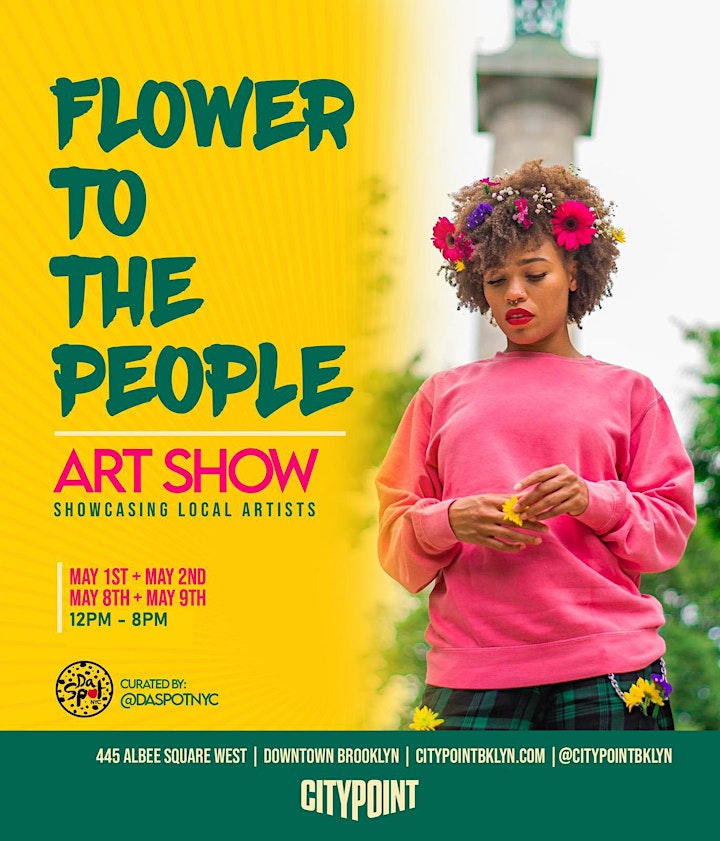 In celebration of spring and life, DA SPOT NYC in partnership with CITY POINT BKLYN will host another dynamic art show themed "Flower to the People".
"Flowers to the People" means give people their flowers while they are still alive to smell them. The theme is inspired by a custom collection created by DA SPOT NYC Co-Founder, Face of Frantzy Face Clothing. The collection began three years ago with just twelve unique pieces of clothing featuring flowered patchwork. Each garment was sold with a fabric rose. The hope was that the garment owner would gift the rose to someone and it will continue to be gifted until it eventually circles back to where it originated, with Face. The collection became a customer favorite and the message continues to grow.
Given our current climate, giving people their flowers while they are still alive is more relative than ever. Expanding upon the mission of its boutique and the C.A.N.V.A.S Art Gallery in shop, DA SPOT aims to continue creating more space and opportunities to amplify the amazing talents of the local creative community.
The art show will take place on Saturdays and Sundays on May 1st and 2nd and May 8th and 9th from 12PM to 8PM inside City Point BKLYN. A retail space will be converted into a vibrant highly - curated Pop-Up Art Gallery featuring eight local and talented artists: 5 AM, Catalyst, Laura, Tyler Jordan/C.A.N.V.A.S, Frantzy Face, Mr.John Wright, TH CARLTON and Betty Rubble NYC.
For more information about Artportunities with C.A.N.V.A.S Art Gallery's, contact us at info@daspotnyc.com.
About DA SPOT NYC
DA SPOT NYC is a unique Brooklyn-based fashion boutique featuring 25+ independent creative brands made by people of color. DA SPOT also houses C.A.N.V.A.S Art Gallery which features the work of local artists of color through monthly "Artportunties". In addition, DA SPOT hosts creative workshops, business panels, art shows and live performances for the community in shop monthly. DA SPOT is located in City Point Mall and open everyday. https://daspotnyc.com
About City Point
City Point, a 1.8 million-square-foot retail, entertainment, residential and office complex at the epicenter of Downtown Brooklyn, is the nexus of the burgeoning borough's creative energy and entrepreneurial spirit. The mixed-use development includes 1,100 residential units, the culinary and entertainment destination DeKalb Market Hall, Alamo Drafthouse Cinema, Trader Joe's, Target, and Lululemon. Prince Street passage, its rendition of a town square, features a mix of local and national retailers, including Fellow Barber, Joybird, and McNally Jackson Books. www.citypointbrooklyn.com