Visit Flower Patch on the Farm for an intimate experience among spring flowers!
About this event
Unique floral and garden creature installations transform the QBG Farm into a fantastic flower spectacle, an immersive environment and stunning backdrop for photos. Meet costumed nature creatures, pick your own pot of flowers, do floral-themed crafts, and make your mark on Chalk Walk! For adults 21 and older, available are spring-themed beers and ciders for purchase.
Dates: Saturdays and Sundays, April 30, May 1, May 7*** and 8 (Mother's Day)
***Due to weather forecasted for Saturday, May 7, Flower Patch is cancelled that day. Paid orders have be refunded. The Flower Patch will continue on Sunday, May 8 (Mother's Day). 
Pricing
$16 per Adult (flower pot included)
$14 per Child (ages 4-12), Students (with ID), & Seniors (62+) (flower pot included)
Free for Children 3 and under (flower pot not included)
Free for Members (flower pot not included) ***
Additional flowers available for $7/pot, while supplies last
***Become a Garden Member today to enjoy unlimited year-round FREE garden admission and discounts on events like Flower Patch! To become a Member, visit www.queensbotanical.org/membership
Registration strongly recommended; Walk-ins welcome upon availability.
Ticket fee includes general Garden Admission.
Ticket fee does not cover parking fees. $10 parking rate in effect.
NOTE FOR MEMBERS: You may only claim the number of tickets allowed for your membership type. Multiple orders thereafter will be canceled.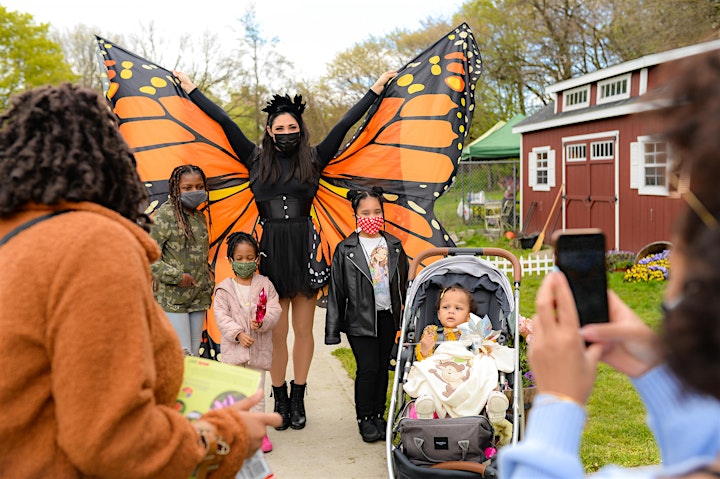 KNOW BEFORE YOU GO
What is Flower Patch? What's included?
• Floral and garden creature installations become your springtime backdrop for photos!
• Meeting and taking photos with costumed nature creatures
• Picking your own pot of flowers (Please note: pots are not included for Members and children 3 and under, but can be purchase for $7.)
• Making floral-themed crafts
• Mark up Chalk Walk to your heart's content
• For adults 21+, there are spring-themed beers and ciders for purchase
Who is the Patch for?
This event is family-friendly! Everything but the beers and ciders for adults 21+ is great for all ages.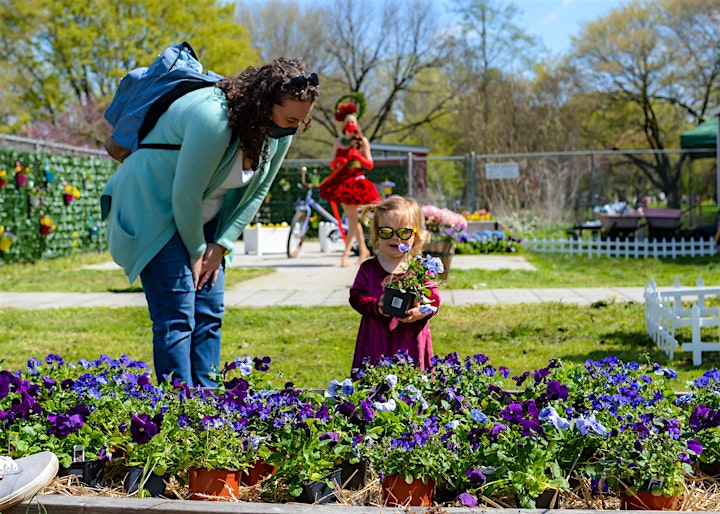 Where is the Flower Patch?
The Flower Patch is at the QBG Farm (#31 on the Visitor Map), a one-acre urban farm that donates thousands of pounds of produce to local food pantries. For two weekends only, the Flower Patch's unique floral and garden installations transform the Farm into a fantastic flower spectacle and stunning backdrop for your springtime photos.
What time should I arrive?
Be sure to plan accordingly and arrive at the Patch within an hour of your ticket time.
What is the price?
Adult Non-Member (flower pot included) $16
Child Non-Member/Senior/Student (flower pot included) $14
Member/Child 3 and under (flower pot not included) FREE
Additional Pot of Flowers $7
Do I need to pre-order my Patch tickets? Can I decide later, after I've paid general Garden admission?
We recommend pre-ordering you Patch tickets on Eventbrite. Patch tickets includes general Garden admission so there is no need to pay separately upon arrival at Garden entrances. Also, onsite Patch ticketing is welcome upon availability. There is no advanced of online ticketing for general Garden Admission. General admission is paid upon entry by cash or credit.
If you have already paid general Garden admission and you decide later you want to enter the Patch, you can pay for Patch entry at the Patch. In this case, a discount deducting the price of your general admission will be applied.
Are there discounts or free admission to the Patch?
Garden Members and Children three years old and younger get free admission to Flower Patch as well as the Garden. Click here to become a Member and get in for free–along with unlimited year-round garden admission, discounts and free admission on select programs, invitations to Members-exclusive events, and more!
The Garden is happy to partner with many organizations to offer free or reduced general Garden admission. If free or reduced-price Garden admission applies to you and you wish to attend the Flower Patch, a discount deducting the price of your general admission will be applied to your Patch admission.
Do I need to mask?
In the Patch, masks are not required but encouraged. Although the event is outdoors, mask-wearing is strongly encouraged when participating at Activity Stations for crafts and when participants aren't able to socially distance.
Around the Garden, masks are not required. Masks are required indoor spaces such as the QBG Store and Gallery at the Visitor & Administration Building.
Reference current health & safety guidelines, found on our website: https://queensbotanical.org/know-before-you-go
What else can I do at the Garden?
See the blooms!
Click here to see our Visitor Map or ask for one at the entrance.
Tens of thousands of tulips are blooming on our Oak Allee (#8 on Visitor Map).
Get up close to aromatic plants in the Fragrance Walk (#2) and Herb Garden (#20).
See flowering trees by the Circle Garden (#3) and Unity Garden (#7).
Our Arboretum/Crabapple Grove is flowering! (#23).
Go on a woodland walk at the Wetland and Woodland Garden (#4).
Art in the Garden
Click here for more about indoor and outdoor Art in the Garden.
Visit or new exhibit, Care/Repair: Mending the Circle at our Art Gallery in the Visitor & Administration Building (#16 on Visitor Map).
Visit the giant Kaleidoscope by artist Graciela Cassel by the Forest Explorers Triangle next to our Children's Garden (#22).
Outside of the Garden's perimeter fence along Main Street, check out Here, There, and Everywhere. If you plan to come back the Garden after you venture out, remember to keep your receipt to re-enter.
Shop
Shop gifts and souvenirs at our QBG Store (#16 on Visitor Map).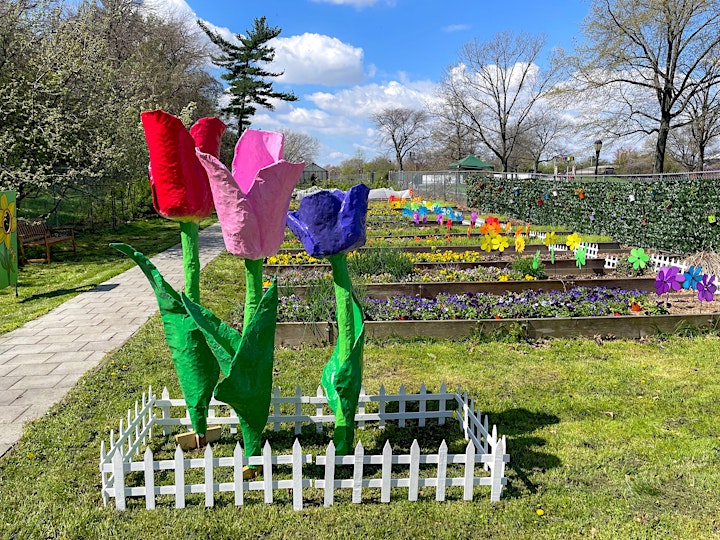 REFUNDS
There are no refunds for Flower Patch.
CANCELLATIONS
In the case that an event is cancelled, you will be notified via email and refunded.
COMMUNICATIONS
By purchasing tickets and attending QBG events, you hereby opt in to receiving communications from the Garden. You may receive updates about future QBG events and news through the addresses you provide. If you do not wish to receive future communication, simply click the "unsubscribe" button at the bottom of an email or write to info@queensbotanical.org.
GARDEN ETIQUETTE
QBG staff strives to provide a place of peace, beauty, and safety for the quiet enjoyment of our visitors. QBG is a living museum, a collection of gardens for the study, culture, exhibition, and display of plants. We encourage our visitors to explore, enjoy, and be respectful of our plant collections and to be considerate of fellow guests as well. For more guidelines on garden etiquette: https://queensbotanical.org/etiquette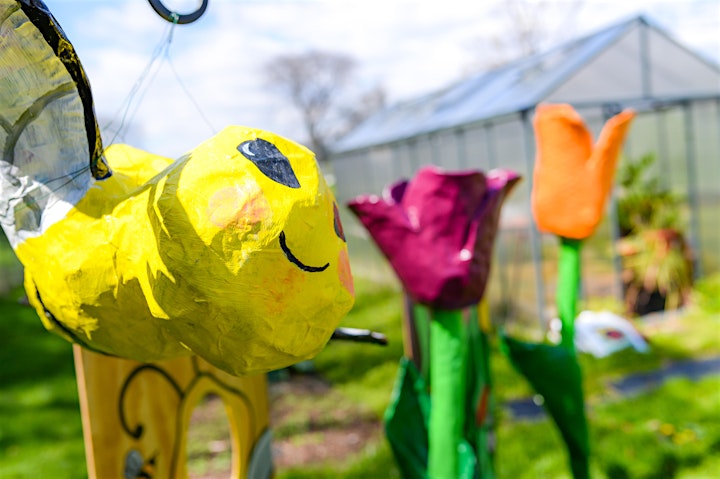 PHOTOGRAPHY & VIDEOGRAPHY
Queens Botanical Garden (QBG) occasionally photographs or films visitors and activities on site to support our mission in promotional media and materials, including print, online, broadcast, and social media. By attending this event, you grant permission to QBG use your likeness in perpetuity, in all forms of print and digital media used to promote, publicize, or advertise the Garden, its activities, and programs. If you do not give QBG permission to take and use your image, you must notify an event organizer or staff when you arrive for this event. QBG is a 501(c)(3) non-profit organization.
GETTING TO QBG
By public transportation, take the number 7 subway line to Main Street, the Long Island Rail Road (Port Washington line) to Main Street/Flushing, or the Q44-SBS or Q20 bus.
For driving directions and more information: https://queensbotanical.org/directions
PARKING
Parking is available year-round during Garden open hours at the Parking Garden, located at 42-80 Crommelin Street, Flushing, NY 11355. For more information: https://queensbotanical.org/directions
ABOUT QBG
QBG is an urban oasis where people, plants and cultures are celebrated through inspiring gardens, innovative educational programs and real-world applications of environmental stewardship. QBG is located on property owned by the City of New York, and its operation is made possible in part by public funds provided through the New York City Department of Cultural Affairs, Queens Borough President, the New York City Council, State elected officials, the New York State Department of Parks, Recreation and Historic Preservation, along with corporate, foundation, and individual supporters. For more information, visit www.queensbotanical.org or call (718) 886-3800.