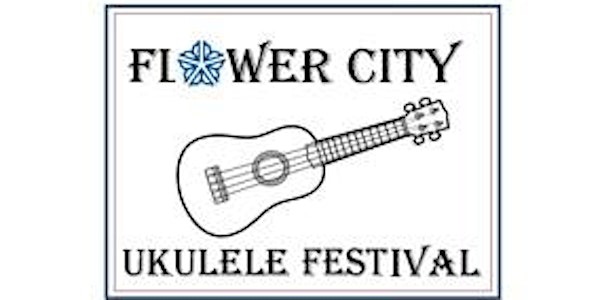 Flower City Ukulele Festival Rochester, NY Oct 25-26th, 2019
When and where
Location
First Unitarian Church of Rochester 220 South Winton Road Rochester, NY 14610
Refund Policy
Refunds up to 30 days before event
Description
The Flower City Ukulele Festival in Rochester New York, is an event for all ukulele enthusiasts from beginner to advanced players. Participants will have an opportunity to attend concerts and workshops, play with others in jam sessions and ensembles and connect with a vibrant ukulele community. The Friday performance and Saturday evening concert are open to the public.
The full festival all access pass includes the Friday evening reception at Bernunzio Uptown Music followed by an open performance at the Little Theater Cafe, all day Saturday workshops and performances, jams, vendors and the Saturday evening concert. There is a novice registration available at a lower fee which includes the two introductory workshops and a jam. Concert tickets may be purchased separately.

FOR THE FULL FESTIVAL SCHEDULE AND MORE INFORMATION GO TO
https://flowercityukefest.wixsite.com/site
Featured performers include Peter Pashoukos, Amy Kucharik, Cammy Enaharo and the The Rochester Ukulele Orchestra.
Workshops - Visit the festival website to view the wide variety of classes taught by talented instructors. Registrants will be contacted to select their preferences.

Saturday lunch - You can bring your own, go out to a nearby restaurant or pre-purchase a box lunch on the registration page. Saturday dinner is on your own.
Festival Flea Market - It's time to clean out your music stash! If you have a ukulele you don't play anymore, a tuner you've replaced, or books of music that haven't been opened for a long while, bring them on down to the the festival flea market. We'll mind the table and you can split the profit 50/50 with RAIHN. It's win, win, win for everyone!
You're Strumming for Good! The festival proceeds benefit the Rochester Interfaith Hospitality Network (RAIHN). Since 2004 RAIHN has served nearly 475 families, including over 850 children providing emergency shelter, meals, counseling, support and assistance in securing safe, affordable housing. Aftercare ensures that close to 90% of the families do not fall back into homelessness. The network includes 42 member congregations utilizing over 1,700 trained volunteers. RAIHN is an affiliate of the national organization FamilyPromise. To learn more go to www.raihn.org.


585-752-4566