Description
Do you find that you're always busy, but that distractions and inefficiency affect your performance at work?
The average worker is interrupted every 11 minutes. Distractions, perfectionism, low energy, and work overload costs us around 145 work days each year.
There is a way to overcome these obstacles, and learn to do it for life.
What is Flow-working™?
Do you remember being so immersed and energized by an activity that you forgot about time?
Flow-working™ is a new method of effectiveness training designed to create hyper-focused, almost effortless work days. Companies like Google are training their employees in Flowstates. We believe Flow is the number 1 factor for wellbeing and high-performance at work.
Based on a neuroscientific approach, Flow-working™ allows you to tap into a state that enables you to get things done with less effort, focus deeper for longer, feel more energy, boost your happiness, overcome work overload, perfectionism, and procrastination, prioritize with clarity, and essentially become "undistractable".
In this one-day training, you will learn the Flow-working™ technique and how to apply it to your everyday work to help save you dozens of work days each year.
The day includes 2 hours of effective-work (almost equivalent to 8hrs at the office). You will therefore not have to lose a day of work.

Who is it for?
The training is for anyone who wants to improve their focus, performance, and overall health and wellbeing.
The Flow-working™ technique can be used by professionals, entrepreneurs, executives, researchers, freelancers, writers, and creatives.
This session is open to both individuals and teams of up to 15 people.
More than 110 Events and retreats

The schedule: what you will learn
"When it comes to getting things done and creativity, some call Flow a superpower."
The day will be divided into a practical training-workshop (5 hours) and flow-work time (2 hours) and include wellbeing adctivities throughout the day. Guided step by step, we will teach you:
Hands-on Training-workshop (5 hours)
How to enter Flowstates
The precious skill of Flowstates at work

Increasing creativity & how to produce our best work
Peak Performance techniques
Dealing with distractions & procrastination

The cost of perfectionism and how to avoid it

Training the mind for deep focus and mindfulness
Purpose, motivation and emotional skills
How to turn boring tasks into meaningful ones

Clearing the mind and processing emotions

Motivation, purpose and meaning at work
Increasing energy and wellbeing at work
Making our work life simpler and easier

More energy during and after work

Establishing morning routines
Effectiveness
How to get and stay organized

Building effectiveness systems

Further effectiveness tools and techniques, from beginner to high-achiever

Flow-work time (2 hours):
Practice and apply the techniques learnt in the training session on your own work. You will be working with full privacy. You'll undertake work on what matters to you with exceptional focus and clarity.
Two hours of effective-work is about what the average person achieves in 8 hours at the office.
Wellbeing (throughout the day):
Learn to relax and energize through stretching, short meditation, and movement. Often participants finish the day with more energy than they started!


The research
People who enter Flow or "being in the zone" while working are reported to:
increase creativity by 2-6 times;

Increase productivity by 2-5 times;

Feel more calm and relaxed throughout the workday.
(Source: McKinsey research).
In "Flowstates", the brain takes in more information per second and processes it more deeply.
Flow is also our optimal state of happiness and probably the most sought-after mental state.
The returns of effectiveness training
Effectiveness training has one of the highest ROI of any skill sets.
People who train their effectiveness skills by
+10%: Recover 5 weeks per year,

+30%: Recover 14 weeks per year,
for life. Most of us have a potential for doubling or tripling (+100 to +200%) our effectiveness levels.
Can you afford not to train yourself and your team?
How often do you/your team achieve a flowstate?
The ability to focus and be effective every day has never been harder. We're all pulled by incessant demands, unimportant tasks, and disturbances of our time and energy.
Companies lose 69% of each salary paid to personal ineffectiveness. 80% of employees are not engaged with their work. Overbusiness, information overload, and overwhelmedness are at an all time high.
Obstacles to effective and productive work increases stress levels and unhappiness.
This training is for people who believe that learning to enter Flow is a life-changing mental ability that anyone can master through training. We make our work less effortful, save hours of work each day, and make our workdays fulfilling.
"The neuroscience of Flowstates is revolutionizing our focus, wellbeing and performance at work."



About the facilitator
Dr. Antoine Larchez has led more than 110 Productivity days and retreats, and is the founder of Productivity Day. He has worked in both startups & venture capital firms, as a consultant in multinational engineering companies, as well as in research & academia in Australia, the US, and across Europe.
Antoine believes that training deep-focus and effectiveness is the most direct way to develop purpose and fulfillment at work and in life.
He turned around his personal life-phase of low effectiveness and procrastination by developing a unique method to enter Flowstates – and has since been sharing it with thousands.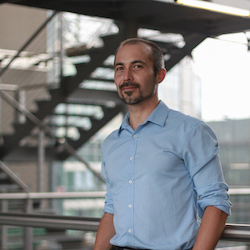 What others are saying
"Brilliant! I even felt I wanted to skip the breaks, because the atmosphere was so energizing. Totally recommended!" – Lena Schmitt, Entrepreneur
"Attending Productivity Day transformed the way I work and increased my productivity to a level I didn't know was possible. I always felt like I was productive, but the structure and approach that Antoine uses has taught me invaluable and actionable things about how to get myself to focus." – Anna Clara Laugesen, Business consultant, Author
"Simply great! Antoine put pieces together in my head I have been reading about flow and meditation in the last years. Additionally I gained many new insights. All together in a practical method and approach!" – Ferdinand Linke, Design Thinking coach
What else does it include?
Lunch

Tea/coffee

Material and attendance certificate

Productive time, networking and fun included!
Can I bring a team?
Yes. The workshop is an effective team building experience. Doing the training together encourages team members to reinforce each other's new skills in the workplace.
The workshop not only transforms the way groups work, but helps increase overall health, fulfillment, and performance.
Contact us for any questions
If you have any questions about the training session, are interested in team training sessions, or want to organize this event in a different location, simply send us an email at hello@productivityday.com or call +49 174 7676 900.