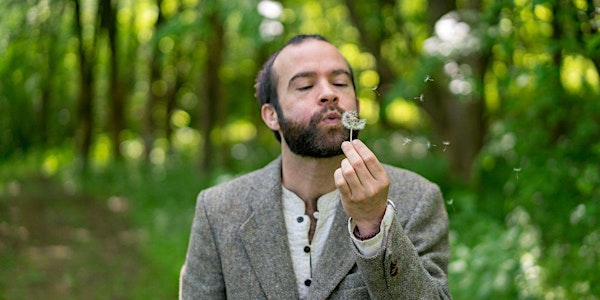 Flow Speaking
Flow Speaking takes you back to that freely gifted self. That place where speaking is joyous, authentic and free-flowing.
About this event
What is Flow Speaking?
It's time to honour the gift of words in you. Everything we were taught to see as a problem is a gift.
Your nerves are gifts. Doubts, struggles and contradictions are gifts. Going 'blank' and not knowing is a gift. Failures, lack of control and vulnerability flow from the same place magic flows from. The only 'fear' we 'should' have is this - that out of fearing meaningless things, we forget our full presence and power.
Flow speaking is falling in love with everything arising in the moment, within and without.
"Heartfelt, totally honest, playfully deep, so full of laughs and love." Jessica
"WOW! absolutely fascinating session - incredibly valuable - I think this is the best session I've ever attended in my life! THANK YOU DAVID." Kay
What happens in the workshop?
Kinda hard to say. As well as gems from flow science and my most transformational games, I also create brand new practices and exercises in the moment, inspired by what's shared and alive in the group.
But most of this happens during any workshop:
- You'll do a lot of profound practices in light-hearted ways, transforming nerves, inner critics, shames and fears into raw courage and creative fire.
- Get plenty of embodied experiences of expressing yourself, without being put on the spot.
- Find freedom from imposter syndrome.
- Practice receiving unconditional appreciation in buckets 1) because it's fuel 2) because the free circulation of appreciation between audience and speaker is fundamental to transformational spaces.
- Embodied revelations of feeling great about yourself in every sense, not just as a speaker.
- Connect with incredible people, sharing deeply from the heart, and being very silly and free together.
- Learn how most speakers lose power and presence without even realising.
- Get embodied realisations of how to stop negating your own messages.
- Discover how to turn on the ideas tap anytime on any topic.
- Explore the surprising truth about what makes anything we say life-changing or not.
- I'll teach you the secrets of showing up whole and overflowing, instead of insecure, unsure and needy.
- After the workshop I will gift you detailed PDFs with flow science secrets and powerful practices from my decades of being obsessed with what makes magic happen out loud.
- The workshop will be recorded and yours to keep, so you can return to the exercises and insights as often as you wish to soak it all up. (The recording is only for participants).
- Did I mention fun?
Who is this workshop for?
I've taught countless teachers and speakers. And storytellers, comedians, singers and such. The workshops are prefect for nervous and shy beginners. They're perfect for experienced folks who want more freedom, flow and fulfilment.
Any more questions? Just get in touch, happy to chat about any aspect of it.
"He is so wondrously, irreverently, counterintuitively, playfully genius at helping us all access the creative treasure we're hiding from ourselves and the world." Brooke McNamara
"Dave Rock gives you full permission to access your own brilliant, humanoid wierdo and transmute it into raw, beautiful, urgent expression." Rachel Blackman
How much does it cost?
I offer you a choice of three different prices, because I want everyone to be able to come. I ask you to consider your income levels and your needs, and to consider the time and energy I have put in to be able to teach these workshops, and my income levels and needs! And choose from the heart what feels best for you.
There's already a great group of folks booked in for this.....