Flow & Know: First Friday Happy Hour Yoga Just Got Historical
About this Event
First Friday happy hour yoga just got historical!
Join the Sophienburg Museum & Archives in celebrating New Braunfels 175th Anniversary in our First Friday's Flow & Know event.
Enjoy a one-hour yoga class held at significant historical sites in the Downtown New Braunfels area the first Friday of every month. After yoga relax and partake in a beer while listening to a history showcase of the location and its importance in the birth and growth of this fair city.
There are 9 classes scheduled beginning in March @ The Faust Street Bridge through December @ Gruene Hall; registration is kindly requested.
Cost for Flow & Know is $10 cash or check at the door with proceeds benefiting The Sophienburg Museum & Archives.
During inclement weather, outdoor classes will be held at the Emmie Seele Building on The Sophienburg Museum campus at 401 W. Coll Street. Please check The Sophienburg Museum's website and Facebook page for details the week prior.
Yoga class is designed for adults, attracting men and women. Children ages 12 and older are welcome to attend with their parent or guardian. Wear workout/exercise clothing, bring a yoga mat (and other personal props that make you comfortable) and a smile. It's fun, challenging and connects you to group of like-minded people interested in community, giving back and elevating the mind, body and spirit.
FLOW & KNOW SCHEDULE
Friday March 6, 2020: Faust Street Bridge
5:30-6:30 p.m. yoga; 6:30-7 p.m. History showcase
Teacher: Greg Casillas
Friday, April 3, 2020: Founders Oak, Landa Park (behind boat house)
5:30-6:30 p.m. yoga; 6:30-7 p.m. History showcase
164 Landa Park Dr., New Braunfels, TX 78130
Teacher: Melissa Welch-Lamoreaux
Friday May 1, 2020: NBISD Education Center (first high school)
5:30-6:30 p.m. yoga; 6:30-7 p.m. History showcase
430 W Mill St. , New Braunfels, TX 78130
Teacher: Greg Casillas
Friday June 5, 2020: Museum of Texas Handmade Furniture
5:30-6:30 p.m. yoga; 6:30-7 p.m. History showcase
1370 Churchill Dr., New Braunfels, TX 78130
Teacher: Rebekah Newton
Friday July 3, 2020: Market Plaza (behind Napa Auto Parts)
5:30-6:30 p.m. yoga; 6:30-7 p.m. History showcase
292 Tolle Street, New Braunfels Texas, 78130
Teacher: Rebekah Newton
Friday August 7, 2020: Plaza/Bandstand (Comal County Courthouse)
5:30-6:30 p.m. yoga; 6:30-7 p.m. History showcase
Teacher: Melissa Welch-Lamoreaux
Friday September 4, 2020: Central Fire Station
5:30-6:30 p.m. yoga; 6:30-7 p.m. History showcase
169 S. Hill Ave. , New Braunfels, TX 78130
Teacher: Melissa Welch-Lamoreaux
Friday October 2, 2020: Lindheimer Haus
5:30-6:30 p.m. yoga; 6:30-7 p.m. History showcase
491 Comal Ave, New Braunfels, TX 78130
Teacher: Rebekah Newton
Wednesday, November 4, 2020: Sophienburg Museum
5:30-6:30 p.m. yoga; 6:30-7 p.m. History Showcase
401 W. Coll St. , New Braunfels, Texas 78130
Teacher: Rebekah Newton
Friday, December 4, 2020: Gruene Hall
9:30 -10:30 a.m. yoga; 10:30--11 a.m. History showcase
1281 Gruene Rd., New Braunfels, Texas 78130
Teacher: Melissa Welch-Lamoreaux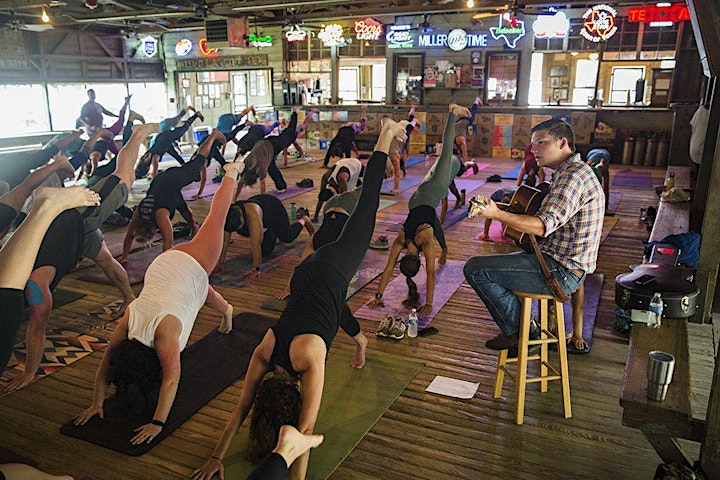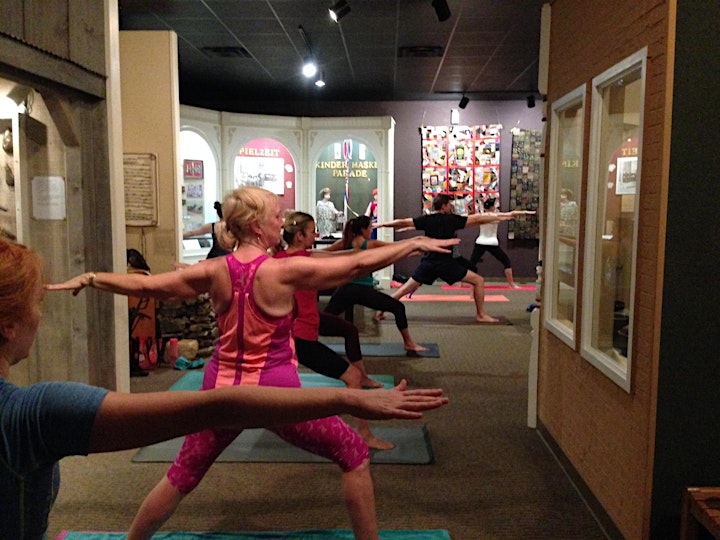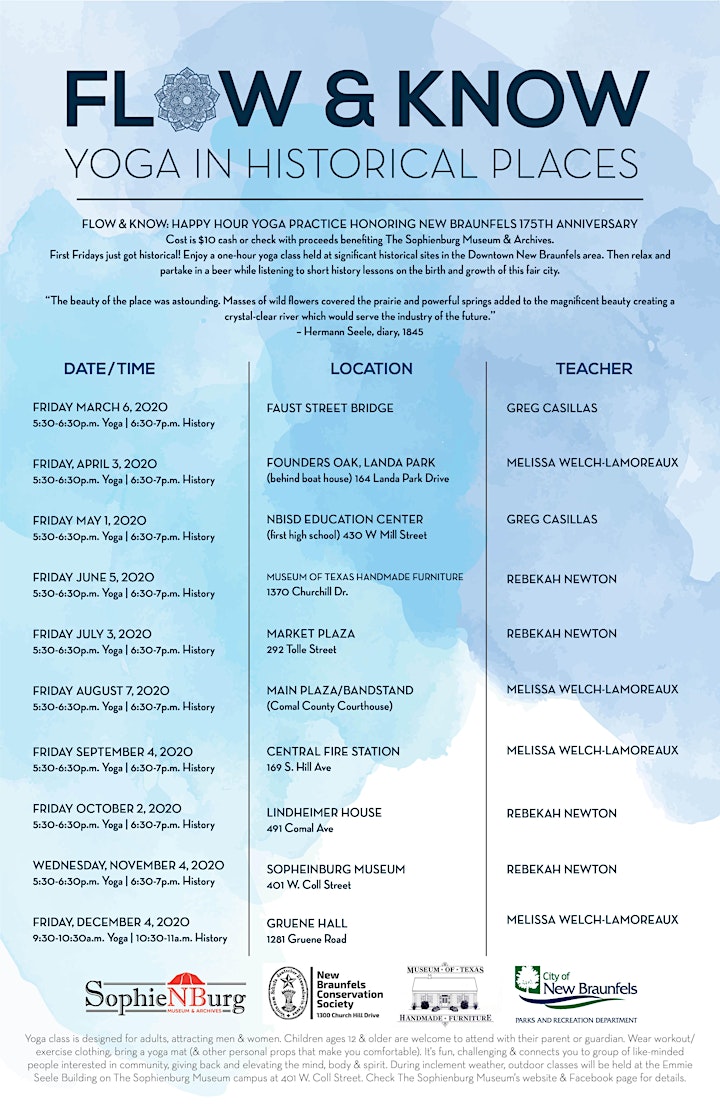 Date and Time
Location
Refund Policy