FLOURISH: Know Your Worth

Saturday, July 29, 2017 from 10:00 AM to 4:00 PM (PDT)
Event Details
SEX, LOVE, & MONEY!
Are you an aspiring entrepreneur who keeps bumping up against... yourself? Do you ask for/receive the compensation you deserve? Have you already experienced a degree of success, but feel that you are somehow playing small? Are you a woman doing well in most things, yet your intimate relationships fail thrive? Or perhaps it is the idea of speaking in front of a group of strangers--or recording live video--that stops you in your tracks!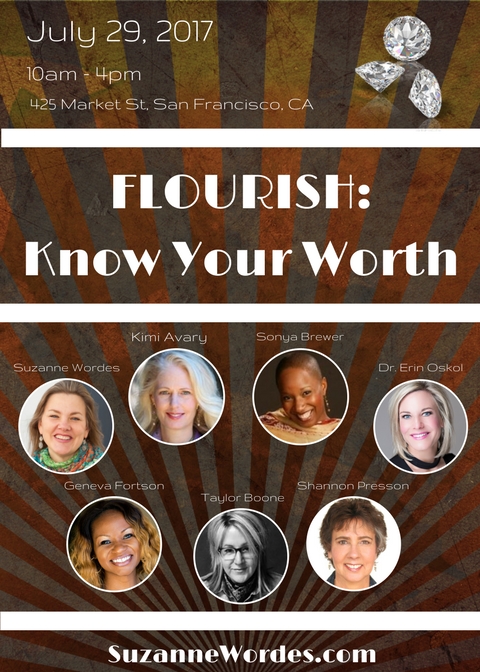 Join us for a day of exploration as we delve into the mysteries of our inner selves, as well as tips and tools for tapping into our true value: In the marketplace... in relationships... in the world... and within.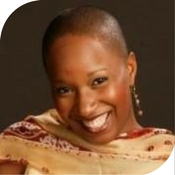 Sonya Brewer
Wild, Juicy, Passionate & Free:
A Path for Women Ready to Reclaim Healthy Sexual Desire, Deep Intimacy & Lasting Love
As a somatic psychotherapist and mentor to conscious, purpose-driven women, I believe that each of us is already whole, and that we come equipped with everything we need to express our soul's brilliance.
My job is to help you remember what is already inside of you. Our bodies are one way to access this inner wisdom, and my work encourages us to explore and celebrate what your body has to teach you about your innate capacities for growth, transformation, and visionary action.
I believe that our bodies hold the keys to our awakening, and that when we learn to listen to our bodies with deep awareness, we can no longer continue to live and act in ways that are out of integrity with our deepest knowing.
I am a compassionate mentor and guide on this journey towards remembering who you are. I am a fierce stand for your being all of who you are meant to be and more.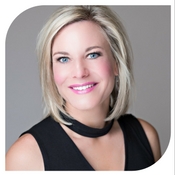 Dr. Erin Oksol 
Are You Getting What You're Worth?  
The Top 5 Mindset Mistakes
Costing You Money and Clients in Your Business… 
(And How to Avoid Them!) 
In this interactive workshop, Dr. Erin will help you improve your mindset to improve your bottom line. Too often entrepreneurs become limited by their negative thought patters which prevent them from sharing, and getting compensated for their services Thoughts like, "Who am I to do this?", "I wonder if anyone will actually pay me for this?", and "There are already so many people doing what I do, is there really a need for me?" can prevent business owners from even starting a business. Dr. Erin will share with you the top mindset mistakes business owners make and how to avoid them. 

Leave this workshop feeling inspired and confident In this training you will learn... 1) How to define your unique worth in the marketplace 2) The importance of defining your transformational message 3) How to confidently increase your visibility and establish your expert status 4) How to monetize your mission and be well compensated for the value you bring to the marketplace
Dr. Erin Oksol is the founder of Massive Business Success Coaching and helps business owners and entrepreneurs find their mission, get on mission, and stay on mission, giving them the proven tools to create massive business success.  In addition to running a small private practice in psychology, Dr. Erin took her own coaching business from non-existent to a six-figure coaching business in six short months. Dr. Erin loves combining the science of behavioral psychology and peak performance with coaching to help people take their business to the next level. She considers herself a "multi-passionate entrepreneur" as she is currently building multiple profit centers in psychology, coaching, speaking, corporate training, and network marketing. Dr. Erin is a professional speaker who now consistently is awarded $5,000+ contracts for her corporate training services. Last, she was just published in an international best-selling book on Amazon titled "Obstacles Into Opportunities".  Dr. Erin and her husband, Garth, live in Reno, NV with their three children, Grace, Emily, and Zachary.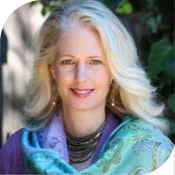 Kimi Avary, MA, Relationship Navigation Specialist 
Your Worth in Relationships: Keys to Relationship Success 
(that you can use right away)
Being a woman in the business world, from startup to corporate giant, is filled with excitement, intense focus, and the promise of great reward. BUT relating with the opposite sex can feel frustrating, disappointing, and can ultimately undermine your self worth and feed your inner critic. The dissatisfaction you encounter from battling your inner critic often leads to low energy and poor results. Because your relationships are the foundation of everything you do, it's essential that you know how to successfully navigate them, especially in challenging times. If your professional and personal relationships aren't going well you could be completely derailed before you can achieve your dreams.

Are you ready to remove the roadblocks to achieving your dreams and creating the career you truly desire? Attendees will learn:

What stops even the most conscious woman from knowing her worth

How understanding the masculine and feminine communication dynamics changes everything

How the Art of Curiosity can immediately enhance your relationships and your self worth
Kimi works with men and women who have challenges relating with each other both Professionally and personally. She has been coaching for 22 years, and working with women and men to help have thriving relationships since 2006. As a certified NLP (Neuro-Linguistic Programming) Master Practitioner, Kimi helps her clients bridge the gap between our thoughts, language and behavior to achieve greater success. 
Kimi has a Masters in Counseling and Bachelors Degree in Family Studies and Human Development, which provide her with a foundation to help men and women navigate and create the harmony they really want, professionally and personally. She is the creator of the Super Genius Teams Program. 
"The course has helped me become more aware of how men operate, and how they react to our actions. It gave me tools to practice at work and at home to improve relationships. It also helped me to recognize some issues I have with men and ways to address and change them." ~ K Nelms, Shell Oil.
Her upcoming book,The New Paradigm in Partnership has been personally endorsed by Dr. John Gray of the Mars/Venus book series. 
"A brilliant and much needed new approach for improving communication in our relationships." ~ John Gray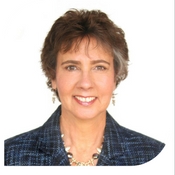 Shannon Presson  
THE UNEXPECTED STORY 
Getting Unstuck on the Way to Extraordinary? 
Are you launching a business, product or new way of living?Is that venture or project perhaps not gaining the traction you want, need or deserve? The reason may not be what you think…

 Join Shannon Presson for this fascinating presentation that will reveal powerful insights to help you identify the stories, beliefs and myths that either help or hurt your ability to achieve what you want in life. You'll come away with the clear understanding of what might be holding you back and the courage and confidence to reach for something so much bigger than you ever before dreamed possible!
 Shannon Presson is a speaker, trainer and belief change expert. She specializes in deep transformational work for entrepreneurs and creative professionals who are ready to take their work to the next level but need some help breaking through the old stories that are getting in their way.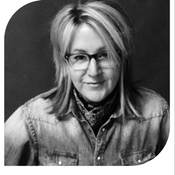 Taylor Boone 
What the F?! Fraud, Facade, and Freedom 
This talk is powerful on such a decapitating topic. We ALL face this one... being a FRAUD to our dreams, our passion, our purpose. The loneliness, disconnect, fear, and anger that fuels use even though we don't see it. When we start this conversation, it unfolds organically and we shift in our seats from discomfort at first and then we shift out of pure delight to step up and lead our dreams to the victory they deserve. We discover in the inspirational talk, we are not a fraud! No more delaying your purpose!


Photographer, Inspirational Speaker, Mentor, Artist Taylor Boone is an artist with a vision, photographer, mentor, speaker, and entrepreneur. A photographer for 20 plus years with her primary focus on empowering women to exists in photos. She is presently taking on commercial assignments, and on location sessions throughout the world. Her passion in photography, mentoring and teaching photographers, speaking, selling her artwork globally and leading exclusive creativity workshops with her studio partner Pamela of Peppermint Tea Photography are just a few things she has her hands in. Taylor is playful and somewhat adventurist by nature. Taylor has a deep passion for helping RISE others up to find their purpose. Be sure to check out upcoming videos on ways her heart is inspiring her purpose.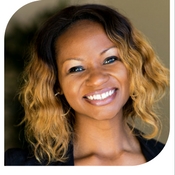 Geneva Fortson 
Knowing Your Worth: You Deserve to be Healthy and to Thrive 
I have worked in the Fitness Industry for over ten years as a: Trainer, Group Fitness Instructor, and also in Management. As I have gotten my older, my priorities have shifted. It's no longer about fitting into a specific clothing size or a perfect weight. I've been BOTH of those things and my life didn't change. My focus as I grow better with time is to keep improving myself and sharing with others best practices for LIVING BETTER. I am committed to teaching people about living better when it comes to improving their mindset, making healthier food choices, and moving better. After experiencing first hand the damage of restrictive dieting and excessive exercise, I have made it my mission to help women give up dieting for good. My life's work and mission is to help people become the best version of THEMSELVES and to LIVE BETTER.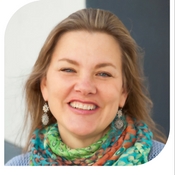 Suzanne Wordes, M.A. Integrative Health Studies 
Meeting Your Self with Kind-Hearted Curiosity 
Suzanne Wordes, is a trained life coach and integrative health professional who practices wellness coaching and guided imagery in San Francisco, as well as consultation, group facilitation, public speaking, and production of high-quality educational workshops. She serves as a beacon and catalyst for change for those who desire to thrive in life. 
When & Where

425 Market St
9th Floor
San Francisco, CA 94105


Saturday, July 29, 2017 from 10:00 AM to 4:00 PM (PDT)
Add to my calendar
FLOURISH: Know Your Worth