Description
Florida's Future Summit & Dinner is the premier conservative policy summit leading up to the 2018 election cycle. This half-day summit will feature specialized breakout sessions to educate and inform voters on some of the most pressing issues facing Florida's future: transportation, education, and jobs. Hear from leading experts and get a chance to talk about policy and ideas with statewide elected officials.
Our keynote speakers include, Cheif Financial Officer, Jimmy Patronis, The Conservative Millennial, Allie Stuckey, who is featured on The Blaze and conservative grassroots leader and political commentator Lauren Cooley! Our dinner keynote speakers are Congressman Ron DeSantis and American Hero, MSgt. Israel Del Toro, who was recently honored with the Pat Tillman Award for Service at The ESPYS.
We have regular and VIP individual tickets available. The regular ticket includes the summit, happy hour, and dinner seating. The VIP ticket includes the summit, access to the VIP happy hour with an open bar, mingling and picture with the keynote speakers, and premier dinner seating. Ticket sales end on Friday, August 18th - you will not be able to buy dinner tickets at the event.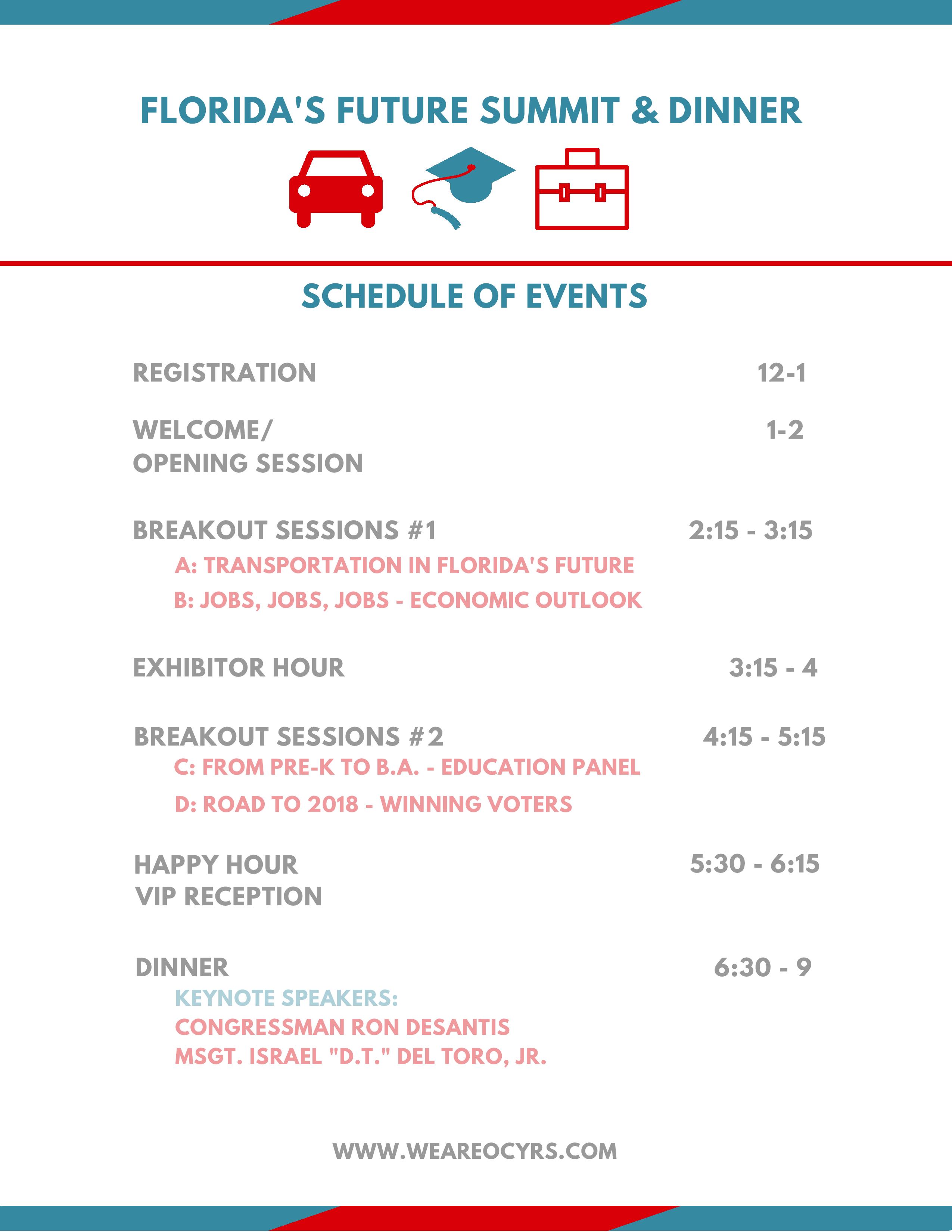 Lodging/Accomodations:
We have a block of rooms at the Rosen Shingle Creek for the weekend. The rooms are only $129/night (normally $200/night). To reserve a room, please call Rosen Shingle Creek at 1-866-966-6338 and use the Orange County Young Republicans block.
Exhibitors/Sponors:
We have three sponorship levels available:
Our Road to 2018 Club provides 8 VIP passes (Summit, Happy Hour and Dinner) with a premier table seating; corporate logo placement; one year of corporate logo in OCYR newsletters; and recognition during dinner. (Price = $2,018.00)
Our Florida Future Sponsor provides 4 VIP passes (Summit, Happy Hour and Dinner) with premier table seating; corporate logo placement; and recognition during dinner (Price = $1,000.00)
Our GOP Supporter provides corporate logo placement; exhibitor table during the showcase from 3-4 PM. Note: this level comes with one (1) dinner ticket. (Price = $467.00)
Candidates, campaigns, organizations, and businesses interested in sponorship opportunities and/or exhibitor tables, please contact Orange County YR President Nick Primrose for more information. He can be reached at 407-476-9115 or president@weareocyrs.com