Description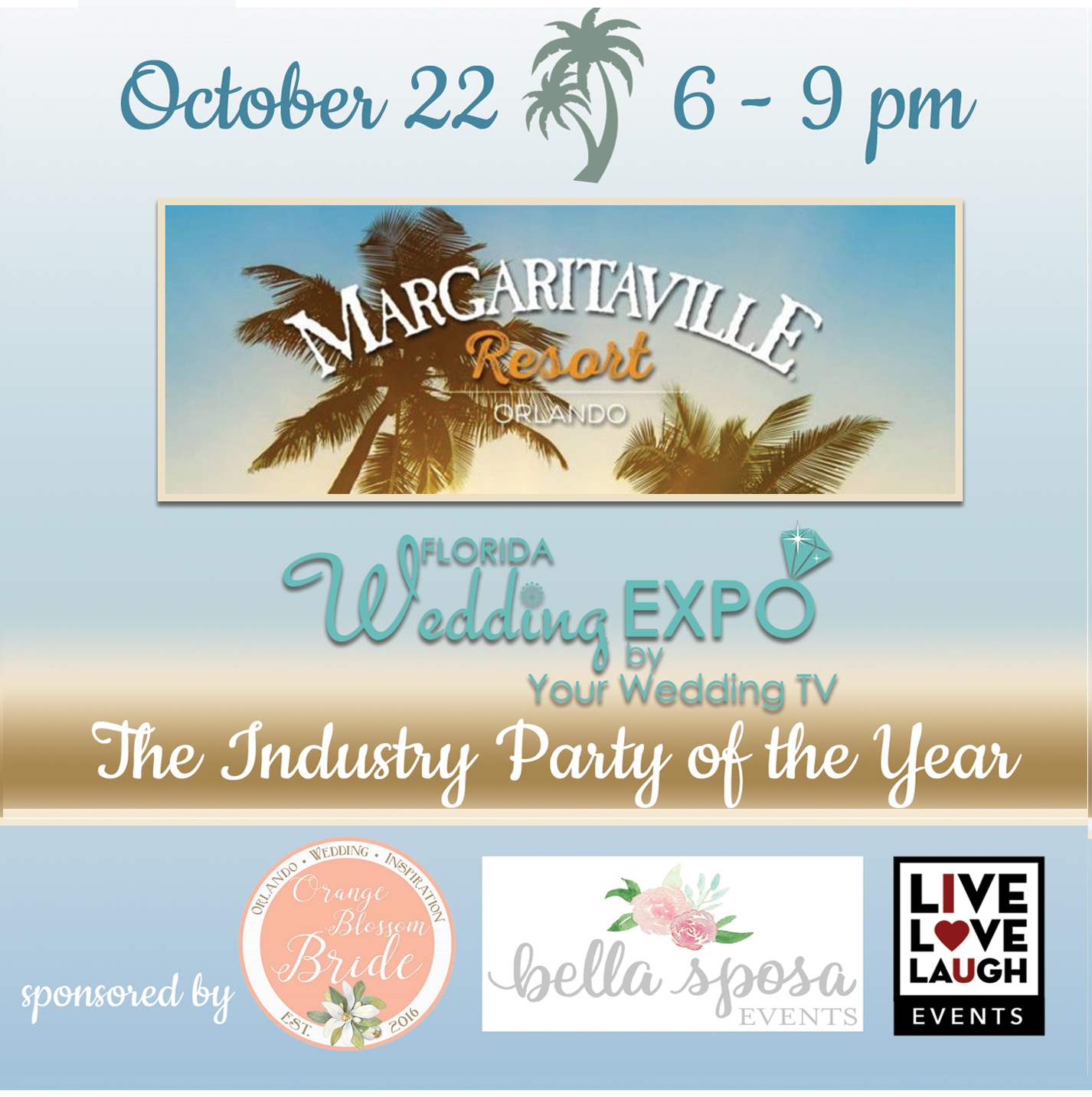 Join us for an evening of tropical fun, delicious food, and fabulous beverages, hosted by Margaritaville Resort Orlando and the Florida Wedding Expo, and sponsored by Orange Blossom Bride, Bella Sposa Events, and Live Love Laugh Events.

Changes in Latitudes, Changes in Attitudes...
You work your tail off to help other people have fun. Well, get your sails ready because the winds are shifting! This party is all about YOU for a change!

It's Five O'Clock Somewhere...
Our party starts at 6:00 pm, but feel free to come early - Margaritaville Resort's Euphoria lounge has happy hour starting at 5:00 pm (located on the upper level of the hotel).

Trip Around the Sun...
From 6:00-7:00 pm, you'll have a chance to check out everything this gorgeous new venue has to offer, (with a tropical cocktail in-hand, of course)! You'll receive a passport and a treasure map upon arrival. Make sure to get your passport stamped in all the different areas labeled on the map before 7:00 pm to be entered into the prize giveaways!

Prizes include:
FREE BOOTH at the January 5, 2020 Florida Wedding Expo at the Orange County Convention Center
One FREE YEAR of premium advertising on the Florida Wedding Expo Website
Other amazing prizes provided by Margaritaville Resort, Orange Blossom Bride and more!


Livin' It Up...
It's all fun and games, until it's time to dance. From 7:00-9:00 pm we'll be livin' it up as the sun goes down in Margaritaville Resort's beautiful Compass Rose Ballroom.

No Shoes, No Shirt, BIG Problem...
The dress code is tropical chic. What would you wear if you were invited to an evening on Jimmy Buffett's yacht? Wear that!


Trying to Reason with Hurricane Season...
We all know firsthand the weather in Florida is unpredictable, but not to fret, we always have a backup plan. This party is rain or shine!
You do not want to miss this event! RSVP NOW - ATTENDANCE IS LIMITED!