Florida Presidency V Kick-Off Meet & Greet and Pre-Debate Party

Thursday, September 22, 2011 from 3:00 PM to 5:30 PM (EDT)
Event Details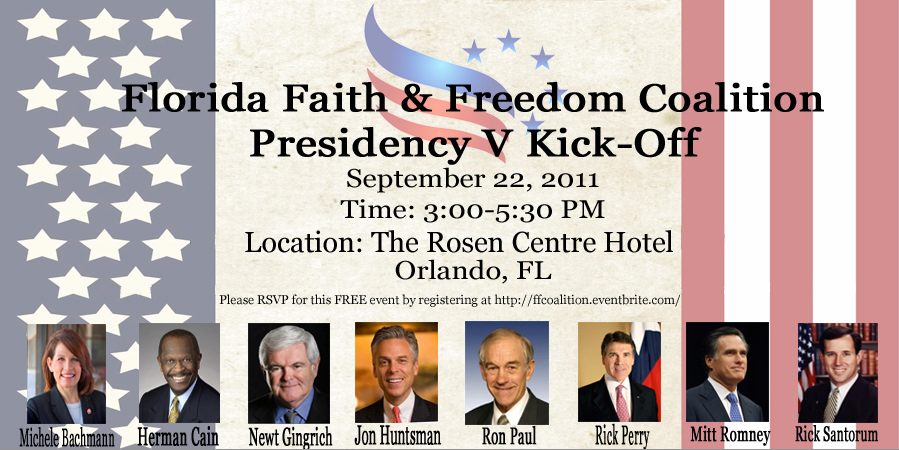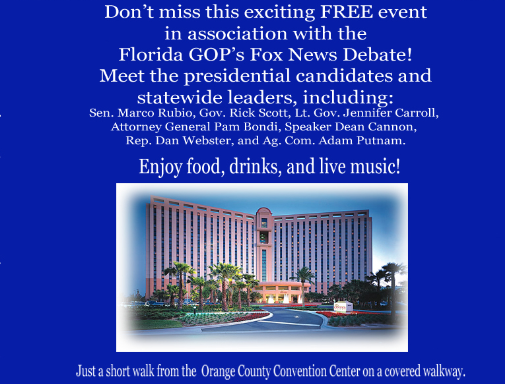 Dear Friend of Freedom,

The Faith & Freedom Coalition and the Florida Faith & Freedom Coalition would like to invite you to our Florida Presidency V Kick-Off Meet & Greet and Pre-Debate Party, to be held at the Rosen Centre Hotel on Thursday, September 22 in coordination with the Fox News debate and the Florida GOP's Presidency V Straw Poll.
We hope you will join us for this exciting event as we kick-off the 2012 presidential campaigns. The event will start at 3:00 PM, and will feature food, fellowship, and special music. It promises to be a huge celebration of faith and freedom with all the Presidential candidates and a great way to get warmed up for the Fox News Debate that evening. We hope to see you there!
*Please register for this FREE event above by selecting a "General Admission" ticket. For more information email office@flstrategies.com or call (850) 222-8156.
Sincerely,
Ralph Reed
Chairman & Founder
&
Brett Doster
President
Florida Faith & Freedom Coalition
P.S. The support of friends like you has propelled Faith and Freedom Coalition to tremendous growth in a short period of time. Please consider an on-line gift today of $25, $50, $75 or even $100. We count on your continued support as we continue to restore America's greatness and founding principles!
Organizer
For more information visit: www.ffcoalition.com
We believe that the greatness of America lies not in the federal government but in the character of our people — the simple virtues of faith, hard work, marriage, family, personal responsibility, and helping the least among us. If we lose sight of these values, America will cease to be great.
Never before has it been more critical for us to speak out for these values. That is why the Faith and Freedom Coalition is committed to educating, equipping, and mobilizing people of faith and like-minded individuals to be effective citizens. Together we will influence public policy and enact legislation that strengthens families, promotes time-honored values, protects the dignity of life and marriage, lowers the tax burden on small business and families, and requires government to tighten its belt and live within its means.