Florida Presidency V Kick-Off Meet & Greet and Pre-Debate Party
Description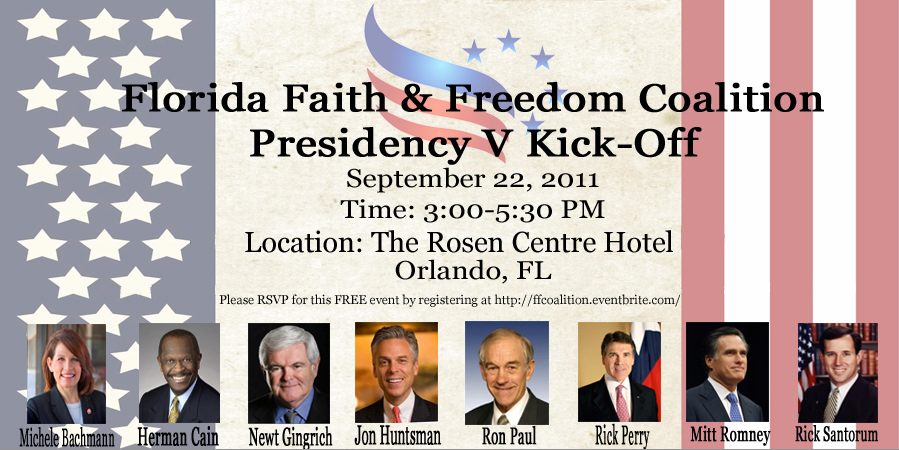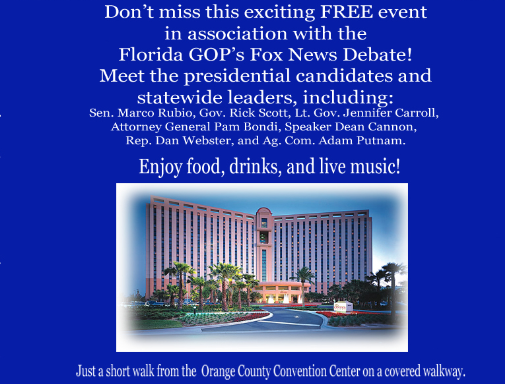 Dear Friend of Freedom,

The Faith & Freedom Coalition and the Florida Faith & Freedom Coalition would like to invite you to our Florida Presidency V Kick-Off Meet & Greet and Pre-Debate Party, to be held at the Rosen Centre Hotel on Thursday, September 22 in coordination with the Fox News debate and the Florida GOP's Presidency V Straw Poll.
We hope you will join us for this exciting event as we kick-off the 2012 presidential campaigns. The event will start at 3:00 PM, and will feature food, fellowship, and special music. It promises to be a huge celebration of faith and freedom with all the Presidential candidates and a great way to get warmed up for the Fox News Debate that evening. We hope to see you there!
*Please register for this FREE event above by selecting a "General Admission" ticket. For more information email office@flstrategies.com or call (850) 222-8156.
Sincerely,
Ralph Reed
Chairman & Founder
&
Brett Doster
President
Florida Faith & Freedom Coalition
P.S. The support of friends like you has propelled Faith and Freedom Coalition to tremendous growth in a short period of time. Please consider an on-line gift today of $25, $50, $75 or even $100. We count on your continued support as we continue to restore America's greatness and founding principles!