Event Information
Location
Florida Panther National Wildlife Refuge
13233 SR 29 South
Immokalee, FL 34142
Description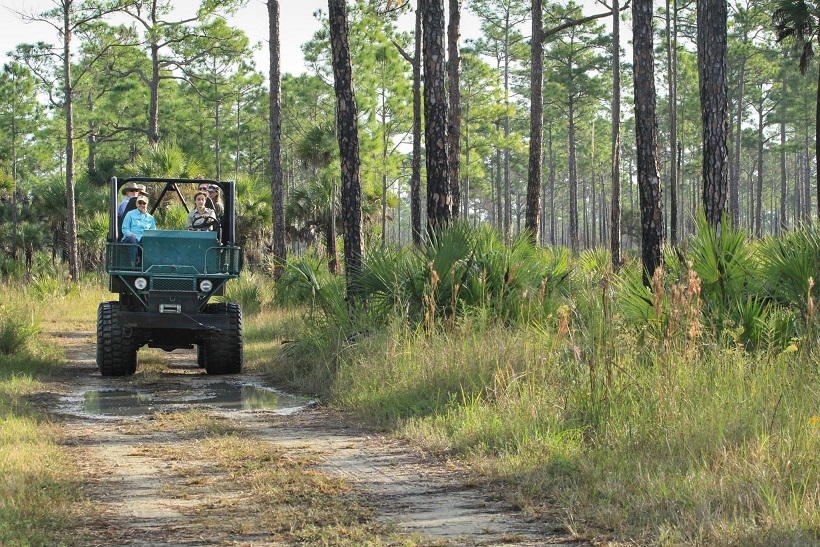 The Florida Panther National Wildlife Refuge was established in 1989 to ensure that panthers, bears and other wildlife have as much undeveloped land as possible. While visitors are invited to use the refuge's public hiking trails 365 days per year, there are a few days per year where the public can travel into the backcountry areas on foot, or on swamp buggies, to see and learn more about the Refuge.
On our journey, we'll see a mix of habitat - hardwood hammock, pine forest, wet and dry prairie and cypress swamp. We may find tracks in the dirt, or scat, which will help us identify what type of critter left the clues on the very trail we are exploring, perhaps just a few hours before we arrived to do our own exploring. And of course, if we are very, very fortunate, we may see Florida white-tailed deer, black bears and/or the jackpot sighting we all hope for: a Florida panther.
This very special excursion will allow participants to visit areas of the Refuge that are normally closed to the public. We will leave the Refuge's workcenter on swamp buggies, the best way to see a large area of the Refuge in a relatively small amount of time. (One buggy is shown in the photo, above),
We will meet at the Refuge's Roger Roth work center no later than 8:45am. The work center is located on SR29 just north of its intersection with mile marker 80 of I-75/Alligator Alley. One clue to finding the workcenter is to look for the first black mailbox on the left hand side of the street. It's on FL state road 29, about 1/4 mile north of I-75 exit 80. Please plan to arrive by at least 8:45am so we can get everyone signed in and be able to set out on our adventure promptly at 9:00am.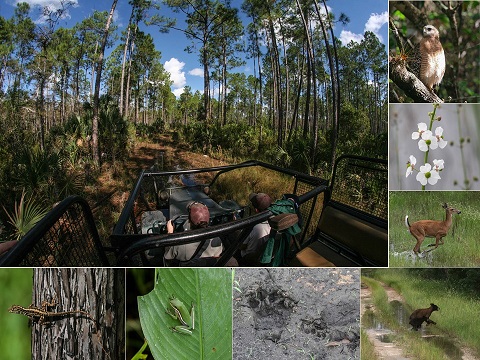 Reminder: because we will be venturing into the backcountry, you should consider bringing along, or wearing, sunscreen, a hat, closed-in shoes (sneakers are great) and long pants. You may also wish to bring along water and light snacks in case you get hungry while we're out and about!
There are restrooms available at the work center, so they'll be available to use when you first arrive and once we return from our adventure, so plan your consumption of liquids accordingly
Also important: Swamp buggies are set much higher than other vehicles, and we will need to climb a couple steps that are each are between 12 and 24 inches in height.
Finally... Bring your camera! There's always something of beauty placed there by Mother Nature, and we never know what other creatures we might see!
Remember: our meeting place will be in the Roger Roth Fire Operations Center at Florida Panther National Wildlife Refuge. You will need to travel to Interstate 75, exiting at exit #80, which is State Road 29 (SR29). Go north on SR29 about 1/4 mile and watch for a single mailbox on the left-hand side of the road. Should you reach beige housing units, you have travelled too far north on SR29 and will need to turn back (please use extreme caution as there are often vehicles traveling at high speeds on SR29.)
Date and Time
Location
Florida Panther National Wildlife Refuge
13233 SR 29 South
Immokalee, FL 34142