Florida Minority Enterprise Development Conference 2019
Description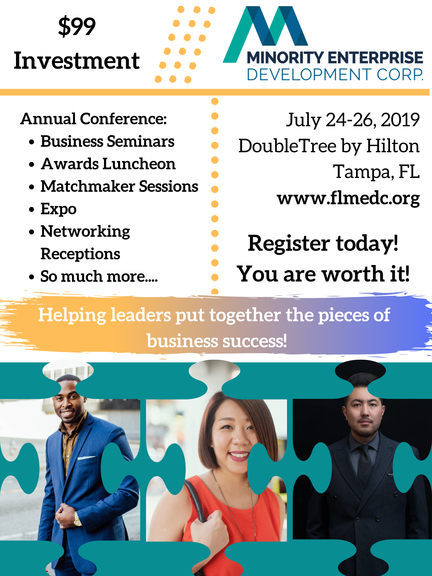 Minority Enterprise Development Conference - July 24 - 26, 2019
You Don't Want to Miss It!
---
Schedule of Events:
Wednesday, July 24th
4:00 pm – Vendor Registration Opens
5:00 pm -5:45 pm – Vendor Set-up
6:00 pm – 9:00 pm – Opening Reception & Wine Down Wednesday Retail Vendor Showcase - Come out and support your local community vendors and organizations. Vendors will have items for purchase. Enjoy great food & entertainment provided by violinist, David Bathen who has been wooing crowds near and far along with Wine Tasting by Epicurious One.
Thursday, July 25th
8:00 am – Registration Opens -
8:30 am - Leveraging Social Media Markets: (facilitators: Sam Morales - Hillsborough County, Aubri Shauger-Haley -FSBDC at Pinellas County Economic Development, Theresa Kempa - Hillsborough County)
9:50 am - Financing your Company's Growth: (facilitators: Albert Lee - TBBIC, Roy Binger, Eric Sharpe - Wells Fargo)
11:30 am - Creating Customer Loyalty: (facilitator: Mercedes Young - Vivid Consulting Group)
1:10 pm - Getting the Contract - How I Did It (facilitator: Lennise Germany)
2:25 pm - Best Practices for Retaining your workforce: (facilitators: Attorney Patrice Featherstone, Attorney Deidra Demps) 2:25pm
3:40 pm - Business Opportunities in Tampa Bay: (facilitator: Santiago Corrada, Visit Tampa Bay)
4:30 pm - Networking on Purpose Reception
Friday, July 26th
9:00 am - Bonding and Insurance: (facilitator: Evan Williams and Alicia Graham - ProPlayer Insurance Group, Moderator - Ingrid Young)
10:10 am - Succession Planning & Strategically growing your Business (Charles Young, Young & Sons)
11:30 am - Minority Business Awards Luncheon
9:00 am - Supplier Diversity Roundtable - (Open to Corporate Members Only) - Friday, July 26
The FSMSDC Supplier Diversity Roundtable meets regularly to discuss best practices in Supplier Diversity, professional development for diversity professionals and trends in Supplier Diversity. Join your peers at this roundtable meeting to discuss and share insights on Supplier Diversity for 2019.
For more information or to register contact: johanna@fsmsdc.org
Business Matchmaker & Expo: 1:00 pm – 5:00 pm
The Business Matchmaker & Expo allows you to connect with key stakeholders for your business who may have a need for your products or services. Come make key connections to help you grow your business. Find out what Contracts they may have currently and become more aware of taking advantage of those opportunities.
Already committed:
City of Tampa, Hillsborough County, Moffitt Cancer Center, TECO Energy, Tampa General Hospital, Duke Energy, Jarrett Gordon Ford, SBDC, USF, Florida Blue, Wells Fargo, Pinellas County, City of St. Petersburg - many more
What can you look forward to?
This conference gives you the opportunity to get valuable information to grow your business. You will receive attendance to Opening Reception presenting community mbe retail vendors, 8 Workshops over two days, One (1) Lunch n Learn, One (1) Annual Awards Luncheon, Two (2) Receptions and a Business Matchmaker & Expo.
Minority Business Awards Luncheon - Friday, July 26th
27th Annual Awards Luncheon Keynote Speaker: Farad Ali - National Minority Supplier Development Council, Vice President, Network Delivery Services. The mission of the NMSDC is to advance business opportunities for certified minority business enterprises and connects them to corporate members. Mr. Ali is a trusted advisor to businesses large and small, government agencies, policymakers and organizations that understand the key roles diversity and inclusion play in ensuring business and economic success. He is an advocate for public policies and business practices that promote marketplace diversity and inclusion.

---

Hotel Reservation Information:
DoubleTree by Hilton Hotel Tampa Airport - Westshore
4500 West Cypress Street
Tampa, FL 33607
Special Room rates available 7/22/19 - 7/27/19
Group Rate: $127.00 – Group Code: MED - Discount rates expires on 7/14/2019
Government Rate: Call Hotel to book directly - 813-998-2221