About this Event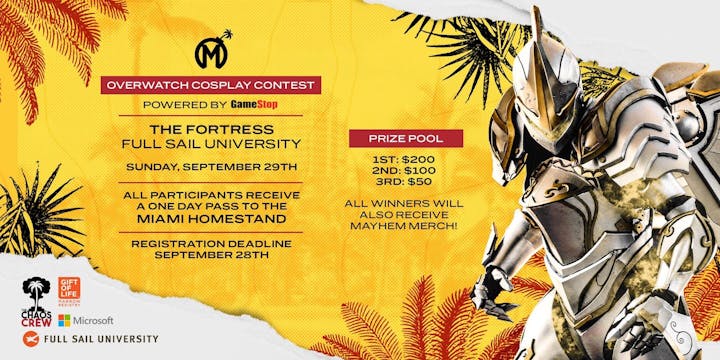 On September 29, the two Overwatch League 2019 finalists San Francisco Shock will face-off the Vancouver Titans for the championship title. The Florida Mayhem invite you to join us at The Fortress to watch the action live!
To celebrate four stages and the Grand Final itself, Florida Mayhem are once again teaming up with the Chaos Crew to host a watch party and cosplay contest for all Overwatch fans within the state of Florida.
For the last watch party of Season Two, we'll be meeting at Full Sail to watch the big game at The Fortress, the university's brand new esports arena. Unveiled earlier this year, the arena is the largest of its kind on any campus in the United States.
Before the match begins, attendees to the event will be able to gather to meet and socialize on campus. Head on over to The Fortress for the chance to win some fantastic prizes provided by our sponsor GameStop. Fans can play a little Overwatch on site on hardware provided by the Florida Mall Microsoft Store or buy some Florida Mayhem merchandise.
Our partners, Gift of Life, will also be on site offering the chance for attendees to join their Marrow Registry. With just one quick swab, you could be saving a life. As Tracer never tires of telling us, the world could always use more heroes.
It wouldn't be the Grand Finals without a competition of our own, so for this special watch party we'll also be hosting a Cosplay Competition. Want the chance to win our top prize of $200? Sign up ahead of time to confirm your spot in the competition. Second and third place will win $100 and $50 respectively.
All three finalists will also get promoted across Florida Mayhem social channels, win a Mayhem team jersey of their choice, and receive an exclusive certificate. After the match finishes, competitors will be able to display their costumes before the winner is announced. Unfortunately we cannot accept applicants on the day, so please remember to fill out the linked form before the cosplay contest deadline on September 28, 2019. [Cosplay form below]
All fans of Overwatch are encouraged to join us for this event. All parking is available outside The Fortress, which is located at 3260 University Boulevard, Suite 105, Winter Park, FL, 32792.
Doors open at 2pm EDT on September 29, with the game starting at 3pm. Food will be available to purchase on site, so nobody has to hungry throughout the day. Celebrations are expected to end at around 7pm.
We Hope to see you there!
Cosplay Competition Sign up & Rules:
https://bit.ly/2m2RmWp[Copy & paste to address bar]
Questions and Contact Information:
If you have any questions about the event, please email:
alonso@floridamayhem.gg
Questions about cosplay contest, please email:
shani@thechaoscrew.net
nelly@thechaoscrew.net