Sales Have Ended
Registrations are closed
Thank you for your interest in Lightning Made Hockey. At this time, registration for the Street Hockey Tournament has ended. For information on future Lightning Made camps and clinics, please visit www.tampabaylightning.com/lightningmade
Sales Have Ended
Registrations are closed
Thank you for your interest in Lightning Made Hockey. At this time, registration for the Street Hockey Tournament has ended. For information on future Lightning Made camps and clinics, please visit www.tampabaylightning.com/lightningmade
Description
Don't miss out on this amazing opportunity for the kids and a great chance to test your skills against the several other community centers and schools in the Tampa Area. All details for the event are in the flyer below!
The tournament is free for schools and all students will receive a jersey, ; all you need to do is show up! The tournament consists of 2 divisions: 8-10 year old and 11-13 year old.
With 10 teams in each age group split in to 2 divisions of 5, all teams in the tournament are GUARANTEED 4 games at a minimum throughout pool play! At the completion of pool play, the top 4 teams in each division will advance to single game elimination playoffs!
MUST REGISTER AS A FULL TEAM, WITH A MINIMUM OF 11 PLAYERS KNOWN AT THE TIME OF REGISTRATION. TEAMS MAY HOLD A MAXIMUM OF 15 PLAYERS.
INDIVIDUAL PLAYER REGISTRATIONS WILL NOT BE ACCEPTED.
INDIVIDUAL SCHOOLS/FACILITIES MAY ENTER A MAXIMUM OF 1 TEAM PER AGE DIVISION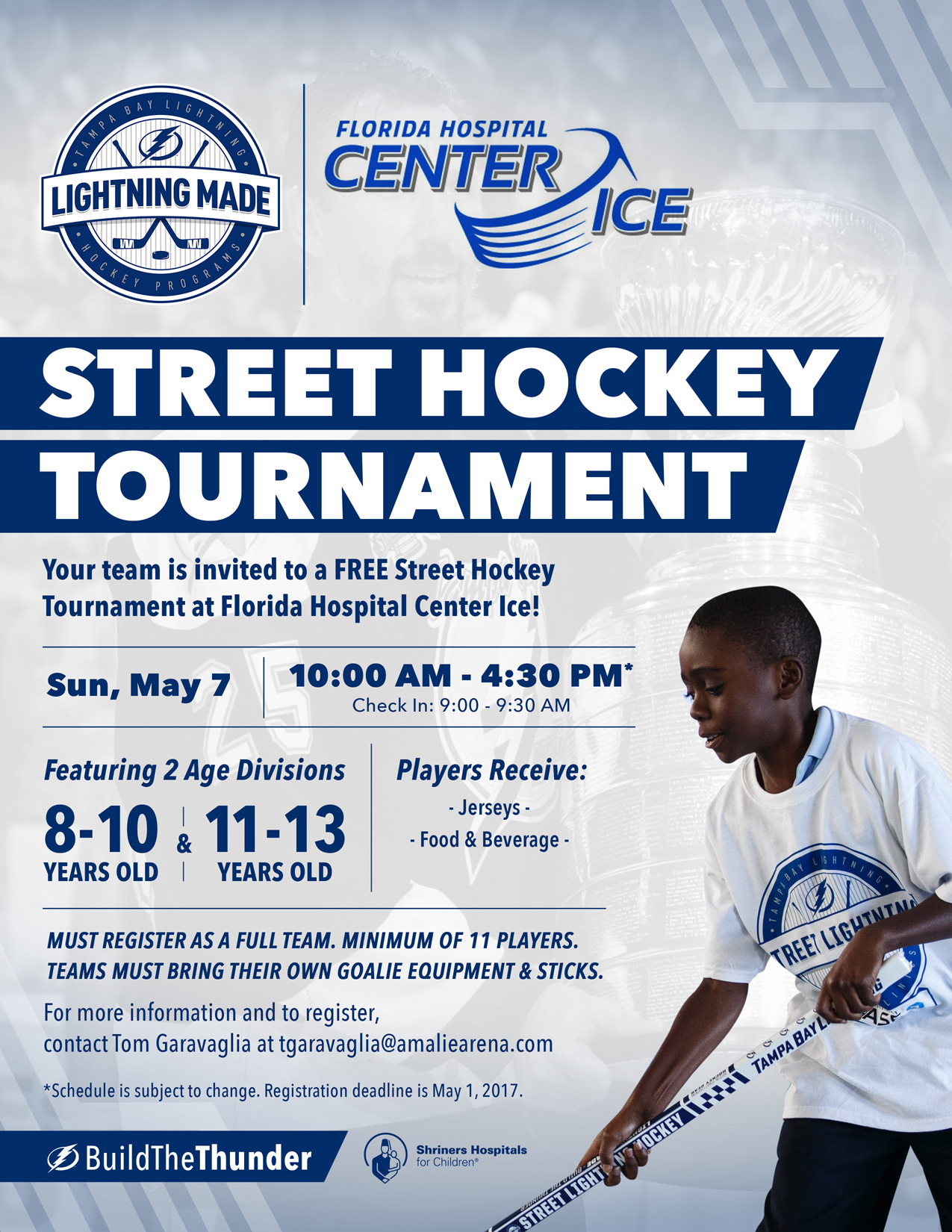 If you have any questions contact Tom Garavaglia at TGaravaglia@AmalieArena.com.