Florida Home Education Summit / Homeschool Information Day 2017
Description
Florida Home Education
Homeschool Information Day
April 29, 2017
8:30 am - 1:00 pm
Pine Lakes Country Club, Palm Coast
Speakers will share about independent home education, using a private umbrella school, Florida Virtual School's Flex option, college dual enrollment, homeschooling special needs, and more. Special guest Mr. Rick Blum will present math magic using Vedic Math.
A limited number of books, resources and materials will be available for purchase (cash only).
$10 per person / $20 per family*
*A family ticket is assumed to be the two parents and their own children. Grandparents and other guests are asked to purchase a separate ticket. (Nursing moms bringing only baby are invited to purchase an individual ticket.)
Limited seating, advance reservations suggested, by purchasing here on Eventbrite. (Walk-ups at the door only if space permitting.) Purchase ticket here to guarantee seating.
See flyer below for details and additional information.
Contact event organizer with additional questions.
Scroll down for the list of speakers/sessions as it develops.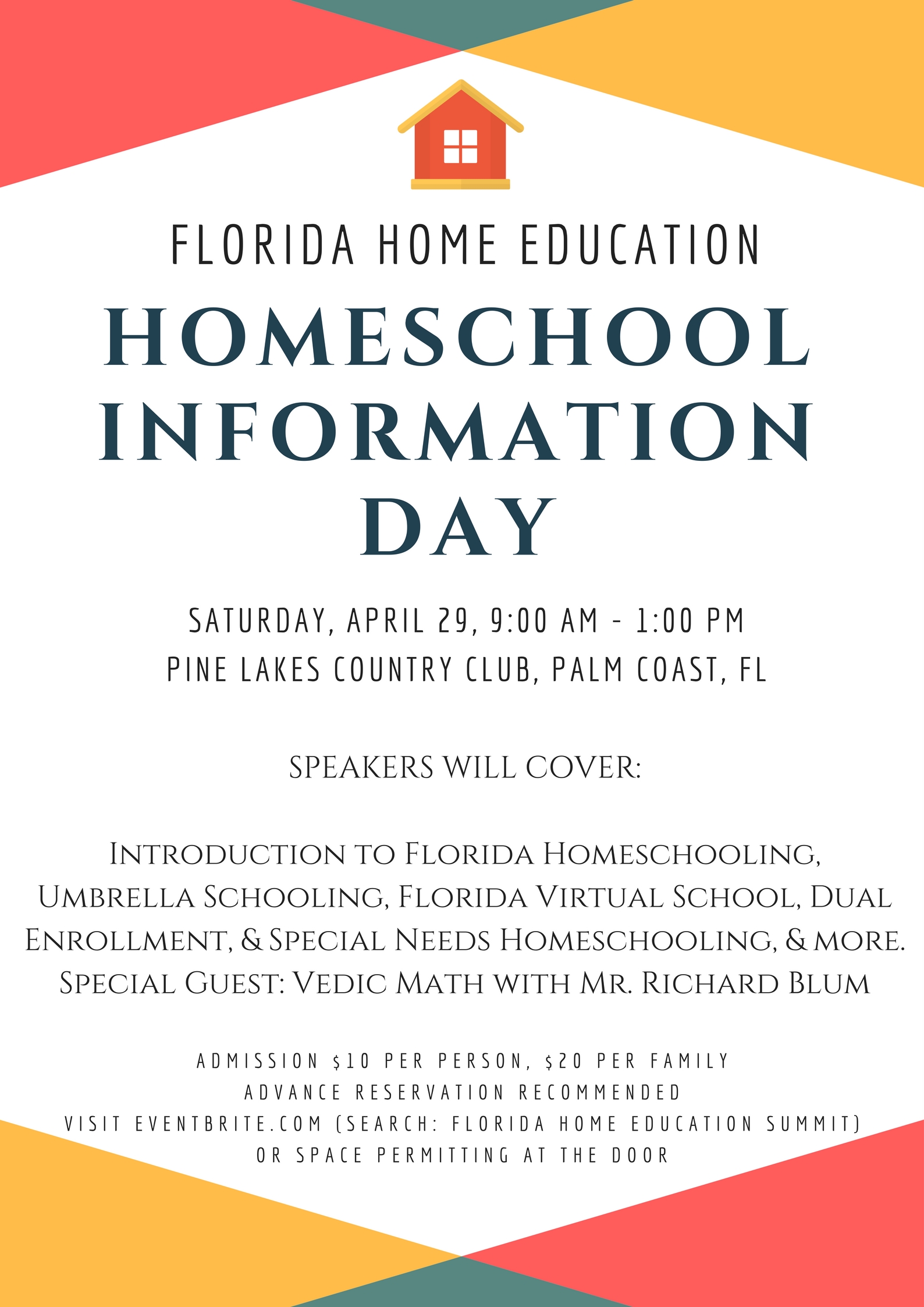 FEATURED SESSIONS:
A full list will be available upon check-in. Stay all day, or attend only sessions of interest.
9:10 Homeschool 101
9:30 Using a Private School
10:00 Math Magic
10:45 Morning Panel Session
11:00 Florida Virtual School
11:20 Special Needs
11:45 Dual Enrollment
12:15 Afternoon Panel Session
SPEAKERS:
Richard Blum
Rick Blum will introduce the merits of Vedic Math (VM), a complete system of mathematics re-discovered over a hundred years ago in India. VM techniques enable students to very quickly write answers to math problems without the use of pencil, paper or calculator. The effectiveness of VM borders on "magical". Increase your child's self-esteem and self-confidence as they realize they can do math faster than they ever have in their lives!
Dr. Marie-Claire Moreau
Marie-Claire Moreau is a professor who traded a tenured faculty position for the privilege of becoming a homeschool parent over 20 years ago. Her children were successfully homeschooled, earned top honors, and all attended college debt-free. A national homeschool advocate, she works to advance home education by working with families and speaking to live audiences about leveraging the power of a home education. Visit www.marieclairemoreau.com to learn more, and find Dr. Moreau's latest books on Amazon or your favorite online book seller.
Jolene Spangler-Rosamonda
Jolene Spangler-Rosamonda is an exceptional student education specialist for the Florida Department of Education and a homeschool parent of 4 children, 2 with special needs. Jolene will discuss the best methods, tools and resources for homeschoolers throughout the State of Florida for families with children who may have special needs or who struggle with academics.
Anne-Marie Shaffer
Anne-Marie Shaffer is a homeschool mom of 4 and owner of Freedomschoolers Academy, a private "umbrella" school established in 2012 and registered with the Florida Department of Education. She will discuss the differences between homeschooling through a private school and the Home Education Program.
Jimminda Thompson
Jimminda Thompson is District Relations Manager at Florida Virtual School (FLVS). Ms. Thompson will share specific information about the FLVS "Flex" option, a program which supports home education by permitting students to take online classes while still retaining legal homeschool status and control over educational choices.