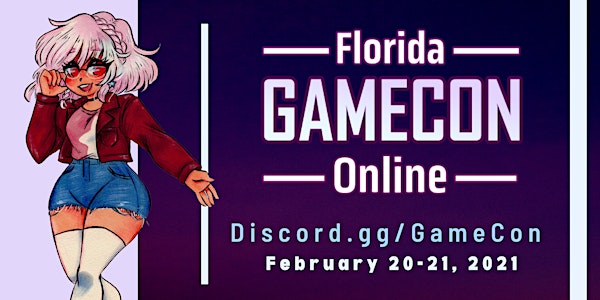 Florida GameCon Online 2021
Student-Run Gaming & Anime Convention Hosted Virtually on Discord & Twitch. DISCORD - https://discord.gg/GameCon (Everyone, All Ages)
About this event
GameCon Overview:
Support gaming for fun and competition.
Support anime and cosplay activities.
Created to support education, friendship and community.
Free to attend for all ages and regions.
We strive to be inclusive to anyone who belongs to the community of gaming, anime, comics, and pop culture.
How to Participate:
Our gaming will take place on our Discord.
Our tournaments will take place on Smash.gg.
Our performances will be streamed on Twitch. We will be live February 20th.
CONVENTION ACTIVITIES
Free Play Gaming Events (On Discord):
Animal Crossing: New Horizons Events
Maid Café ⁃ Cosplay Contest ⁃ Scavenger Hunt
Among Us ⁃ Jackbox ⁃ Kahoot
Games On Demand Throughout the Convention ⁃ Livestreams and Prizes
Splatoon 2: Free Play Events
Turf War ⁃ Salmon Run ⁃ Mini-Games with Prizes
Minecraft ⁃ Overwatch ⁃ Project Diva ⁃ Roblox
Main Convention Activities (On Twitch):
Digital Song & Dance Fest
Live and Pre-Record Performances ⁃ Musicians, Dancers, Idols
Online Cosplay Contest
Online Cosplay Contest ⁃ Open to Teenagers and Adults
Community Panels
Run by Community Members ⁃ Japanese Language Learning
Virtual Vendor Hall
Artists and Exhibitors Selling Merchandise ⁃ Supporting Small Businesses
Gaming Tournaments Presented by CORSAIR:
PS4: Dragon Ball FighterZ ⁃ Soul Calibur VI ⁃ Tekken 7
PC: Little Nightmares II ⁃ osu! Showdown ⁃ Overwatch 3v3
SWITCH: Project Diva MegaMix ⁃ Splatoon 2
Register on Smash.GG: https://smash.gg/gamecononline
Guests and Exhibitors:
Mike Daniels. NFL Pro Bowler, Anime Fan
Risa LIght. Japanese Teacher, Cosplayer Singer, DJ
Animaru Cafe. Endangered Animal Maid Café
Sumuji Cafe. Arizona-Based Maid Café
Phoebe Chan. Singer, Voice Actor, Streamer
Calina. Idol, Voice Actor
Charlie Marmalade. Idol, Dancer, Musician
Stephanie Yanez. Anime, Jpop Artist
CORSAIR. Prize Sponsor