Description
***Unless you are absolutely confident in your ability to pass the qualification, we strongly suggest bringing an extra 50+ rounds. This will allow us to work with you to improve your marksmanship.***
In order to remain eligible to continue to carry a Class "G" license, during each 12-month period of the two-year term of a Class "G" license, including the first 12-month period after the license was initially issued to the license holder, a Class "G" licensee must successfully complete 4 hours of range and classroom training taught by a Class "K" firearms instructor.
The classes are taught by a husband and wife team, both prior law enforcement, with substantial experience in teaching firearms and helping shooters to overcome issues. Our purpose built Training Center is located just minutes from Downtown Eustis and Downtown Mount Dora.
Our "K" firearms instructor is also an NRA Training Counselor, one of only a handful holding both credentials. Training Counselors train NRA Instructors, meaning that your class will be taught by someone with very advanced skills that regularly teaches others how to be Instructors.
While most K Instructors only allow you to shoot the qualification course, we work with you to help you to be a more proficient shooter. If you struggle to qualify, we can help you correct your deficiencies.
Other features of our classes include:
Comfortable training atmosphere
Onsite range:
—Actual range, not a small pile of dirt located in a remote area
—No distractions of a public range
—No travelling between the classroom and the range
—Covered gear tables
—Shade sails over shooting lanes
—Large fan provides breeze
Range safety is paramount:
—Our Instructors are also certified as Chief Range Safety Officers
—Our Instructors are trained in trauma response
Cold bottled water provided on the range
No additional fees for the range, targets, or hearing and eye protection
Rental firearms/holsters available for additional cost ($35)
Ammo and other shooting supplies available for purchase in our Pro Shop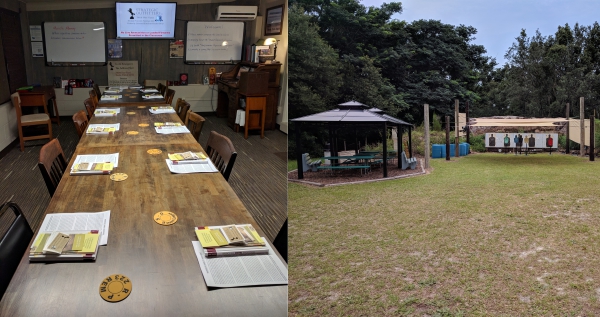 Please take a look at our website for much more information about us and our philosophy: website and Facebook.
If cost is your only criteria for choosing an Instructor, you will find others that are cheaper. However, if you are seeking the best value for your professional training, we believe that you'll find it with us.
You will need to bring:
Duty Revolver (.38/.357 w/ .38 ammo) or semi-auto pistol (.380/9mm/.40/.45), duty holster (must be retention, not just friction)/belt, and 150 rounds (leave it in your vehicle) ***Reloads are NOT allowed***
—Rental firearms/holsters available for additional cost ($20) and 9mm/.38 ammo available for purchase
3+ Magazines or 3+ speed loaders for your firearm
Hearing and eye protection
—Provided at no cost if you don't bring your own
Baseball cap
Pen/pencil and paper for note taking
Yellow highlighter
Flashlight
Firearm cleaning equipment
Class "G" License
Any snacks
***Please Arrive 15 Minutes Early***
***Shorts, low cut shirts, and open-toe footwear (sandals, flip-flops, etc.) are NOT permitted.***
***Only outside the waistband holsters with retention (not just friction) located on the right or left hip are permitted***


---
General Information:
Due to Federal Regulations, you MUST be a US Citizen or legal permanent resident (Green Card holder) to attend the class.

You must not be prohibited by state or federal law from possessing a firearm. The ATF form 4473 lists those prohibitions. (If you answer "yes" to any of the following, YOU ARE PROHIBITED: 11b-i, 12b.) If you have a state ID allowing for the purchase/use of marijuana, YOU ARE PROHIBITED.

Attending the class is not a guarantee of passing. To pass, you must participate fully in the class, show proper firearm safety throughout the class, achieve a score of 70% or better on the written exam, and achieve a score of 70% or better on the shooting qualification.

You must attend ALL 4 hours of the class.
All students will be required to sign a liability waiver at the beginning of the class.

There are no refunds. If you are unable to attend the class session you have signed up for, your fees will be applied towards another class within 12 months. If you do not attend another class within 12 months, then your fees are forfeited. If for some reason we are forced to cancel the class session you are registered for, you can either obtain a complete refund or you can select another date for that class and receive a 10% discount.


---
Course Expectations
Upon the completion of this course, you should be able to demonstrate the following skills and
techniques:
❖ Identify updates in law applicable to Class "G" licensure
❖ Re-familiarize yourself with use of force parameters
❖ Re-familiarize with use of cover and the difference between cover and concealment
❖ Safe weapon handling
❖ Identification of weapons parts and ammunition
❖ Weapon cleaning and maintenance
❖ Handgun drawing and holstering
❖ Weapon loading and unloading
❖ Basic shooting principles
❖ Proficiency with a firearm by shooting a qualifying score with a handgun (revolver or semi-
automatic pistol)
❖ Proficiency for weapon handling
❖ Proper intervention for weapon malfunctions