Grow fruits, vegetables and herbs in a Florida-Friendly way!
About this event
By following the nine FFL principles, you can produce vegetables, herbs, and fruits in a way that conserves water and reduces pesticide and fertilizer use. This webinar is for gardeners interested in expanding their own edible landscapes, with information about creating a backyard garden that delivers fresh food in an affordable, sustainable way.
Presented by Tia Silvasy, Orange County Florida-Friendly Landscaping Agent and Tina McIntyre, Seminole County Florida-Friendly Landscaping Agent.
Pre-registration is required along with the non-refundable class registration fee, if any.
For more information, contact us at 407-254-9200 or orange@ifas.ufl.edu. This event will be held online as a Zoom webinar and a link to the recording will be sent to all registered participants.
For persons with disabilities requiring special accommodations, please contact us at 407-254-9200 at least 10 business days prior to the program so that proper consideration may be given to the request.
Cancellation policy: Classes are subject to cancellation if a minimum number of attendees are not booked. If class is cancelled you will receive a notification, and a refund confirmation to the e-mail that is provided during the registration process. Refunds for class cancellations may take up to 30 days to process if registration fee is paid by cash or check.
An Equal Opportunity Institution.
Learn more about our program here: https://sfyl.ifas.ufl.edu/orange/home-lawns-landscapes-and-gardens/florida-friendly-landscaping/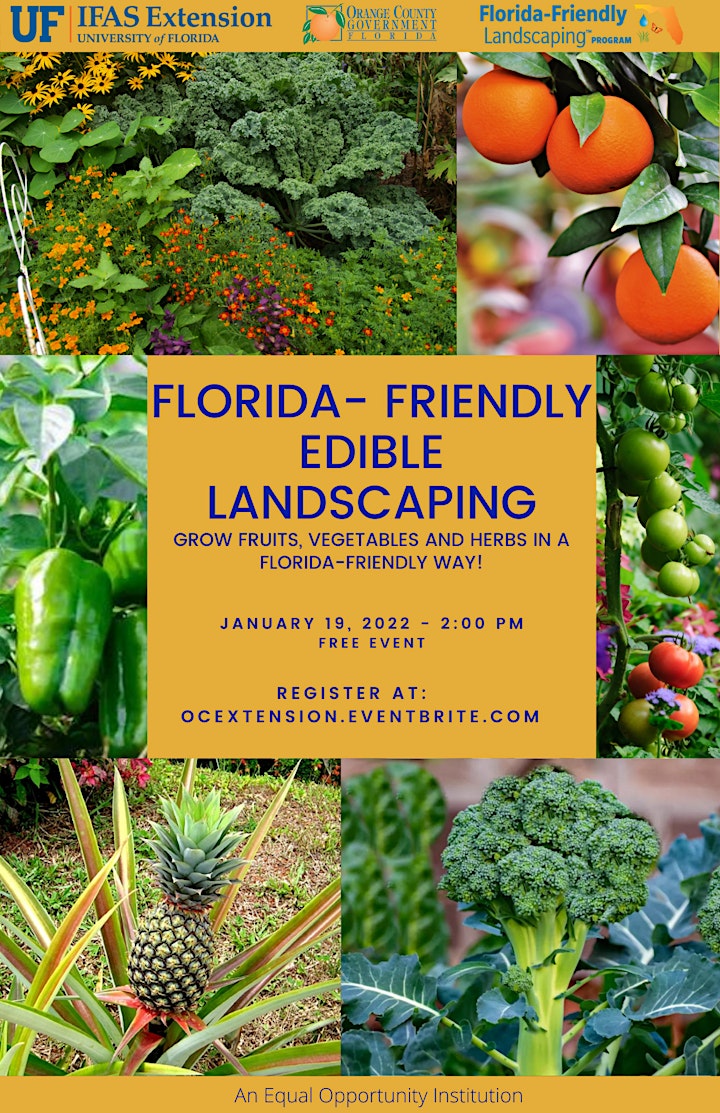 Organizer of Florida-Friendly Edible Landscaping Webinar
UF/IFAS Extension Orange County provides practical education you can trust, to help people, businesses and communities solve problems, develop skills and build a better future. For regular updates on the latest news and happenings at UF/IFAS Extension Orange County, sign up to receive our E-Newsletter.
An Equal Opportunity Institution.