Description
What: Florida Food Policy Council Meeting
Date: July 16, 2016
Time: 9:30 AM- 3:00 PM
Where: Tallahassee, FL
Location: Florida Agricultural and Mechanical University (FAMU)

The Florida Food Policy Council (FLFPC) announces its 2nd membership meeting to be held on Saturday, July 16, 2016 from 9:30am to 3pm in Tallahassee at Florida Agricultural and Mechanical University (FAMU). The Florida Food Policy Council provides opportunities for local food policy councils to collaborate, share best practices, learn together, and act at the state level. Our guest speaker for this meeting will be Bakari McClendon of Uniquely Qualified Consulting + Research LLC. UQC is a communications, management and technical assistance consulting firm with years of experience in community engagement, food policy, and research services.

Bakari McClendon
As discussed at the inaugural meeting in Fort Myers on April 3rd, there will be satellite meetings throughout the state. For those unable to travel to Tallahassee, the satellite meetings are a great way to meet and greet other FLFPC members and participate in the FLFPC main meeting. Satellite meetings will be held at UF/IFAS Extension offices in Collier County (Naples) and Martin County (Stuart). (Due to lack of registration satellite meetings in Seminole County (Sanford), and Escambia County (Cantonment) were cancelled.)
*There are many ticket options, please make your selection carefully!* If you already paid your $25 membership fee for this year, simply choose a free ticket to the meeting location you plan attend. If you have not paid your $25 membership fee, please select a "Membership" $25 ticket. Scholarships are available; for more information please contact membership@flfpc.org.
Lunch tickets are also available to those attending in Tallahassee through July 11th. Lunch will be catered by the talented Chef Shac:
Chef Shacafrica Simmons, aka Chef Shac, works with local food growers and producers like iGrow, Frenchtown Heritage Market, Tallahassee Farmers Market, Turkey Hill, Seedtime Harvest and more. We do our best to source everything from Tallahassee and surrounding area; however, we will extend throughout Florida, Southern Georgia, and East Alabama. We will be using delicious items like fresh watermelon, zucchini and squash, chipotle grilled chicken, and some other spring/early summer yummies. Gluten free, vegan and vegetarian meals will be available.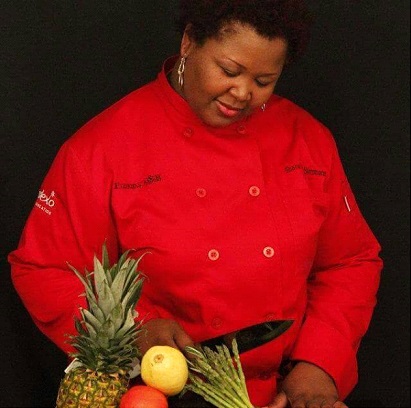 Chef Shac
FLFPC Membership is $25 per year, which includes admission to this event and other events throughout the year. Please visit our site at flfpc.org or email membership@flfpc.org for more information. The FLFPC is a nonprofit organization, and membership fees are used to help pay for our event spaces and wonderful speakers.

Should you decide to stay the night in Tallahassee, our group rate is to the Fairfield Inn & Suites/Marriot.
The Fairfield Inn & Suites/Marriot
2997 Apalachee Parkway
Tallahassee, FL 32301
Phone: (850) 210-1210
Price: $99/room for a King or 2 Queens
You are a valuable member of this movement! We hope to see you in Tallahassee!