Florida Food Forum: Sacred Nutrition: Religion and Food Justice
About this event
Join us online from 12-1pm (EST) on Friday, May 28th, for the Florida Food Forum on "Sacred Nutrition: Religion and Food Justice." The Reverend Gabriel Morgan, Pastor of St Paul Lutheran Church and Faith Lutheran Church in Tampa, and The Reverend Andy Oliver, Pastor of Allendale United Methodist in St. Petersburg will be presenting on this important topic. Following the presentation will be a discussion and Q&A session.
Join us
Use the Microsoft teams link below or dial-in by phone.
or join by pasting this link in a Google Chrome browser: https://teams.microsoft.com/l/meetup-join/19%3ameeting_OTI0MDZjNTQtNGRkYS00YjllLWEyYTUtMDM0N2MzMTI4NTBl%40thread.v2/0?context=%7b%22Tid%22%3a%22c68bb929-9851-4a81-831b-4fc6661021c6%22%2c%22Oid%22%3a%2232e7d171-6c71-403a-a82f-5d46553ccd32%22%7d
+1 941-306-1146 United States, Sarasota (Toll); Conference ID: 567 251 379#
**How to Join the Webinar***
1. Join online by clicking the link above.
- If you are on a computer: The forum can only be accessed from a Google Chrome browser or by downloading the free Microsoft Teams app.
- If you are on a cellphone: The forum can only be accessed from the free Microsoft Teams app. If you are unable to see the shared presentations, please download the latest version of the Microsoft Teams app.
Note** If you join online, please mute audio and turn off cameras before entering the meeting.
2. Join by dialing-in using the phone number and conference ID above.
Note** Please press * (star) then 6 to must and unmute while on the call from your phone.
Guest Presenter Information:
Rev. Dr. Gabriel Morgan is the pastor of St Paul Lutheran Church and Faith Lutheran Church in Tampa, Florida. Faith Lutheran is home to an urban garden called Seeds of Peace: Gardening in Faith Together, a joint effort together with First United Church of Tampa. Gabriel is a proud USF alumnus of the philosophy and religious studies programs. He holds an MDiv from Union Theological Seminary in the City of New York with distinction in historical theology, and a PhD from the Lutheran Theological Seminary at Philadelphia, dissertation on Dietrich Bonhoeffer and Paul Ricoeur. He and his wife, Erin, live in Southeast Seminole Heights.
Rev. Andy Oliver (he/him/his) is pastor of Allendale United Methodist in St. Petersburg, Florida, a church that is committed to anti-racism and radical solidarity with folx on the margins. He is grounded in liberation theology and following Jesus, a community organizer who always located himself with the oppressed, helping them to use their power to dismantle evil. He is currently president of Methodist Federation for Social Action, a national justice-seeking organization, and was senior staff at Reconciling Ministries Network, a national LGBTQ justice non-profit. Andy is a graduate of the University of Florida and Duke Divinity School. He previously served congregations in Lakeland, Ft. Lauderdale, and outside Gainesville. He loves spending time with his two boys building Legos and seeing the world through their eyes.
Forum Host: Dell deChant is the Associate Chair of the Religious Studies Department at the University of South Florida and a member of the Board of Directors at the Florida Food Policy Council.
The Florida Food Forum is a free event and a recording will be made available to the public after the webinar. To support our work, please consider becoming a member or making a donation.
Questions? Contact us at: info@flfpc.org
For more information visit us at www.flfpc.org
Disclaimer: The views of the presenters do not represent the views of the Florida Food Policy Council. We are a forum for the offering and sharing of information and encourage diversity and communication within the food system.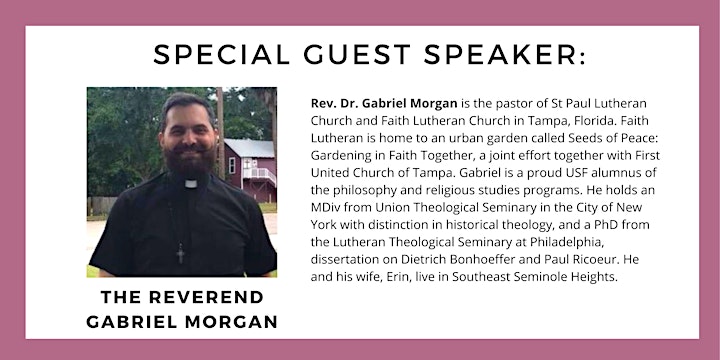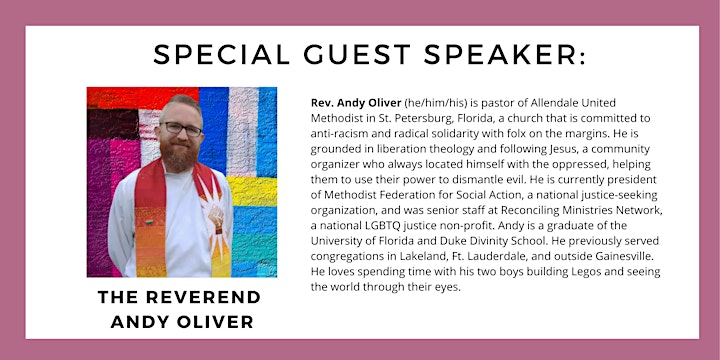 Organizer of Florida Food Forum: Sacred Nutrition: Religion and Food Justice