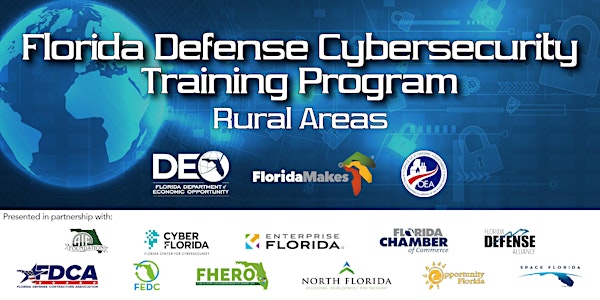 Florida Defense Cybersecurity Training Program: Rural Areas
Register to learn about new cybersecurity standards and how to protect you and your business.
About this event
To join the event please use this link: http://training.fl-cyber.com/
If you are not able to log in after 15 minutes, send us an email at amanda.starling@floridamakes.com
Conducted in partnership between FloridaMakes, the Florida Department of Economic Opportunity, Department of Defense Office of Economic Adjustment, Florida Rural Economic Development Initiative, Florida Defense Alliance and many other partners, this workshop will provide detailed training that will assist small and medium-sized defense contractors from Florida's rural areas and across the state. This cybersecurity bootcamp will increase awareness and highlight how to prepare and become compliant with the Department of Defense's (DoD) regulations for Cybersecurity, including the DFARS regulations and DoD's new Cybersecurity Maturity Model Certification (CMMC) standards.
Defense contracting is a major business opportunity across Florida.
With more than $16.5 billion annually in directly contracted defense procurement across the state, and more than $95 billion in total annual economic impact from the military and defense presence in our state, supporting our warfighters is critical to Florida's economic health as well as our national security. With the DoD ramping up its focus on cybersecurity for its supply chain, manufacturers and defense contractors of all types will need to take specific steps to protect their networks if they want to continue doing business with DoD. Without meeting DoD requirements for cybersecurity as outlined in the Defense Federal Acquisition Regulation (DFARS) section 252.204-7012, your business may not be eligible to continue to provide products and services to DoD.
To join the event please use this link: http://training.fl-cyber.com/
If you are not able to log in after 15 minutes, send us an email at amanda.starling@floridamakes.com
Tentative Agenda: Defense Contractors in Rural Areas
Thursday, December 10, 2020 - Virtual
8:30 - Networking
9:00 AM – Welcome & Introductions
Setting the stage – Cybersecurity and the U.S. Defense Industrial Base (U.S. Department of Defense)
Topics Covered:
Cybersecurity Threats, Requirements & Resiliency –
Defense Federal Acquisition Regulation Supplement (DFARS) 252.204-7012
NIST Special Publication 800-171
New DFARS Regulation Updates and DoD Assessment Methodology
Cybersecurity Maturity Model Certification (CMMC) (DFARS 252.204-7021)
Creating a Culture of Cyber Resiliency
Session 1:
Threat Landscape
Cyber Resiliency
Department of Defense Contract Requirements
Incident Reporting
Session 2:
Prime Contractor Perspectives on Information Security Requirements for Their Supply Chain
Session 3:
Cybersecurity Implementation – Best Practices, Frameworks and Resources
Session 4:
Future of Requirements / CMMC
4:30 pm - Adjourn
To join the event please use this link: http://training.fl-cyber.com/