Florida Coast-to-Coast: Best of Bird & Nature Photography
Actions and Detail Panel
Florida Coast-to-Coast: Best of Bird & Nature Photography
Sat, Mar 4, 2017, 6:00 PM – Thu, Mar 9, 2017, 6:00 PM EST
Description

Florida Coast-to-Coast: Bird & Nature Photography Workshop & Tour
---
WATCH THE WORKSHOP VIDEO: https://youtu.be/k8G_YIySZ3E
---
See full details at the bottom of this page.
Dates: March 4-9, 2017
(5 days / 5 nights)
Rates (US Dollars):
• Single room (1 person/room): $3750.00*
• Shared room (2 people/room): $3495.00/person**
* Rates include $500 non-refundable deposit, plus all meals, lodging, scheduled excursions, transportation, and instruction originating in Boyton Beach, FL (near West Palm Beach, FL Int'l Airport) the evening of March 4 (room provided upon arrival) and workshop starting the morning of March 5, 2016 through 6pm March 9, 2016 Florida at 9:00am on March 5 (arrival on March 4 with room and airport transportation provided). Departure at end of workshop from Fort Myers, Florida.
**Double occupancy rates are for those who are registering with a friend, spouse, partner, relative, etc. If you are not joining the workshop with another person you know, please choose the single room option. We will not pair participants in rooms who do not already know one another.
A non-refundable deposit of $500 holds your reservation.
First 50% of total cost due October 1, 2016 and remaining 50% due January 15, 2017.
Airfare not included.
---
About the Florida Coast-to-Coast: Best of Bird & Nature Photography
Join award-winning, professional photographer, Lisa Langell, and Simon Bolyn, expert bird photographer and overall super nice guy from Montreal, Quebec, Canada on a custom bird and nature photography adventure! This is a part-workshop, part-tour experience where you will receive plenty of instruction customized to your own needs, plus ample time to shoot independently and/or with feedback as needed.
This event is intentionally kept small and intimate—you are one of only six (6) participants on an beautiful excursion to some of Florida's best bird and wildlife habitats from coast-to-coast!
Where we will go: We will start in Boyton Beach, Florida and gradually trek west through to Fort Myers / Cape Coral area. Along the way, we plan to travel to numerous specialty places, including (but not limited to) Green Cay Preserve, Everglades National Park, Bunche Beach, Tigertail Beach, Marco Island, the world-famous Sanibel Island / Ding Darling National Wildlife Refuge, and more.
Key Species: Though wildlife is unpredictable, knowing where species typically reside can significantly increase our chances of photographing them well. We will travel to places where sightings are possible for the following specialty species (and more):

Birds: Roseate Spoonbills, Anhinga, Tricolored Heron, American Bittern, Least Bittern, Reddish Egret, Barred Owl, Burrowing Owl, Wood Stork, (endangered) Florida Scrub Jay, Black Skimmers, Magnificant Frigatebirds, Painted Buntings, Limpkin, Snowy Plover, Brown Pelican, White Ibis, Glossy Ibis, Bald Eagle, Osprey, Swallowtail Kite, Black Vulture, White Crowned PIgeon, Laughing Gull, Royal Tern, Sandwich Tern, and more.

Reptiles / Amphibians: Possible pig frog, Florida Redbelly Turtle, Sea Turtle, American Alligator, and assorted lizard-type species.

Mammals: River otter, Florida panther, raccoon, Armadillo, Bbottlenose Dolphin, Eastern Cottontail, Marsh Rabbit, White-Tailed Deer
Your level of skill: Hobbyists through to advanced photographers welcome!
Lisa caters to everyone from the hobbyist who wants to learn more through to the advanced photographer who may occasionally want to augment skills, but mostly wants to be shown the best locations for photography in southern Florida. Lisa believes strongly in providing friendly, supportive, upbeat, and down-to-earth instruction and experiences that help you learn to take your wildlife photography to the next level.

Key recommended gear:
This workshop is primarily oriented toward those with DSLR or mirrorless cameras.

Compact cameras are welcome; however, they may not necessarily be capable of certain techniques taught.

A tripod is strongly recommended

Lenses capable of at least 300mm magnification (400+ is preferred).

A wide-angle lens (e.g., 24-70, or something capable of a similar range, or wider).

Mobile phone with camera

Optional: Teleconverters, extention tubes, macro / close-up lens, video gear.

If you do not own the necessary gear, consider renting. Langell Photography is happy to recommend resources for doing so.

A comprehensive list of suggested clothing, technology and related items to pack will be provided to registrants.
Skills taught typically include, but are not limited to:
Exposure compensation settings based on natural light

Using manual, aperture priority and shutter priority settings

Photographing birds-in-flight

Time lapse

Mobile phone photography skills

Utilizing natural light for front light, side light, back light, rim light

Composition

Post-processing skills

Story-telling through imagery

Abstract photography

Individualization as needed

The experience: This part-workshop / part-tour event will provide you with periodic tips and instruction along with plenty of time for you to photograph between an estimated 40-60 species of birds, mammals and marine life against a backdrop of subtropical landscapes and sea scapes. You will travel by vehicle to each destination, then walk the trails, boardwalks, and beaches to photograph species while receiving Lisa's support. Simon Bolyn, a talented and experienced bird photographer who knows Florida well will also join portions of the workshop to provide additional instruction and assistance.

Are you a good fit for this workshop?

Physical: This workshop is ideal for people with a variety of physical fitness levels. Moderate walking (approximately .10 to 2 miles of slow to moderately-paced walking at a time while carrying your own gear) and the ability to get in and out of vehicles is primarily all that is required. We have had people between the ages of 30-70+ participate successfully on similar workshops.

Dietary: We will be dining at restaurants and/or providing packed lunches and can accommodate most dietary needs.

Personality: Workshops and tours work best for everyone if you have a go-with-the-flow, upbeat and positive personality. Negativity, strong ego, rude and/or condescending/arrogant personality types are not a good fit for this workshop.


Skill: All skill levels are welcome and Lisa works to meet you at your skill level and move you forward.

The Workshop Culture:
This workshop features a culture of warm, supportive instruction provided in a fair, humble, non-condescending atmosphere. The leaders of this group place strong importance upon maintaining an atmosphere of positivity, fairness, and humility, regardless of how sophisticated your camera skills, gear, or day-jobs are. Southern Florida's birds and wildlife are special and this is a trip-of-a-lifetime for many who attend. Everyone deserves to have a positive experience here. We encourage participants to leave ego at the door, "let your hair down," and be open to joining and facilitating a non-threatening environment for learning, collaboration, kindess, empathy, and fun.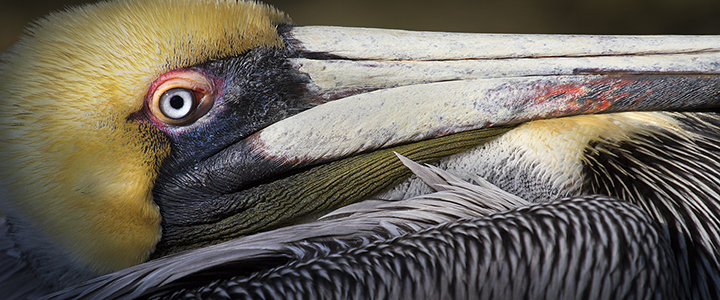 Brown Pelican - Breeding plumage
Date and Time
Location
Holiday Inn Express Boyton Beach, FL
2001 West Ocean Drive
(About 15 min from West Palm Beach, FL airport)
Boyton Beach, FL 33426