Description
_________________________________________________________________________________________
_________________________________________________________________________________________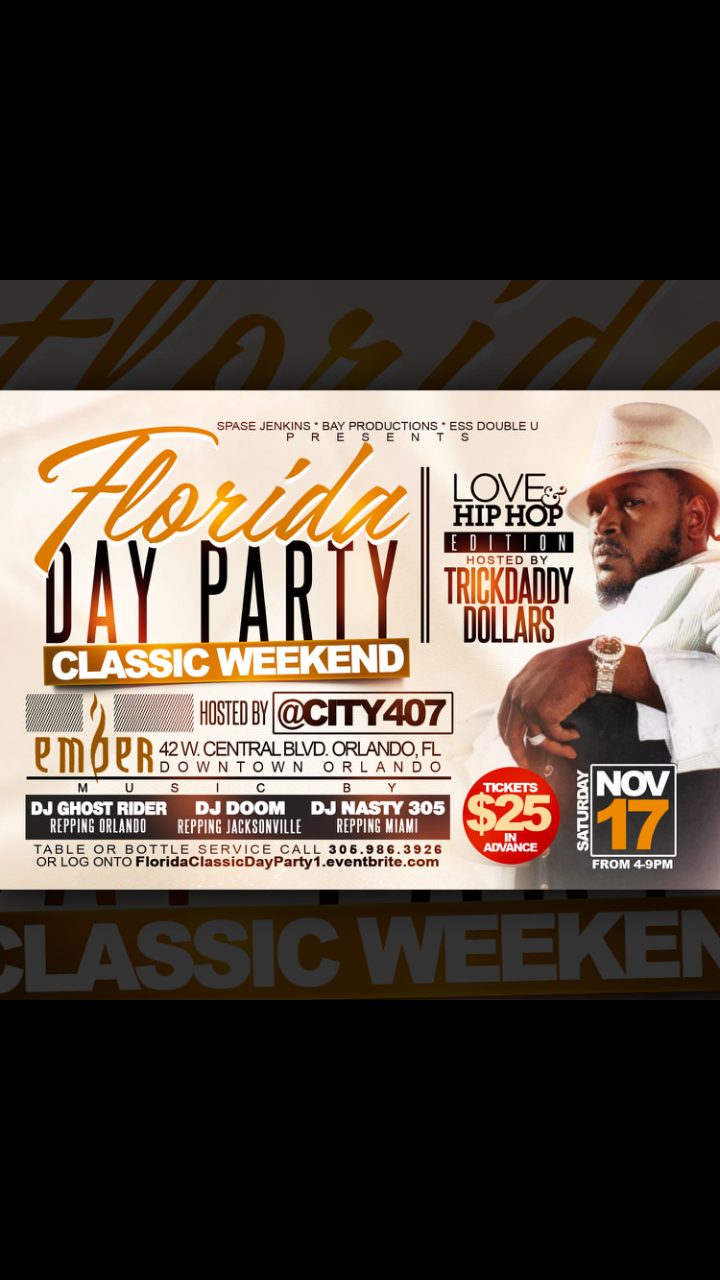 __________________________________________________________________________________________
__________________________________________________________________________________________
TODAY !!!
THANK YOU FOR YOUR OVERWHELMING SUPPORT. THE EVENT IS CLOSE TO SELLING OUT!! GET YOUR LIMITED ADVANCE TICKETS NOW!! Any Questions? Call 305.986.3926
***Only 1 VIP TABLE remains
***Only 2 VIP COUCH'S remain
***ONLY A limited amount of ADVANCE TICKETS remain...THIS WILL BE THE BIGGEST DAY PARTY OF THE WEEKEND!!
BLESSINGS+
SPASE JENKINS ENT. PRESENTS::
The Florida Day Party _ 4-9pm ... Love & HipHop Edition ... @Ember Lounge _42 W.Central Blvd
---------------------------------
SPASE JENKINS ENT & THE INJURY ASSISTANCE LAW FIRM OF MICHAEL MILLS present, the Biggest Day Party of Classic Weekend, Saturday November 17th @Ember Lounge in the heart of Downtown Orlando 4-9pm (The venue is just 10 minutes from World Camping Stadium). Ember Lounge a spacious indoor and outdoor venue, has 3 full Bars, 2 VIP sections, Hookahs, a FULL kitchen & holds over 1,500 people comfortably...
The Day Party is hosted by Love & Hip Hop Star & Dade County Mayor "TRICK DADDY DOLLARS" !!! The event is also hosted by @City407 one of Orlando's biggest party hosts. Join Trick Daddy and all of his celebrity friends as we party right after the Big Football game. Dress Code is Relaxed but Clean. The music will be provided by some of the hottest DJ's in the state !!!
Repping Miami - DJ NASTY305 ___ WEDR 99 Jamz FM (Miami) & DJ Khalid's "We The Best" Official Dj
Repping Jacksonville - DJ DOOM ____ National FunkFest DJ
Repping Orlando - DJ GHOSTRIDER ___ Orlando Top DJ
**JUST ADDED The beautiful host "VIVA LA KOI" from 104.5 fm The Beat / Orlando
------------------------------------
This will be the BIGGEST Day Party of the WEEKEND --->> Saturday November 17th_4-9pm!!
The event is sponsored by:: THE INJURY ASSISTANCE LAW FIRM OF MICHAEL MILLS
For Table or Bottle service call 305.986.3926 or Purchase Online NOW!! @FloridaClassicDayParty1.eventbrite.com
***Absolutely NO refunds for this Special Event under any circumstances***
Thank you,
SPASE JENKINS ENT.

BLESSINGS+