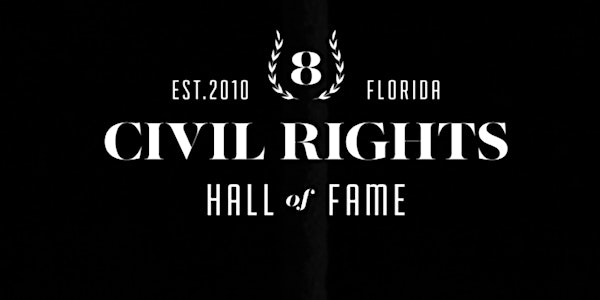 Florida Civil Rights Hall of Fame Induction Ceremony
When and where
Location
University Center Club at FSU Tallahassee, FL USA 403 Stadium Drive, Bldg. B Tallahassee, FL 32306
Description
ABOUT
The Florida Civil Rights Hall of Fame honors those Floridians who have made significant contributions to the state as leaders in the struggle for equality and justice for all persons. This year, we are celebrating and honoring the legacies of:
Daniel Webster Perkins

Charles Ullman Smith

Henry "Hank" James Thomas
Members of this distinguished Hall represent those who have fought to protect, serve and advocate for their fellow citizens. The Florida Commission on Human Relations is honored to preserve these stories in the halls of the Florida Capitol for future generations.
Each year the Florida Civil Rights Hall of Fame inducts the state's newest members in a formal ceremony and reception. Surrounded by family, friends, legislators, dignitaries and fellow pioneers, the ceremony honors their sacrifices through speeches and music tributes.
Thanks to the generous donations of Florida businesses, the ceremony and reception is free of charge to inductees, their family members and registered guests.
Main registration is now closed, however General Seating is still available. Space is limited; register now to reserve your seat!
---
INFORMATION FOR INDUCTEE FAMILIES
As you travel to the Capital City to celebrate your family member's contributions, we desire to honor you as well with a smooth and helpful visit to Tallahassee. Please find all of the information you will need for the event below.
Attending the Ceremony & Reception:
Each inductee has the option to invite up to 9 family members or friends to attend and be seated at a table along with them.

Each inductee's guests must be registered. If a guest is not pre-registered, the Commission cannot guarantee their seating.

If you are registered online as a guest of an inductee, you will only be designated as such if your name was included as a part of the official guest submission to the Commission by the family's Main Point of Contact (see below).
Family's Main Point of Contact:
Upon the announcement of the chosen inductees from the Florida Governor, each inductee's Main Point of Contact will be communicated with regarding any additional details beyond the information on this website. They will be contacted via phone and email.

Each family contact should provide the Commission with a completed guest list form to include the inductee and guests' information by September 6th via email to Florida_CRHOF@FCHR.MyFlorida.com. This list will aid the Commission in verifying guests eligible to be seated at the inductee's table as well as provide information for formal invitation to be mailed. Download the guest list form here.
*Additional information for Inductee families can be found here.