Florida Business Incubation Association 2015 Spring Conference

Thursday, May 28, 2015 at 11:00 AM

-

Friday, May 29, 2015 at 12:00 PM (EDT)
Event Details
FLORIDA BUSINESS INCUBATION ASSOCIATION
2015 Spring Conference
Business incubation professionals from throughout the Sunshine State are invited to engage with colleagues in networking and learning at the 2015 Spring Conference, held on May 28-29 at the UCF Business Incubator in Daytona Beach, FL.
This two-day summit will feature discussions of best practices, emerging trends and resources that help those who support entrepreneurs and grow emerging businesses.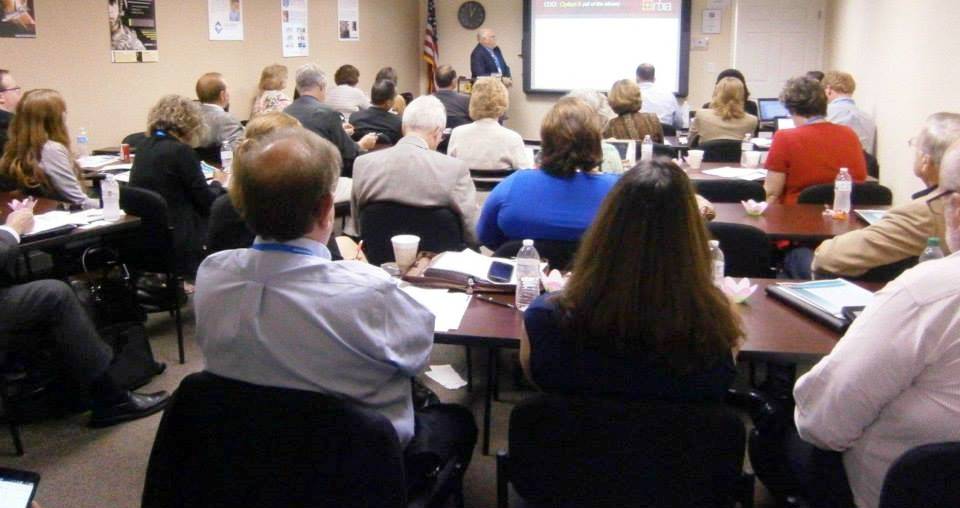 ---
ACCOMMODATIONS
Those who will be traveling long distances to the attend the conferenece can enjoy accomidations at:  
The Shores Resort & Spa

2637 S Atlantic Ave.
Daytona Beach Shores, FL 32118

Book your room online or by phone: (386) 401-4577

                                                                                           
---
AGENDA
Thursday, May 28, 2015
President's Welcome
11:00 AM – 11:45 AM
The 2015 Spring Conference will kick off with a welcome from FBIA President, Dr. Tom O'Neal. Dr. O'Neal, who also serves as the Chair for the National Business Incubation Association (NBIA), will share updates and insights on business incubation on both a local and national level.
Tom O'Neal, Ph.D., Executive Director, UCF Business Incubation Program
Incubator Tour
11:45 AM – 12:00 PM
The UCF Business Incubator at Daytona Beach International Airport is one of seven sites within the UCF Business Incubation Program's network. Site Manager Connie Bernal will provide a guided tour of her facility while discussing some of the services, activities and client companies found within this incubator.
Connie Bernal, Site Manager, UCF Business Incubation Program
Lunch & Networking Break
12:00 PM – 12:45 PM
Network with your counterparts from through the Sunshine State while enjoying a delicious catered lunch.
Patent Law Changes & Practical Reminders for Trademark & Copyright Law
12:45 PM – 1:45 PM
Intellectual property is one of the most valuable assets a company has. As incubation professionals, we assist a variety a companies who have questions and face challenges related to patents, trademarks, and other IP. Although we do not give legal advice, incubation professionals can better serve client companies by knowing fundamental concepts and important changes. This seminar will review key aspects of the America Invents Act, important changes from the Supreme Court, various forms of IP protection, as well as common pitfalls.        
Darren Spielman, Attorney, Kain Spielman, P.A.

Robert Kain, Attorney, Kain Spielman, P.A.
Developing the Digital Tech Community
1:45 PM – 2:30 PM
Downtown Orlando has become a hub for innovation, with an increased presence in digital tech startups and support resources. Gregg Pollack, who founded of the tech accelerator Starter Studio, has been largely credited with helping cultivate Orlando's digital tech community, and recently made headlines after his own startup, Code School LLC, was acquired for $36 million. Pollack will discuss some of the accomplishments being made by Orlando's digital tech community, as well as share insights into what digital tech startups really look for in terms of entrepreneurial support; what types of events bring the tech community together; emerging trends and more.
Gregg Pollack, Founder, Starter Studio
Networking Break
2:30 PM – 2:45 PM
Preparing Companies to Raise Capital
2:45 PM – 3:30 PM
Raising capital is a common issue of among startup companies. The Florida Angel Nexus will present information to support incubator managers with companies seeking angel investment or venture capital. Learn how to prepare your companies for a successful raise, including how to overcome common pitfalls, resources to support incubators across Florida, and how to better work with the Florida Angel Nexus.
Blaire Martin, Director, Florida Angel Nexus
A Client Checklist for Government Funding
3:30 PM – 4:15 PM
There are a wide array of government funding opportunities available to emerging enterprises. Discover what opportunities are available to your clients, as well as processes and resources to help your client companies pursue them, including a checklist of key activities that clients need to do.
Ricardo Garcia, Government Resources Manager, UCF Business Incubation Program
National Business Incubation Association Updates
4:15 PM – 5:00 PM
With more 2,200 members in over 60 nations, the National Business Incubation Association (NBIA) is the world's leading organization advancing business incubation and entrepreneurship. Now headquartered in Orlando, FL and under new leadership, the NBIA is heading in a new direction with lots of exciting updates. Learn about upcoming NBIA activities and opportunities to assist your organization.
John Gaset, 

VP of Member Services & Operations, National Business Incubation Association
Social Activity
5:00 PM – 7:00 PM
Immediately following the conference, attendees are encouraged to continue networking during an optional social gathering at BJ's Restaurant & Brewhouse for dinner & drinks. The FBIA will provide appetizers for the group to share.
AGENDA
Friday, May 29, 2015  
Roundtable Discussion
9:00 AM – 11:45 AM
The roundtable discussion gives every attendee the opportunity to discuss their individual program and collect feedback from colleagues. Whether you need help overcoming a challenge, want to brag about your latest success story, need fresh ideas, have general questions or news to share, this is the time & place to do it.
Closing Remarks
11:45 AM – 12:00 AM
The 2015 Spring Conference will wrap up with closing remarks from the FBIA President. Any outstanding issues, comments and updates will be addressed during this time.
When & Where

UCF Business Incubator
601 Innovation Way
Daytona Beach, FL 32114


Thursday, May 28, 2015 at 11:00 AM

-

Friday, May 29, 2015 at 12:00 PM (EDT)
Add to my calendar
Organizer
Established in October 1998, the FBIA shares information and develops programs that support the successful growth and operation of business incubators throughout Florida. Specifically, the Association fulfills this mission through several key initiatives, including statewide peer-to-peer meetings, program development, a unified voice, and national affiliation.
For more informaiton, visit www.FBIAonline.org.