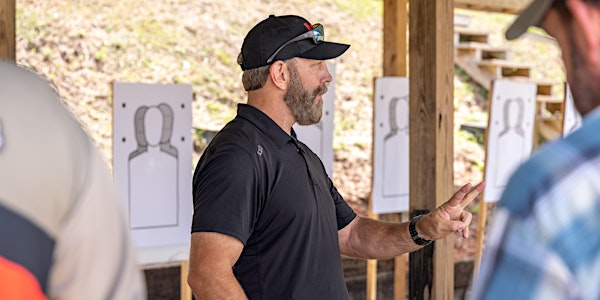 FLORIDA: 2 Day Red Dot Concepts
This 2 day class will prepare you to get the most out of the red dot sights and introduce you to a training methodology. Brian Hill
When and where
Location
Florida Firearms Academy LLC 13317 W. Hillsborough Ave Tampa,, FL 33635
Refund Policy
Refunds up to 30 days before event
Eventbrite's fee is nonrefundable.
About this event
WANT TO GET AROUND HIGH FEES AND TAXES?
This will take an extra step or two. If you chose one of the two options below you will bypass EB entirely.
WE WILL EXCEPT VENMO PAYMENT AT thecompletecombatant and the last 4 digits of our phone number is 6986. You will need to provide email, phone number, class name and dates via email immediately so I know where to apply your class fees.
WE WILL EXCEPT A PERSONAL CHECK IF IT IS RECEIVED AT LEAST 4 WEEKS PRIOR TO CLASS. EMAIL ME FIRST SO I KNOW IT IS COMING. Mail to The Complete Combatant at 2755 Porter Springs Rd, Dahlonega, GA 30533. You will need to provide email, phone number, class name and dates enclosed w the check AND via email immediately so I know the check is on its way.
There is a $20 CASH range fee per person, per day = $40. Brian Hill will collect this
9am-6pm ARRIVE 8:30AM
13317 W. Hillsborough Ave
Tampa, FL 33635
Phone +1 (813)221-3473
Fax: 813.854.3939
The way we aim our firearm is an area that sees constant improvement. Over a decade ago rifle optics went through significant changes with the introduction of red dot sights. These sights offered a tremendous advantage in speed, accuracy, and application. Unfortunately, back then, optics for pistols were not as easy to set up or robust enough for every day use.
This class will focus on the draw to first-round hits from concealment unless you have an open rig. We will work on proximal extension relative to the attacker, using the red dot to the most significant advantage at different distances, multiple hand positions that the armed citizen encounters during a fight, and stacking complex cognitive tasks under pressure. Biomechanics of movement and the neuroscience of the decisional process and training methodologies will be explored. If you shoot competitively or carry a pistol for personal protection you will benefit from this class.
Times have changed and now most companies offer pistols ready to accept red dot sights straight from the factory. We now have a wide selection of red dot sights that are ready for every day carry.
Red dot sights offer a number of advantages for the pistol shooter.
The most important is "target focus" which allows the shooter to clearly see the target with a red dot superimposed on it.
Secondly, the red dot is simpler to understand. With the red dot you are only "placing a dot" on the target. With iron sights you have three planes of focus which is obviously not as simple when compared.
Next, you have the ease when dealing with certain vision issues during shooting and it is found to be easier when dealing with difficult positions.
Last, is the ability to "track" in recoil and transitions. That bright red paintbrush of the red dot optic is hard to miss.
All of these factors are significant advantages for the shooter but IT WILL require an understanding of the red dot sighting system.
This class will prepare you to get the most out of the red dot sights and introduce you to a training methodology that will allow you to take advantage of these benefits. This class will also help avoid time consuming mistakes in your training while learning the use of red dots.
The following subjects will be covered:
Finding the dot during the draw
Repeatable draws and reference points
Target focus and using stereoscopic vision
Zeros/Holdovers at different distances
Ammo makes a difference
Precision and speed
Proper settings for the brightness of the red dot sight
Wet optics and downed optic drills
Positional shooting advantages
Tracking in recoil and transitions
Interpreting and processing the information available
GEAR LIST:
Red Dot Sights ONLY
Pistol w/holster (strong side, inside, outside waistband or appendix is fine)
Holsters that collapse (leather, soft, etc.) when drawn will NOT be allowed on our range. NO SERPA HOLSTERS will be allowed on our range. Please make note that if you show up with any of the above, we will ask you to CHANGE so you can comply with our range rules.
Duty belt/rig is APPROVED
Concealment garment is NOT required but strongly encouraged. Please make note, there is NO concealment with DUTY RIG.
400 rounds of factory loaded ammunition
Magazine carriers
A sturdy belt for the holster and magazine pouches (try your gear on prior to class)
Extra magazines: Double Stack x 3 mags and Single stack x 4 or more mags
Eye & ear protection (foam inserts or muffs – electronic muffs recommended)
"Back up" gun if you got it
Proper OUTDOOR weather attire
Hat with bill.... this is WHY!
Sunblock and bug spray (as needed)
1 Gallon of hydration and a sack lunch (30 minute lunch) for each day
http://www.thecompletecombatant.com/
http://www.thecompletecombatant.com/red-dot-concepts.html
------------------------------------------------------------------------------------------
On Friday, January 27th, 2023 is our Image Based Decisional Drills "THE MINI CLASS": This is $69 per person or $50 per person if you have registered for the weekends class on Sat and Sun.
NO addition costs = NO range fees.
5pm-8pm (arrive 4:30pm)
Image Based Decisional Drills "THE CLASS" is a 1 day class with the whole "kit and caboodle" or a 3 hour "mini" class where we hit the "highlights". IBDD "THE CLASS" class is offered at our range in Dahlonega, GA and is also HOSTED all over the country.
DEFINITION OF SUCCESS: To quickly make ONE good FIRST decision based on visual stimuli & instantly act on it. Be confident, decisive, efficient, & explosive.
Our Image Based Decisional Drills "THE CLASS" stems from our dry practice or live practice Image Based Decisional Drills learning system. This is a well thought out KIT with a deck of 21 Image Cards that provide IMAGES that will help you to recognize danger and to make smart decisions ahead of time. Our image based learning system is another beneficial step on your way to making good decisions quickly.
"THE CLASS" offers personal GUIDES to help strengthen your decision process, diagnose what's happening, and make the correction. With the use of an interactive PowerPoint presentation and a 'hands on" prop table, we will guide you to good decisions and then encourage you to PRACTICE DOING THAT!
REGISTER FOR THIS CLASS NOW: https://www.eventbrite.com/e/florida-image-based-decisional-drills-the-mini-class-tickets-376476359927