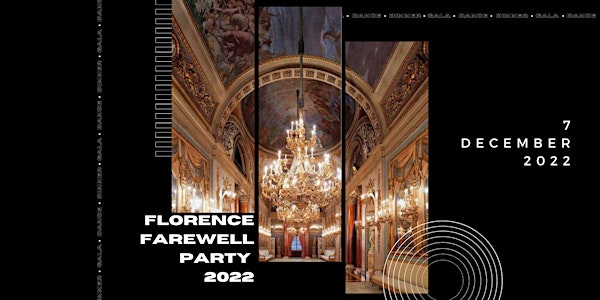 FLORENCE FAREWELL PARTY 2022 • Dinner & Palace Party
FLORENCE FAREWELL PARTY 2022 Dinner • Gala • Dance
When and where
Location
Rubaconte & Palace 110 Via Ghibellina 50122 Firenze Italy
About this event
FLORENCE FAREWELL PARTY 2022
Dinner • Gala • Dance
DINNER 9:00 PM @ RUBACONTE RESTAURANT
FIRST COURSE + STEAK + DESSERT +UNLIMITED WINE/WATER • 35€
FARE WELL PARTY 11:00PM @ RUBACONTE & PALAZZO BORGHESE
REGISTER - LIMITED AVAILABILITY
- FREE PRIVATE PARTY REGISTRATION -
**ALL GUESTS MUST BE REGISTERED TO ATTEND **
Availability is on a first come first serve basis. We will email you instructions on how to check in and attend the party on the day of the event.
Please provide your correct information as data will be used for registration purposes.
We will never share / sell your info to third parties.
DRESS CODE : DRESS TO IMPRESS - CLASSY, SEMI FORMAL
• NO JEANS • NO SNEAKERS
VIP TABLES AVAILABLE -
IMESSAGE / TEXT
+1.630.376.8134
WHATSAPP +39.366.892.5168
INFO
Join us for a magical night in the historic and beautiful Palazzo Borghese Palace. In the heart of the city at just a 5 minute walk from the Duomo, come celebrate the end of a great semester abroad in Florence and enjoy a party in a real life palace.
Start off the night with dinner at The Rubaconte, a high end restaurant right below the Palazzo Borghese, at 9:00pm. Dinner includes a pasta course, steak, potatoes , dessert and BOTTOMLESS wine.
After dinner, the bar will host the Palace Pregame party before we all head over to the Palazzo Borghese at 11:30 pm for a celebration of the ending of the semester abroad in Florence. The dinner will be EXCLUSIVELY for students that are studying abroad in Florence.
Wednesday, December 7th, 2022
Time:
Dinner @ Rubaconte: 9:00 pm- 11:00pm
Party @ Palazza Borghese (meet at the Rubaconte before): 11:30pm- 3:00am
Location:
Dinner & Pregame Check in Location- The Rubaconte: Via Ghibellina 178 R, 50122
Party Location- Palazzo Borghese: Via Ghibellina 110, 50122
*Once you register for your ticket, submit one photo of your favorite moment from your time studying abroad to be played in a slideshow at the event to commemorate our time here. Dm @coleelsbree or @ro.pimenta to submit your photo.