Description
"We should bow deeply before the orchid and the snail and join our palms reverently before the butterfly and the magnolia tree" - Thich Nhat Hanh
Flora of the Land: Floral Composition Workshop & Talk with Louesa Roebuck, co-author of Foraged Flora, in conversation with Ariane Hunter
Foraged Flora encourages you to train your eye to the beauty and abundance that surrounds you, attune your senses to the seasonality and the locality of flowers and all plants, and embrace the beauty in each stage of life, from first bud to withering seed pod.
You may sign up for the workshop & talk seperately. If you would like to attend both, please purchase a ticket for each. Please note that only the workshop includes a copy of Foraged Flora, however they will be on sale at the talk.
Floral Composition WORKSHOP, 4-5:30p: Using locally foraged and gleaned plant material in all stages of growth -and even decay- you will learn the art of bringing the outside in with Louesa Roe Buck. All materials will be provided and no experience is necessary!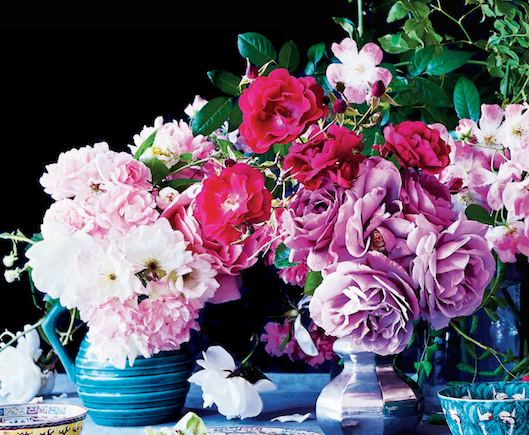 Flora of the Land TALK, 7-8:30p, in conversation with Ariane Hunter: Louesa will tell us about the journey that led her to this paradigm-shifting approach to plants and floral compositions. She will educate us about the agri-business side of the flower industry, so seldom addressed in the mainstream, and what we can do to change it.
The earth always offers something perfect and perfectly imperfect, right here, right now.
"There are miracles of the natural world around us daily. Romantic, unexpected, overlooked, beguiling, elusive and sometimes " invasive" flora that we can and should bring into our homes and interior environments and offer each other with love." - Louesa Roe Buck from her book, Foraged Flora (Tenspeed Press)
"So many beings in the universe love us unconditionally. The trees, the water and the air don't ask anything of us; they just love us. Even though we need this kind of love, we continue to destroy these things. We should try our best to do the least harm to all living creatures. When we garden, for example, we can learn to grow certain plants next to our vegetables and flowers that will ward off harmful insects, deer and rabbits without hurting them. We can use organic repellents instead of chemical pesticide in order to protect birds and honeybees. We can can always strive to reduce the harm we cause to other creatures. By destroying the animals, the air, and the trees, we are destroying ourselves" -Thich Nhat Hanh
Words from Louesa Roebuck:
I was born in the middle of ohio in the middle of the 60's. i grew up there and lexington kentucky, with brief escapes to the mountains of tennessee, north carolina and the coast of maine. after studying printmaking at risd and earning a semi useless degree in marketing, i moved to california during the el nino of 1997/98. five days later i began working at chez panisse, having little to no idea of the power of the transformative community i'd entered. i continued my education of californian culture and beauty working closely with erica tanov. i then went on to open august, a seminal and before its time fashion, art, and community hub. august was an early proponent of the intersection of luxury apparel and green socially responsible textile practices. i lost my business during the worldwide economic crash of 2008/09, and returned to my lifelong love of foraged and gleaned floral work. this has been my recent medium of choice, followed closely by monotypes.
I consider all of california my home, and happily divide my time between the bay area and los angeles, currently living in ojai. i've created floral installations for vivienne westwood, john baldesarri, todd selby, michael pollan, alice waters, rintaro, and carolyn murphy for vogue and house beautiful. my floral work has been featured in a number of national and international magazines and media, including vogue, c magazine, edible selby, remodelista, bare journal, sunset, martha stewart living, the los angeles times. my latest venture, foraged flora (ten speed press/random house), wnet on sale october 25, 2016.
Louesa Roebuck talks about sustainibility in the flower world in a WIRED ARTICLE
Ariane Hunter is a coach, writer, and inspirational speaker who helps women reclaim their leadership power, amplify their voices, and step into their greatness. Her mission has been recognized on various publications and platforms including Project Eve, Lady Collective, & B School Babe. She is the Founder of Project She Went For Her Dreams a women's leadership & empowerment firm headquartered in New York City and serving clients globally.