Description
5.4 Saturday (Latin)
Nectar, KEXP, Papa Bueno Tequila & SolidSound present:
FLOR DE TOLOACHE
plus The Cumbieros
Nectar Lounge
412 N 36th St
FLOR DE TOLOACHE
Latin Grammy® winning, New York Based all-female ensemble and beloved press-darlings, Flor de Toloache continue to win the hearts of both progressive and traditional mariachi music fans alike through their distinct artistic vision and sophisticated, enlightened interpretation of traditional mariachi instruments. The female quartet's diverse ethnicities and musical backgrounds have also transcended culture and gender by forging new paths. Like the legendary Love Potion the Toloache flower is used for in Mexico, the ladies of Flor de Toloache cast a spell over their audiences with soaring vocals and physical elegance. The group is led by co-band directors Mireya I. Ramos on violin and Shae Fiol on vihuela. Together, they have graced international stages from Chenai, India to Paris, France and have extensively toured the U.S. as supporting act for Dan Auerbach of " The Black Keys "' new project "The Arcs", as well as Cafe Tacvba , La Santa Cecilia , and Natalia Lafourcade . Upcoming shows include the ACL Festival in Austin TX, Alaska tour with Ozomatli and dates with Ana Tijoux.
***
Flor de Toloache rebasa continuamente los límites de la música mexicana mezclando los estilos musicales tradicionales y contemporáneos y promoviendo la presencia femenina en el mundo del mariachi. Ganadoras del Latin GRAMMY al Mejor Álbum de Música Ranchera/Mariachi en 2017, Flor de Toloache es el primer y único mariachi femenino en la Ciudad de Nueva York.
Incluidas en Holidays Rule Vol. 2 con Paul McCartney, también aparecieron en la última campaña de verano de Kate Spade, en la revista O de Oprah Winfrey y realizaron una gira con Café Tacvba. En 2016 acompañaron a Dan Auerbach (de la famosa banda The Black Keys) en su tour por Estados Unidos con su nuevo proyecto The Arcs. La agrupación se ha presentado en escenarios alrededor del mundo adquiriendo fama mundial.
La producción del álbum "Las Caras Lindas", estuvo a cargo del músico y productor costarricense Felipe Fournier. Fournier trabaja en Nueva York desde hace cuatro años. "Las Caras Lindas" es considerado un disco arriesgado y experimental pues se utilizan los instrumentos del mariachi de manera no tradicional; fue grabado en el transcurso de una semana en el estudio Applehead.
EL mariachi fue fundado en el año 2008 como un grupo de mujeres de nacionalidades diversas, Mexicanas, Puertorriqueñas, Dominicanas, Cubanas, Colombianas e incluso Estadounidenses y Alemanas. Sin embargo, la imagen de Flor de Toloache recae en las voces de Ramos, Shae Fiol Y Julie Acosta; es precisamente esta combinación de sonido y sabor que hace de Flor de Toloache un grupo versátil y con un sonido único y fresco.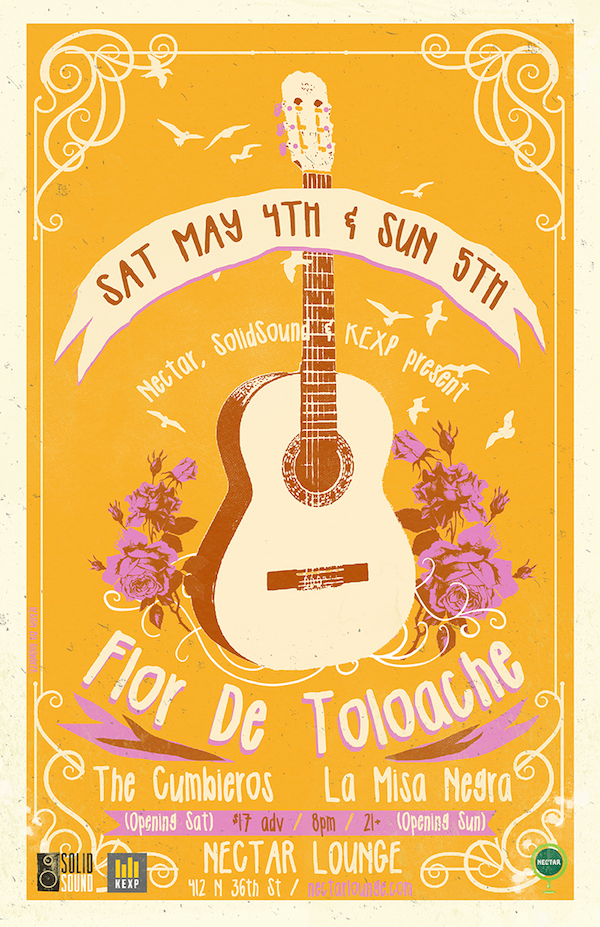 Performers
Date and Time
Location