Description
This learning module contains information covering basic professionalism for an A.C.E. Accredited Cleaning Expert Certification from the Academy of Cleaning Excellence.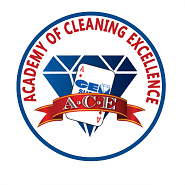 ---
---
Those students wanting an ISSA CITS Certificate, select the ISSA Certification registration option above.
---
---
The A.C.E. Frontline Series of courses is designed for frontline staff members and ISSA verified for either
Building Service Contractors or

In-House Services in the cleaning industry.

Subjects covered in this module;
Dust/Grit Removal

Wet Soil Removal

Burnishing

Top Scrubbing

Top Stripping

Finish Application
This is a 2 hour module, with an open-book exam at the end and

completes one of 8 modules required for a frontline Technician to achieve the A.C.E. Accredited Cleaning Expert Certification or the ISSA Frontline Master certification.
"I recommend anyone in the Hard Floor Care field to take this course. Managers and floor crews will benefit from the education that David Thompson provides. As Manager of the Environmental Services staff at the Savannah Hilton Head Int. Airport and with over 35 years of experience, this class educated me better than any other course I have taken in the past. It also has a wow factor that opened my team's eyes and minds which will help them perform safely and efficiently." Ron - Savannah, GA.
Refreshments, workbook, pen, and WiFi is provided.
Instructor:
David Thompson, Director; Academy of Cleaning Excellence, ISSA Accredited Certification Trainer and Author of "The New Generation of Cleaning".