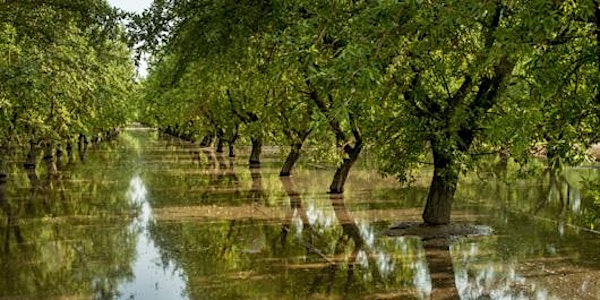 Flood-MAR – Using Floodwater for Managed Aquifer Recharge
Description
With the effects of climate change necessitating wholesale changes in how water is managed in California, "Flood-MAR" presents a sustainable strategy that can simultaneously accommodate longer and deeper droughts, and more severe and frequent episodic and seasonal flooding. Flood-MAR is an integrated water resource management strategy that uses flood water resulting from, or in anticipation of, rainfall or snowmelt for managed aquifer recharge on agricultural lands and working landscapes. Flood-MAR can also be implemented at multiple scales, from individual landowners diverting flood water with existing infrastructure to using extensive detention/recharge areas and modernizing flood management infrastructure and operations.
Speaker:
Kamyar Guivetchi, Manager of the Division of Statewide Integrated Water Management, California Department of Water Resources (DWR).
FAQs
Is registration required?
No. Registration is not required to participate in this webinar; however, if you do register, you will receive reminders and any updates about the talk.
How do I log in to the webinar?
Click to Join Skype Meeting
We recommend that you log in a few minutes before the webinar to test or download the Skype application. It is free.
Join by phone:
Toll number: (916) 573-2034
Conference ID: 394 755 45
How can I contact the organizer with any questions?
Send any questions to the planning team at Watershed.University@water.ca.gov. You can also send us an email if you would like to be added to our mailing list for future events.