About this Event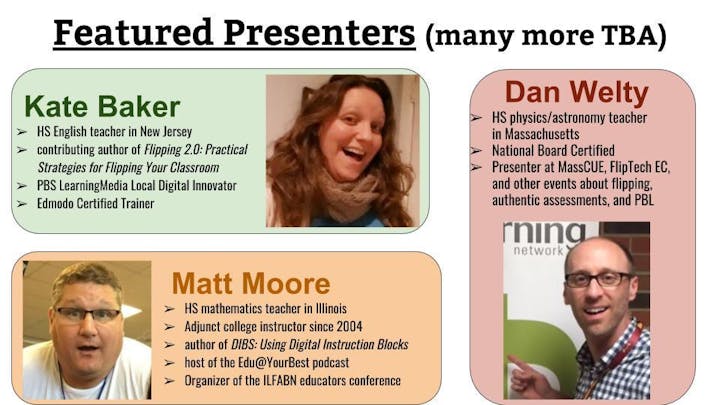 FlipTech New England is the next in a series of conferences presented by the non-profit Flipped Learning Network, following the wildly successful FlipTech East Coast held in New Jersey last summer. We expect about 150 educators from all over the country (and beyond) who share a common interest to maximize their class-time experience with students, by introducing essential information with video lessons.
We have "flipped the keynote" into a Panel Discussion of experienced flippers, including published authors Kate Baker and Matthew Moore (more members TBA). This keynote will focus forward on the future of flipping, to continue the conversation started by Aaron Sams (one of the pioneers) at last year's FlipTech conference about the first 10 years of flipping. How should we define the next 10 years?
The conference breakout sessions on Day 1 will be led by teachers and for teachers of various grade levels, subjects, and experience. Attendees can choose the sessions which best suit their needs and interests. Day 2 will mostly follow an un-conference model, so you can further share and explore the topics of your choice.
Additionally, we plan to reprise the Student Panel that was a fan favorite of FlipTech East Coast. Teachers can ask specific questions to students who have experienced a flipped class, to hear their honest opinions and perspective. There will also be several open periods to facilitate social interaction and other explorations -- most of all, FlipTech New England is about building and sustaining a community of passionate educators!
Event details will be updated regularly at https://fliptech.flippedlearning.org
CONFERENCE SCHEDULE (subject to revision)
Friday June 28
Registration / Breakfast / Coffee
Keynote Panel Discussion/Q&A with experienced flipped educators (participants to be named soon)
Multiple Concurrent Breakout Sessions (1 hour each for at least 3 sessions)
Lunch provided to all attendees
"Stakeholders Panel" of admins/parents/students who have experienced a flipped class
Social Outing for the evening
Saturday June 29
Breakfast / Coffee
Keynote Panel Discussion/Q&A
FlipCamp Sessions (organized as an "un-conference")
Lunch provided to all attendees
Social Outing for the afternoon
Waltham Public Schools will host this conference on the first floor of McDevitt Middle School (pictured below)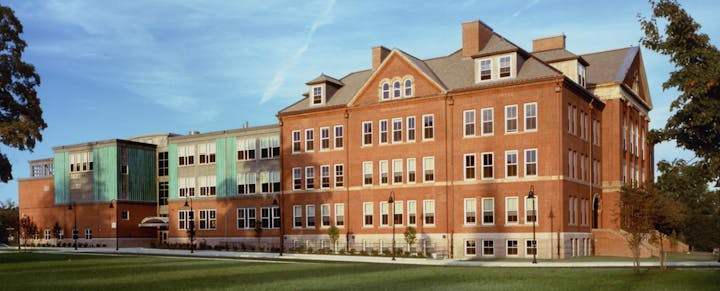 There are several hotels within a few miles of the FlipTech Conference, including a mini-complex of hotels just 2 miles away. (The red arrow points to the location of McDevitt Middle School.)