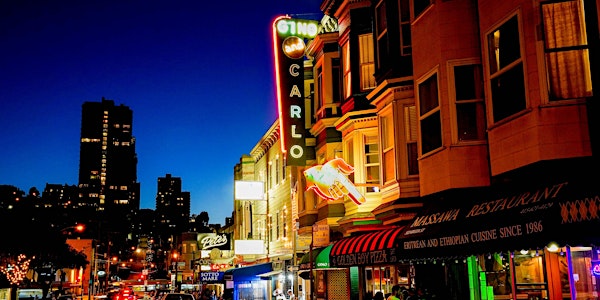 Flipboard presents: San Francisco North Beach 6 p.m. Photowalk
Photowalk through San Francisco's tastiest neighborhood!
When and where
Location
Gino & Carlo 548 Green Street San Francisco, CA 94133
About this event
Join Jefferson Graham, the host of the YouTube travel photography series PhotowalksTV to explore San Francisco's "Little Italy" section of the city with your camera or smartphone.
North Beach is the oldest neighborhood in the city, home to over 30 great Italian restaurants, cafes and bakeries and with so much authentic Italian flavor everywhere you look, it's a regular paradise for photography.
Jeff, a working portrait photographer who also co-hosts the "iPhone Photo Show," podcast, will show you several of his favorite smartphone photography tips to bring pro quality to your images.
The event is sponsored by Flipboard, the social magazine app, where shutterbugs are encouraged to share their photos after the walk in an algorithm free, photo centric setting. No TikTok clones here! Check out the Flipboard Photowalkers magazine here.
We'll meet in front of Gino and Carlo, (548 Green St) one of the oldest Italian bars in San Francisco, with one of the best displays of Italian flag colors adorning the building. Then we'll walk around North Beach and take lots of pictures.
The walk will end just after 7 p.m. If you're up for it, stick around and join the gang for dinner at one of the great North Beach restaurants.