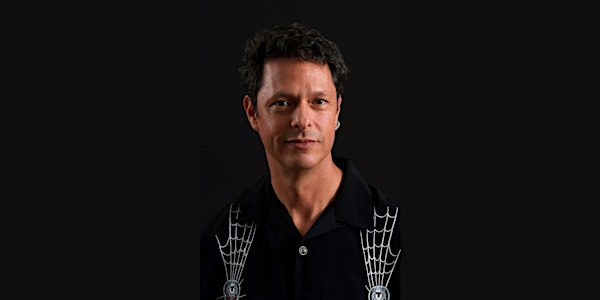 Flip Orley - Comic/Hypnotist
Comic/Hypnotist Flip Orley
Date and time
Starts on Thursday, June 1 · 7:30pm EDT.
Location
The Evening Muse 3227 N. Davidson Street Charlotte, NC 28205
About this event
2 hours 30 minutes

Ages 18+

Mobile eTicket
Since Flip Orley has burst onto the comedy seen, he has single-handedly reshaped the image of hypnosis from its vaudeville image, to an act that's fun, unpredictable and improvisational. Flip's appearance on the "Today Show" brought rave reviews and stopped traffic in midtown Manhattan. His one-man show has set comedy club attendance records from coast to coast. Faithful fans and new comers alike find themselves screaming with laughter as Flip ignites his volunteers' subconscious minds and transforms reality. What sets Orley apart from others in his craft, is his true comedic ability, delivering a hilarious stand up set before unleashing his volunteers creative imaginations. The Los Angeles Times attests that "...the beauty of Orley's show is that, because most of the humor comes from the volunteers, and no two performances are alike."
The Dallas Morning News reports, "It'sdifficult to remain skeptical after seeing Flip transform a panel of well behaved audience members into a family of trailer-park dwellers from Arkansas, Southern accent and all!"
Orley has been seen on "Entertainment Tonight," "The Today Show," "Comic Strip Live," the "Ricki Lake Show," Maury Povich" and "Space Ghost Coast To Coast." It is his uncanny way with subjects, his finely tuned power of suggestion and rapid-fire delivery that keeps audiences coming back for more. Unlike past generations of hypnotists, Orley does not humiliate his subjects for comic effect, but entertains by enlightening his audiences...often with lasting beneficial effects on those who have been inducted. After making them forget their own names, having them regress to age 5, or pledge undying love to complete strangers in a highly original version of "The Newlywed Game." Flip's subjects often awaken from their hypnotic trance reporting less stress, sleep better, have more energy, and a renewed libido!
When Flip takes the stage and rolls up his sleeves, his audience can expect two hours FUN and an experience they will never forget.
Flip's interviews are interesting and entertaining. His stories of subconscious creativity will have you laughing out loud.
About the organizer
**IMPORTANT UPDATED COVID POLICY
"WE ASK ALL EVENING MUSE PATRONS TO FOLLOW THE CURRENT CDC GUIDELINES WHEN ATTENDING AN EVENT HERE AT THE MUSE.
IF YOU WERE EXPOSED TO COVID-19 AND ARE NOT UP TO DATE ON COVID-19 VACCINATIONS, STAY HOME AND QUARANTINE. IF YOU ARE SICK OR TEST POSITIVE FOR COVID-19, ISOLATE AND DO NOT ATTEND PUBLIC EVENTS. SINCE CHARLOTTE / MECKLENBURG COUNTY HAS LIFTED THE MASK MANDATE WE THOUGHT WE SHOULD MAKE IT CLEAR THAT WE STAND FOR PERSONAL CHOICE IN THE MATTER. BOTH STAFF AND PATRONS ARE ENCOURAGED TO AND RESPECTED FOR THEIR PERSONAL CHOICE REGARDING THE WEARING OF A MASK. WE CONTINUE TO ENCOURAGE FULL VACCINATION AND AS ALWAYS THANK YOU FOR YOUR CONTINUING SUPPORT AND FOR HELPING TO KEEP OUR VENUE AS SAFE AS POSSIBLE DURING THESE CHALLENGING TIMES."
Everyone must have their State Issued ID scanned at the door. If you are over 21 but do not have a legal ID, we will not be able to serve you adult beverages. For All Ages Shows, there is a surcharge at the door if you are under 21.