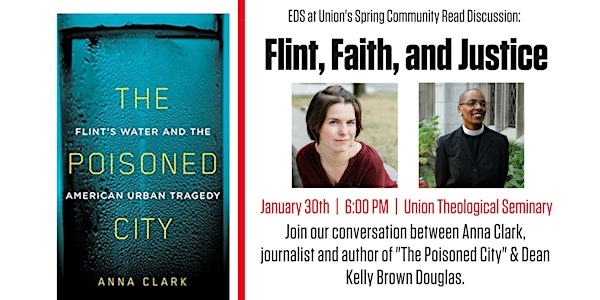 Flint, Faith, and Justice: The Poisoned City
When and where
Location
Union Theological Seminary 3041 Broadway New York, NY 10027
Description
The EDS at Union Spring Community Read is Anna Clark's riveting book, The Poisoned City: Flint's Water and the American Urban Tragedy.
Anna Clark will join Dean Kelly Brown Douglas on Wednesday, January 30, at 6:00 pm EST, in James Chapel for a conversation about how Flint's water and this urban tragedy is connected to the work of future faith leaders.
Like Bryan Stevenson's Just Mercy – EDS at Union's first community read – Anna Clark's book will trouble the soul. At its heart, Ms. Clark is asking not only who poisoned Flint's water, but what poisoned it, and her response as an investigative journalist goes well beyond the fact of lead pipes. Instead, she methodically lays out how embedded racism, wealth gaps, a shift away from democracy at the local level, as well as the targeted neglect of the ties that bind – literally, our urban infrastructure – have resulted in Flint's black and brown children being poisoned.
In this, Flint is an example of a much broader story of American urban tragedy, and it is a story of poverty, race, and toxic environmental injustices that we all must learn as we seek to become effective community leaders.
Can't attend in person? Register to watch via live stream.