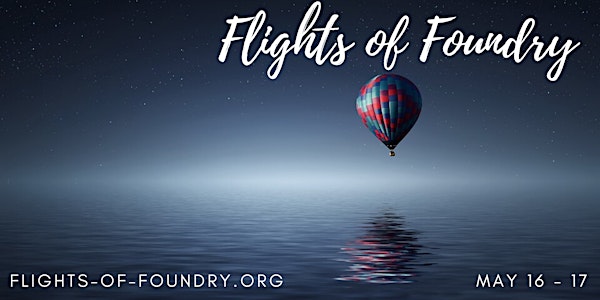 Flights of Foundry 2020
Flights of Foundry: A virtual speculative arts convention coming May 16-17. Panels, readings, and workshops with your favorite creators! Rachel Cordasco Translation Guest of Honor Grace P. Fong Art Guest of Honor Liz Gorinsky Editor Guest of Honor Ken Liu Fiction Guest of Honor Andrea Phillips Games Guest of Honor Alex Shvartsman Translation Guest of Honor Suzanne Walker Comics Guest of Honor
About this event
The world has gotten weird. Hard. Frightening. Isolating. Everything is topsy turvey and many of us don't know what to expect from tomorrow. Dream Foundry's plans for the year are no exception.
Plans, though, are a kind of prophecy, and as we all know, prophecy remains true even when it plays out very differently from what we expected. Oracles like their riddles. Who are we, if not the heroes who answer them in kind with clever retorts, courage, and inspiration?
We are proud and excited to announce Flights of Foundry, a virtual convention happening May 16-17.
It's for you, speculative creators. The writers, the artists, the game makers and podcasters. The dreamers, thinkers, and doers. We're going to do all the con things, with guests of honor (Ken Liu! Grace Fong! Andrea Phillips! Liz Gorinsky! Alex Shvartsman and Rachel S. Cordasco!), panels, readings, workshops, and spaces in between where you can sit down and connect with another human over a shared passion or a cool comment. Though we're apart, we can come together.