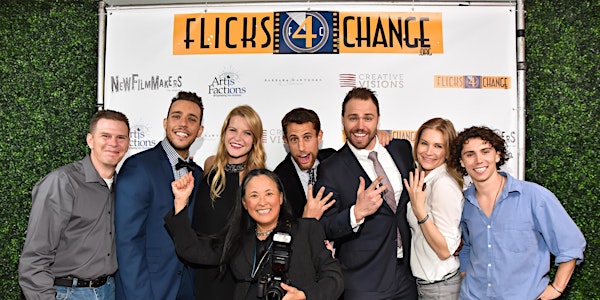 Flicks4Change D.C. 19 > The Film Festival with a Social Conscienc...
Event Information
Location
Ronald Reagan Building and International Trade Center
1300 Pennsylvania Avenue Northwest
Washington, DC 20004
Description
Flicks4Change D.C. 19 - The Film Festival With A Social Conscience
WATCH OUR Event Sizzle: https://vimeo.com/369660700
Come to be inspired, entertained, educated, and give back. Flicks4Change unites difference makers with those that want to make a difference. We screen the best socially conscious short films from around the globe and invite the nonprofit organizations tackling those issues to our event. Meet and discuss the films and issues with our filmmakers, nonprofit leaders, and other influential figures from the socially conscious realm. Learn the many ways you can get involved and be the positive change our world needs.
Flicks4Change is the ONLY film festival that brings so many leading nonprofit organizations, talented filmmakers, and thought leaders together under one roof. This event only happens once a year in D.C. and is not to be missed!
The event will feature:
* Two 75 minute programs of socially conscious short films covering an array of issues in a variety of genres
* A town-hall style discussion between the audience, filmmakers, and nonprofits about the films and how we can take action on the issues after each screening
* A performance by the legendary Leonard, Coleman, and Blunt including songs from the Temptations, Platters, and Drifters between screenings
* Interactive and engaging exhibits by our nonprofit partners giving YOU many different opportunities to make a difference
* Light snacks throughout the day and both alcoholic and nonalcoholic beverages available
* Audience voting on favorite, and most impactful films, with prizes for audience members that visit all 5 - 10 of this year's nonprofit partners
Schedule:
1pm Interactive Exhibits and Catering Open
1:45pm 1st Film Program
4pm Interactive Exhibits and Catering Continued
4:45pm Special Performance by Leonard Coleman & Blunt
5:30pm 2nd Film Program
8 - 9PM Awards and Audience Takes Action
9PM After Event: Location TBA
Check out our Sizzle Reel: https://www.flicks4change.org/watchfilms/2019/2/17/flicks4change-sizzle-19
Stay tuned for posts on special discount codes on our Facebook, Instagram, and website!
@flicks4change
www.flicks4change.org
We are Flicks4Change: a community dedicated to using our film festival to create meaningful social change through story telling, grassroots activism, and philanthropy through community. We believe that uniting difference makers with those that want to make a difference can be the catalyst for meaningful social change.
Date and time
Location
Ronald Reagan Building and International Trade Center
1300 Pennsylvania Avenue Northwest
Washington, DC 20004
Refund policy