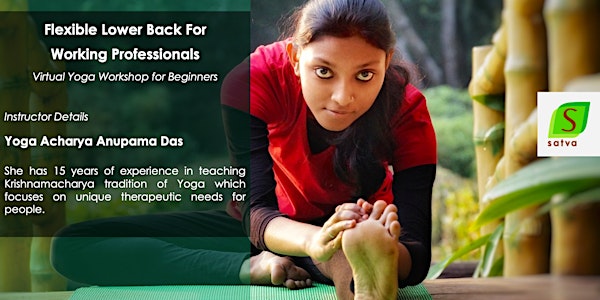 Flexible Lower Back For Working Professionals - Virtual Yoga Workshop
Learn to build a flexible lower back: Introductory Yoga Workshop For Working Professionals based on authentic Krishnamacharya Style
About this event
Overview
Yoga in its entirety of ashta-anga or 8 limbs is a powerful tool to create a natural support for your wellness.
In this introductory virtual workshop, you will learn and practice as a group the Krishnamacharya tradition of yoga that emphasizes on breathing techniques, tailored approach for each individual and utmost care to your safety from a seasoned trainer Anupama Das
Watch the short video to see your trainer and her approach.
What will I learn?
The back is the foundation of the body, and yet, it is also one the most neglected. Your occupational patterns and lifestyle choices can cause back pain and inhibits many people from performing daily activities.
You will learn
Asanas or postures that are designed for common problems that working professionals face
To increase flexibility and strength in the lower back in a safe and gentle way with Yoga rooted on authentic yoga sutras as per Krishnamacharya tradition
Who can join?
This session is open to anyone who
Is a beginner
Wants to learn simple yogic postures to retain or build up the strength of the lower back under the guidance of an experienced yoga teacher
Does not any major injuries/ surgeries/ health issues. We recommend anyone with health issues to sign up 1:1 consultation on Satva.
About the trainer: Anupama Das
Certified Yoga Teacher from Krishnamacharya Yoga Mandiram
Certified Yoga Trainer from Yoga Alliance
Certified Yoga Therapist from International Association of Yoga Therapists
She has15+ years of hands-on experience and practical knowledge in yoga therapy. She customizes yoga practices in a therapeutic setting based on the individual's need and designing general courses for a person based on ability and requirement, to maintain general health.
You can sign-up for a group session here. You can also sign up on Satva to consult her for 1:1 sessions.