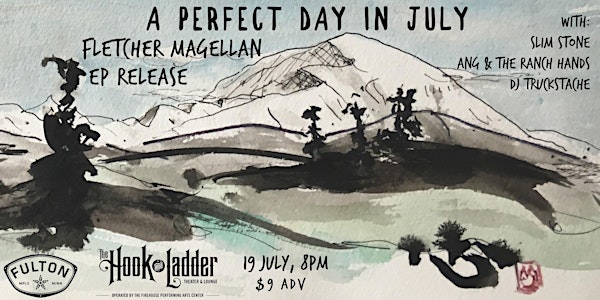 Fletcher Magellan, Slim Stone, Ang & The Ranch Hands, and DJ Truckstache
A Perfect Day In July Record Release Party
Event Information
Performers
Location
The Hook and Ladder Theater
3010 Minnehaha Ave
Minneapolis, MN 55406
"A Perfect Day In July" Record Release Party w/ special guests Slim Stone, Ang & The Ranch Hands and DJ Truckstache.
About this event
Fulton Brewing presents
Fletcher Magellan
"Month Long Day" EP Release Party w/ special guests Slim Stone, Ang & The Ranch Hands and DJ Truckstache.
Friday, July 19
The Hook and Ladder Theater
Doors 8p :: Music 8:30p :: 21+
$9 Advance / $12 Day of Show
Fletcher Magellan is releasing, Month Long Day with special guests, country & blues local Slim Stone, gospel minded Ang & the Ranch Hands, and dirty blues DJ Truckstache, Friday, July 19 in the Hook and Ladder Theater.
------------
Fletcher Magellan is releasing new music. In the summer. In Minnesota. If that doesn't strike you as odd, consider this: since the six-piece cosmic country band's inception in 2014, "Fletch" has taken a yearly summer hiatus, during which time songwriter and frontman Cody Fitzpatrick lives in a remote wilderness lodge in Denali National Park, Alaska with singing partner Emmalyn Kayser. This year, they're bringing some of the magic of the Last Frontier back to the midwest. Fletcher Magellan's new EP, Month Long Day, is a collection of observations, adventures and reflections from Cody's time in one of the last true wilderness areas in the world. 
"His debut album, Become a Stranger, is the work of a musician who has put in the hours, gained the callouses, had the arguments, and hit the lows as well as the highs." Youa Vang, City Pages
"There's a sense that Became a Stranger is a labor of love — not just for the settings of its eleven songs, but the great arch of country music from its early roots in string tunes ... to its revival as 'Americana.' " Dave Hoenack, Hymie's Vintage Records
------------
SLIM STONE remembers nothing until the age of 10 when he awoke on the shores of the Mississippi River outside of Minneapolis on a makeshift raft. There he learned to fish, forage and pick guitar from various river folk. Unique country and blues is the result.
------------
Minneapolis-based mixed media artist whose work includes large-scale mosaic art muralist and Ang & the Ranch Hands, bandleader, Angie Talle, grew up singing in churches; as a pastor's daughter, her gigs were funerals, weddings and nursing homes. In her late 20's, Angie had the opportunity to sing in church again, this time as part of the House of Mercy Band — a country gospel group that performed each Sunday at the House of Mercy in St. Paul, Minnesota. Singing the duets of Emmylou Harris and Gram Parsons and June Carter and Johnny Cash inspires and informs her musical body of work.
------------
Spinning the hits that never were, DJ Truckstachehe is the only deep country DJ in Twin Cities specializing in pre 1970s Honky Tonk Music talking about sex, blood, bar-fights and trucks, with a little sprinkling of the Garage, Psyche, Soul genres if the mood strikes.
Performers
Date and time
Location
The Hook and Ladder Theater
3010 Minnehaha Ave
Minneapolis, MN 55406
Refund policy