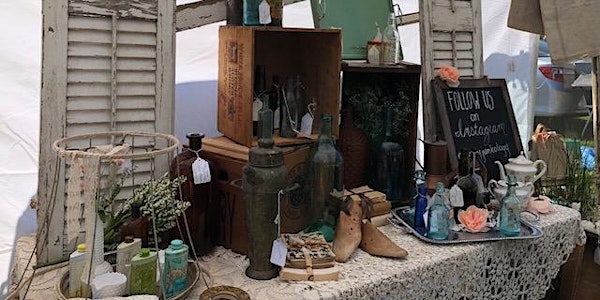 Flea Market September- Vendor Registration Only
BEST FLEA MARKET ON THE JERSEY SHORE! VENDOR REGISTRATION ONLY!
By The Historic Village at Allaire
Date and time
Saturday, September 16 · 8am - 2pm EDT
Location
The Historic Village at Allaire 4263 Atlantic Avenue Wall Township, NJ 07727
Refund Policy
Contact the organizer to request a refund.
About this event
Hunt for bargains among vintage treasures, thrifted items, books, art work, handmade items, knick-knacks and more! Vendor spaces are available for $45 pre-registration, and $55 the week of the event.
Vendor Spaces are 20'x30'.Assisting Vehicles are $5 per car.
Box Trucks, Long Trucks, and Trailers must purchase 2 spaces. The event runs from 8am - 2pm.
Rain date: Sunday, September 17th.
No Refunds Allowed
Admission sold at the door.$5 per person 12 and up((donation to the Historic Village at Allaire). Includes free admission to the Historic Village at Allaire. Pilsen Gourmet Food Truck, General Store, and Bakery will be open as well.  
For all COMMERCIAL Vendors, please contact Sylvia Allen at (732) 946-2711 to secure your sponsored spot for $495.
VENDORS Rules and Regulations
1. VENDORS MUST PRE-REGISTER. There will be no registration day of event. NO REFUNDS for any reason.
2. VENDORS MUST BE CHECKED IN BY 8:00 A.M. NO ONE CAN ENTER THE SHOWFIELD AFTER 8:00 A.M. The Flea Market closes to the public at 2 pm. Vendors must have their area cleaned up and EXIT the Park by 4:00 p.m.
3. WEATHER: In case of inclement weather, it is at the discretion of Allaire Village Inc. to reschedule. There are NO refunds or switching of dates when a flea market is held on a rain date. If inclement weather is forecasted, call 732-919-3500 after 4pm the day before the event for a special message or check all social media platforms. The Superintendent of Allaire State Park reserves the right to cancel any Flea Market if the field is deemed unsuitable for parking.
4. REGISTRATION FEE: $45 per 20' x 30' space. You can register online at AllaireVillage.org (events tab via Eventbrite), or mail (must be postmarked one week prior to event). WEEK OF REGISTRATION FEE: $55. Applicable to vendors who register the week preceding the Flea Market. PLEASE register early as vendor capacity is limited and sells out fast!
5. ASSISTING VEHICLE: $5.00 per vehicle. Vendors may be accompanied onto the show field by one pre-registered vehicle (transporting additional sale items). Once unloaded, the assisting vehicle must be parked along the tree line at the east of the show field.
6. Vendors with large BOX TRUCKS or TRAILERS MUST PURCHASE 2 SPACES. Trailers must stay attached to the Vehicle at all times.
7. SET-UP TIME: GATES OPEN at 6 AM or day break when enough light is available for safety. Only by simultaneous arrival, can two vendors be certain that they will be parked together. Vendors will not be permitted to hold adjacent spaces for later arriving vendors. CARS that are lined up on Rt. 524 (Atlantic Ave) or in front of the park entrance, are subject to be ticketed by police.
8. CARS MUST enter the Park by making a right hand turn only (from east bound lane Rt. 524) Cars may not make a left hand turn into the Park (from west bound lane Rt. 524).
9. SHOW FIELD PARKING: Vendor space on the show field will be determined by the order of arrival and at the discretion of Allaire Personnel. PARALLEL PARKING FOR ANY CAR/TRUCK REQUIRES DOUBLE SPACE. NO generators or space heaters allowed.
10. ACCOMMODATIONS: Vendors must supply their own tables, chairs, canopies, etc. Items for sale must be displayed within the space. Do not display items on the outside of your space.
11. DEBRIS DISPOSAL: Allaire State Park is a "Carry-in / Carry-out" facility. All trash, litter or debris brought into the Park or generated while in the Park must be taken with you when you leave. If debris remains in your area after your departure, you will be excluded from future flea markets.
12. NOT PERMITTED: Vendors may NOT display or sell food or beverages for consumption, or any weaponry including but not limited to guns, bows, arrows, swords, knives. Only knives under 16in may be displayed if they are in a locked case and under constant supervision. Additionally, illegally trademarked items and items deemed by Allaire Village, Inc. to be inappropriate are prohibited.
13. Allaire Village, Inc. bears no responsibility for any theft, accident or injury while on the grounds.
14. Upon arrival, Vendors are not hold up the line in anyway.
The flea markets at Allaire are fundraisers for The Historic Village at Allaire which is a 501(c)3 non profit organization that maintains the historic buildings and educational programming for over 9000 students annually.
About the organizer
The Historic Village at Allaire is a non-profit, living history museum, located within Allaire State Park in Farmingdale, New Jersey. We manage and operate a 40 acre historic site, which includes a museum and multiple buildings from the 1800's. Our historic interpreters and guides provide visitors with a unique look at life inside an industrial village in 1836, and we host over 50 events each year. The Historic Village at Allaire does not receive state funding, and relies on grants, donations, memberships, retail sales, and fundraisers to help support our efforts to provide educational programming to the public.