Description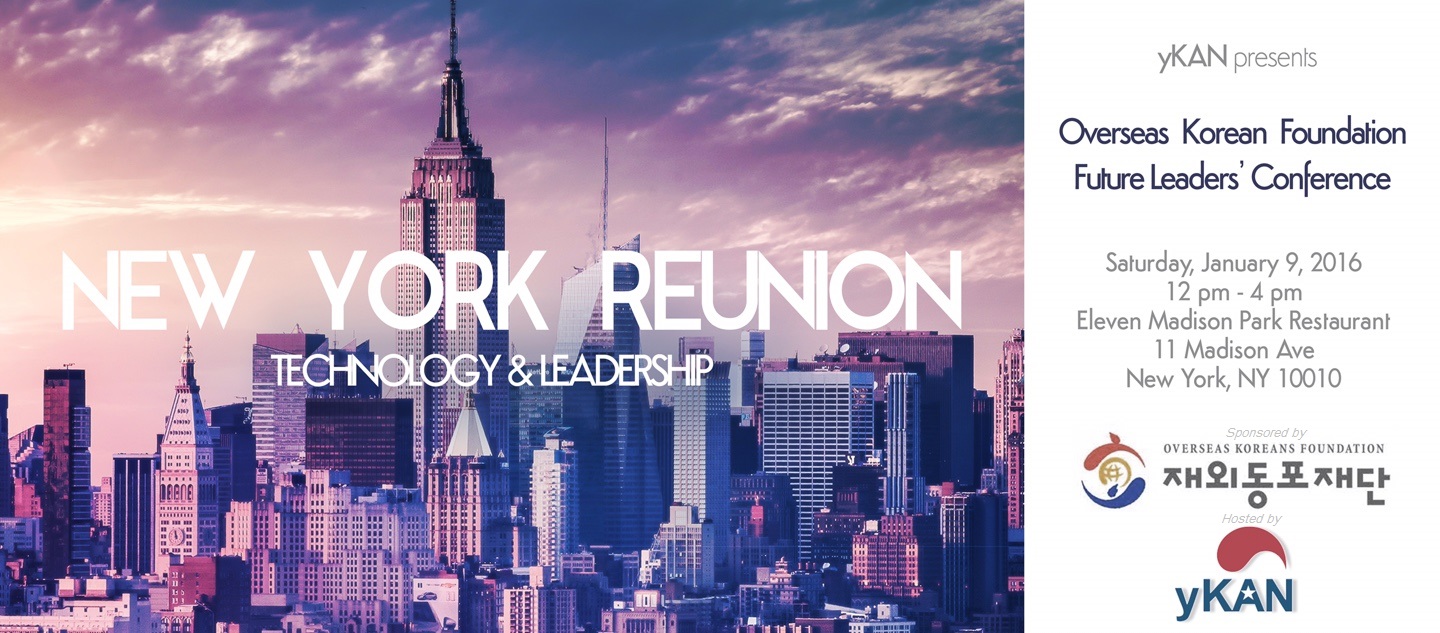 Young Korean American Network (yKAN) cordially invites FLC Alumni to the Overseas Korean Foundation Future Leaders Conference (FLC) New York 2016 Reunion. Come join us to learn about "Technology & Leadership" and share ways we can collaborate with each other in the new year over lunch at EMP with your fellow FLC alumni.
Lunch will be served (no alcohol will be served).
Program:
12:00 pm Registration
12:15 pm Welcome
12:30 pm Opening Remarks, Consulate General
12:45 pm Lunch Begins
1:15 pm Special Guest Speech
1:45 pm Members Testimony
2:15 pm Future Leadership Open Discussion
3:30 pm Closing
4:00 pm Thank you for coming
..... After party
What:
FLC - Technology & Leadership
When:
Saturday, January 9, 2016
12 – 4:00 pm
Registration begins at 12 pm
Where:
Eleven Madison Park
North Private Room
11 Madison Avenue
Cost:
Free with RSVP for FLC Members Only
Dress Attire:
Business Professional (suit)
RSVP:
Reserve your tickets online, starting Monday 12/21/15. -
http://flcnyc.eventbrite.com
Maximum capacity (34)
SOLD OUT
Hosted by yKAN and sponsored by OKF FLC.
NYC FLC Reunion Planning Committee:
Julie Cho, Jeana Chung, Dan Kim, Thomas Kim, Jin Lim, Yeong Lim, Edmund Song
Organizer of FLC Reunion - Technology & Leadership
The young Korean American Network (yKAN) is a 501(c)(3) non-profit, non-partisan organization of 1.5 and 2nd generation Korean-Americans who strive for the advancement of all Korean-Americans in the mainstream of American society.
Officially inaugurated on August 30, 1990, the organization's membership has grown over the past 20 years. Our members are Korean-American professionals, representing every industry and academic field.
Our mission is to elevate Korean-American professionals by fostering educational programs, community service, and networking opportunities. Through these activities yKAN addresses the issues of our community and provides a forum for those who share common experiences and face similar challenges.
Through our combined efforts, yKAN will undoubtedly lead to a better standing for the Korean-American community and open doors of opportunities for current and future generations.

Our Objectives:
* Create a professional network to facilitate the even exchange of ideas and common goals among all Korean American professionals 
* Foster a professional Korean-American presence in our community by sponsoring educational programs and opportunities 
* Promote social awareness and activism through community service 
* Foster mutual understanding between Korean-Americans and other ethnic groups 
* Promote greater opportunities for the current and future generations of all Korean Americans