Multiple Dates
Flavors + Movement of the Afro-Caribbean: Afro Flow Yoga + Jamaican Food De...
Description

Flavors and Movement of the Afro-Caribbean: Afro Flow Yoga and Jamaican Food Demo
Presented by The Trustees
The KITCHEN at The Boston Public Market is honored to host Leslie Salmon Jones and Jeff W. Jones, co-founders of Afro Flow Yoga, and Tamika R. Francis, founder of Food & Folklore for a special two-hour yoga, dance and food experience to transport attendees to the Afro-Caribbean diasporas.
Afro Flow Yoga® and Food & Folklore are teaming up to invigorate the mind and body through an Afro Flow Yoga experience with live music; and celebration of the "Ital" tradition of Jamaica; connecting food to increased life energy. This session features a demonstration of one of the most popular, nutrient dense ital foods, 'Ital Stew' – a warming, vegetarian, one pot meal.
Participants will raise the vibration with an Afro Flow Yoga experience, followed by the soul-warming introduction to Ital tradition and wisdom with a mouth watering demonstration of its most popular dish!
This is a 60 minute yoga class + 45 minute cooking demonstration and tasting. There will be 15 minutes at the end of class for Q&A. Please arrive at least 5 minutes before the start of the class. Yoga will start at 9:30 AM sharp. Please bring your own mat and wear cozy layers. The KITCHEN tends to be a bit chilly. There are a limited number of mats available for use, but please come early to claim one.
Tickets: $32 for Trustees member and $40 for Non-Trustees Members. Members must bring their current member card and number. Join The Trustees and save! Members save between 20-40% off all classes in The KITCHEN.
Part 1: Afro Flow Yoga
Afro Flow Yoga® infuses electrifying dance movements of the African Diaspora with a meditative yoga sequence in connection to the elements of nature. Deeply connect with soulful rhythms of live drums in a heart opening, inclusive, diverse and non-judgmental environment. Co-Founders Leslie Salmon Jones and Jeff W. Jones, a husband and wife team, created Afro Flow Yoga with a mission to promote healing, balance, peace and the elevation of all humanity through the practices of yoga, dance, rhythms, spirituality and cultural values of the African Diaspora.
Part 2: Jamaican Cooking Demo & Food Tasting with Food & Folklore
"Ital" cuisine is unique Caribbean food way developed by Rastafarians in Jamaica. The word "ital" is derived from the word vital and is similar to kosher cooking. The primary goal of adhering to an Ital diet is to increase 'Livity', or the life energy and to provide healing. Ital food uses no animal products, is unprocessed, and uses ingredients in its most natural form. This session will feature a demonstration of one of the most popular, simple, yet nutrient dense ital foods, 'Ital Stew' – a warming one pot meal that features several roots and leafy vegetables, as well as herbs and spices. Participants will learn about Ital Cuisine/Afro-Caribbean Vegetarianism, interact with the the most common spices and herbs used in this cuisine. They will be exposed to a ital recipe that could be adapted and served as the base for other dishes, and enjoy a a hearty serving of Ital Stew, that utilizes some New England produce.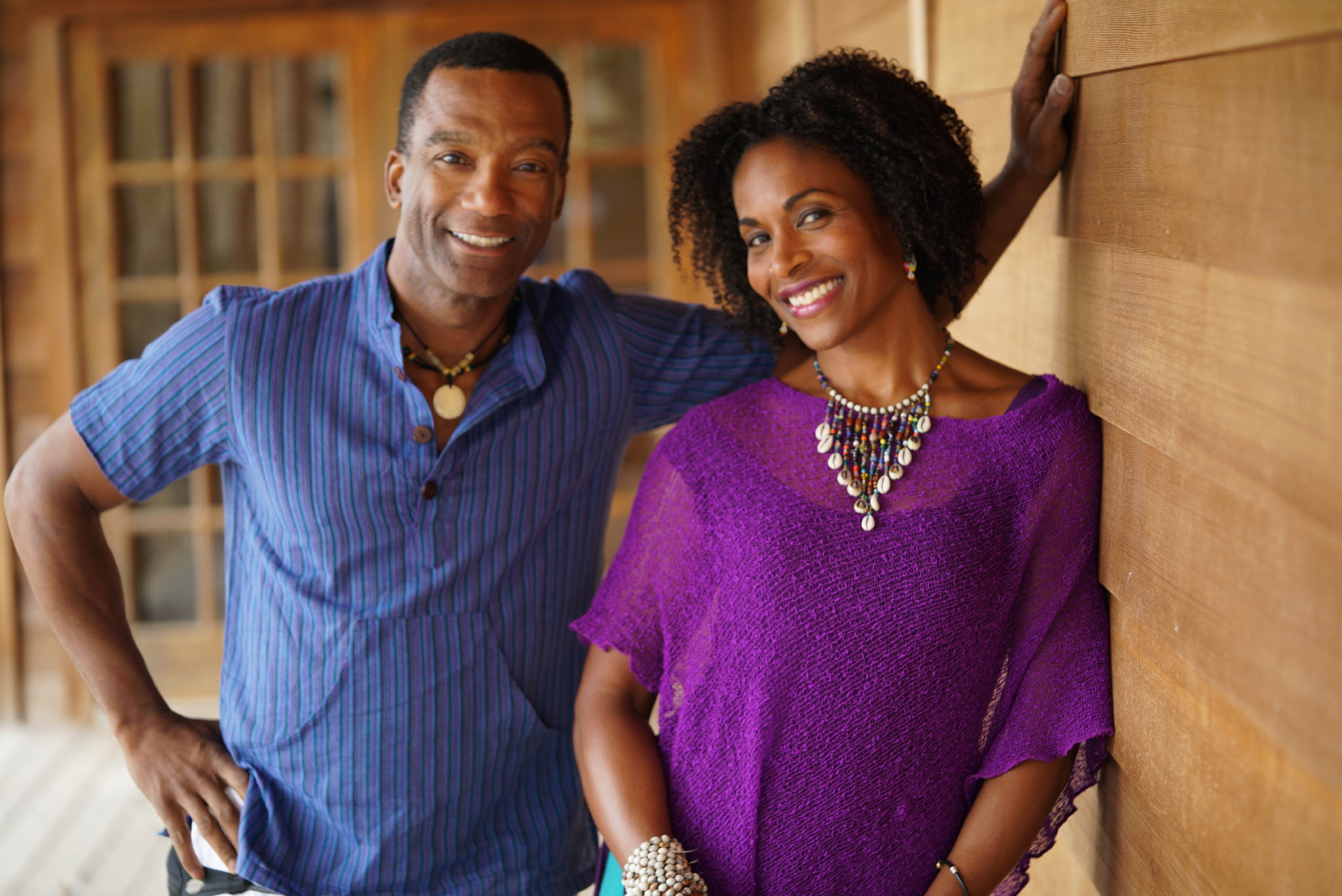 About Leslie Salmon Jones and Jeff W. Jones
Leslie Salmon Jones, a native Canadian of Jamaican descent enjoys a career working with clients, students, diverse populations, youth and community organizations to help develop mastery over their physical, emotional, mental and spiritual well-beings. Leslie has been cultivating her passion as a professional dancer, yoga instructor, wellness coach, public speaker and community activist. Creating space and guiding community through the unique transformative experience of Afro Flow Yoga. Jeff W.Jones, is a multi-instrumentalist, recording artist, composer and Musical Director for Afro Flow Yoga, creating an intuitive dynamic flow of live music, synergizing each class collective. Together making each class, workshop or event a healing journey. 

They have co-facilitated classes, workshops and retreats at the Omega Institute, Kripalu Center, Alvin Ailey Dance Center, Boston Yoga and Chant Festival, Caribbean Yoga Conference, Maui yoga retreat, and Forestdance, to name a few.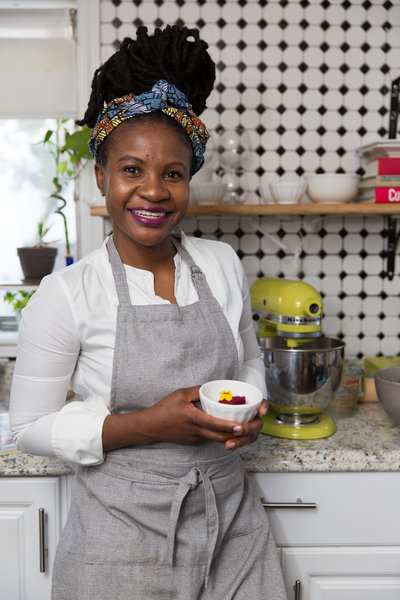 About Tamika R. Francis
Tamika's strong passion for the outdoors, farming, wholesome food and reverence for tradition came from her family's long lineage in farming and food production. Her mother's ancestors, the Jamaican maroons, created jerk as a method of cooking. After graduate school she led product development for an agro & eco-tourism project with small farmers and fisherfolk in the Caribbean. Here in Boston she led a small nonprofit that organized programs for urban youth to volunteer on farms to better understand the food system and has been a culinary instructor at the Haley House's Take Back the Kitchen as well as with the Food Project. Food & Folklore, her start-up project, uses primarily New England produce to make tropical treats using indigenous food-ways, and story-telling. She received her culinary arts certificate from Boston University. She earned her Bachelor's in Geography from the University of the West Indies in 2003, and her Masters in Sustainable International Development from the Heller School for Social Policy and Management at Brandeis University in 2010.
About The Trustees and The KITCHEN
As one of the largest owners of agricultural land and the premier steward of the cultural and natural landscape of Massachusetts, The Trustees extends its leadership to transform the local food system by connecting residents and visitors back to the land and sharing the Commonwealth's collective agrarian heritage through innovative retail and educational experiences at the Boston Public Market in the heart of downtown Boston.
The KITCHEN is a community gathering place, managed by The Trustees, that is restoring the craft of seasonal cooking in Massachusetts, New England, and beyond through hands-on classes and educational experiences that celebrate the farmers and artisans of this region. Partnered with the Boston Public Market, The KITCHEN embraces a whole-food approach to eating and promotes cooking as an essential cornerstone of a sustainable food system.
Join The Trustees and receive 20%-50% off all classes, workshops, and events at The KITCHEN and all Trustees properties.